WWE Monday Night RAW Live Results: How Did The Shield Respond to Last Week's Attack?
The Sept. 10 episode of Monday Night RAW, the go-home show for the Hell in a Cell pay-per-view, offers fans the chance to see the aftermath of Braun Strowman's attack on The Shield as well as advance several other storylines ahead of Sunday's big event.
After The Shield were arrested last week, Roman Reigns, Dean Ambrose and Seth Rollins returned by the end of the night to confront Strowman, Dolph Ziggler and Drew McIntyre. However, the heels got the upperhand when (on GM Baron Corbin's orders) the locker room emptied to take out "the hounds of justice." Will they be able to regroup and prepare for their respective battles on Sunday?
Fans in New Orleans tonight will be treated to an appearance from two WWE Legends. Triple H will respond to The Undertaker's comments from last week as the two get set for their final match at the Super Show-Down in Australia on Oct. 6.
Also, Mick Foley will be at RAW tonight to commemorate the 20th anniversary of his legendary Hell in a Cell match against The Undertaker.
There is only one confirmed match for the evening, as RAW Women's Champion Ronda Rousey teams with Natalya to face Alexa Bliss and Alicia Fox. Bliss looks to build momentum heading into her Hell in a Cell title match against Rousey while Ronda is looking to pay Alexa back for putting Natalya in the armbar last week.
Monday Night RAW will set up the Hell in a Cell pay-per-view.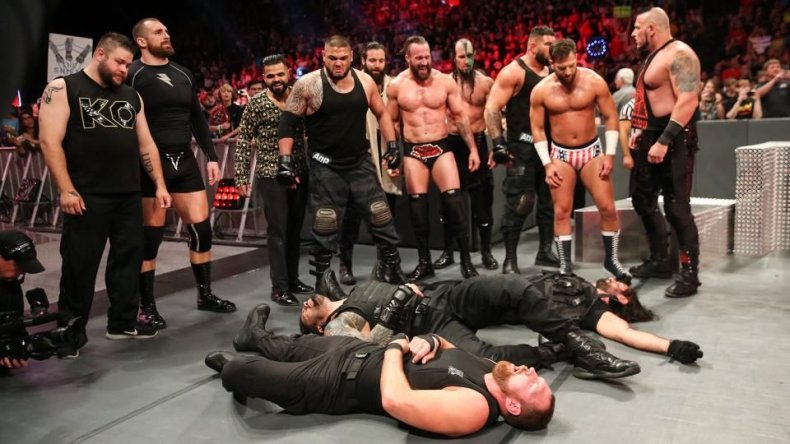 MONDAY NIGHT RAW SEP. 10 LIVE RESULTS
Opening Segment
Braun Strowman, Dolph Ziggler and Drew McIntyre come out with the heel locker room.
Ziggler says they told everyone they would change the WWE and Strowman says that The Shield have the "hounds of justice" but he has the "dogs of war" and he has his "Pack."
The Shield arrive and start taking out the heels with ax handles. Strowman, Ziggler and McIntyre look on from the stage as The Shield occupy the ring.
Backstage
The Shield are arguing with police when Baron Corbin intervenes. He tells them that The Shield have to vacate the premises or they will get arrested and Roman and Seth have to vacate their titles.
Nikki Bella (with Brie Bella) vs Ruby Riott (with Sara Logan and Liv Morgan)
Nikki wins via pinfall after a Rack Attack 2.0
Authors of Pain (with Drake Maverick) vs Local Talent
Authors of Pain win via pinfall Super Collider
Triple H Promo
Talks about how everyone predicts The Undertaker to defeat him at Super Show-Down. However, he says it shouldn't matter what other people say.
He laughs about how Undertaker was bothered by what Shawn Michaels said last night.
Triple H says that Undertaker wasn't quite the same after his End of an Era match and he is now coasting on reputation. He says Undertaker blames them for his downfall and that he will put Undertaker down with the last respect he has for him.
B-Team vs Drew McIntyre and Dolph Ziggler (c) - RAW Tag Team Championship Match
McIntyre and Ziggler wins via pinfall after a Claymore/Zig Zag combination
After the match, Rollins and Ambrose attack the Tag Championships
Backstage
Baron tells Seth and Dean that he has to arrest them.
Seth says that The Shield left, it's just Seth and Dean. Seth says that Baron falsified a police report and brought a sheriff to arrest Corbin.
Corbin asks that they resolve it alone, and Seth drops the charges against Baron.
Kevin Owens vs Tyler Breeze
Before the bell, KO assaults Tyler Breeze. After a brief fight, KO hits Breeze with an Apron Bomb.
Owens gets on the mic and says that Corbin called him and asked him to reconsider his actions. KO says he agreed to come back if he isn't held accountable for his actions. He came out to beat down the Shield last week because he hates them.
He says he attacked Bobby Lashley because he's the one who hurt Sami Zayn.
Bobby Roode and Chad Gable vs The Ascension
Gable and Roode win via pinfall after Chad hits a Northern Lights Suplex
Gable tagged himself in when Roode was going to hit a Glorious DDT
Backstage
Baron Corbin tells Dolph and Drew that they will defend the RAW Tag Team Championships against Seth and Dean at Hell in a Cell.
Ronda Rousey and Natalya vs Alexa Bliss and Mickie James
Rousey and Natalya win via submission after an Armbar
After the match, Bliss hits Ronda in the ribs the part of her body they were working on throughout the fight
Backstage
Elias is seen berating a stagehand for not giving him the correct tea.
Braun is terrorizing the back asking where Roman Reigns is.
Elias and Mick Foley Segment
Mick Foley interrupts Elias' promo
Foley says he likes Elias' guitar work but his lyrics need work because he doesn't have a "sincere bone in his body."
Elias says he saw Foley and the Undertaker's match 20 years ago and that he's standing in the ring with a broken man.
Foley puts over Elias and says that he went to WWE headquarters to ask to be a part of the Hell in a Cell pay-per-view and he will be the special guest referee for Roman and Braun's match.
Elias tells Foley to shut up and go to the back, which forces Mick to come back to the ring. Stephanie told Foley that she needs him to help Baron with the GM duties and he made a match for Elias against Finn Balor.
Elias vs Finn Balor
Balor wins via pinfall after a rollup
Backstage
Braun asks Charlie Caruso where Roman is. She says she doesn't know but suggests that he go to the ring and he'll come to him.
Strowman Segment
Strowman calls out Roman, and when he doesn't come out he says that Reigns is afraid and that there won't be anywhere to hide in Hell in a Cell.
Roman's music hits and the two fight before Reigns hits a Samoan Drop off the announce table.