WWE Monday Night RAW Live Results: Who Will AJ Styles and Seth Rollins Feud With First?
Monday Night RAW will begin to take shape for the rest of the year a week after the 2019 Superstar Shake-Up.
NXT call ups like Lacey Evans, The Viking Experience and Ricochet can officially call RAW their new home, but how will they and SmackDown Live imports - The Miz, Naomi and AJ Styles - make their presence known on Monday nights?
Following his win last week with Roman Reigns and AJ Styles, Universal Champion Seth Rollins will look to begin a - hopefully - long reign this week. But with Brock Lesnar in the rearview mirror, who will step up to face Rollins for the top title? There's plenty of potential opponents, like Bobby Lashley and Drew McIntyre, so it'll be interesting to see Seth's first program after WrestleMania.
Over in the women's division, Lacey Evans made her presence known two weeks in a row by challenging Becky Lynch for the RAW Women's Championship. After defeating Natalya to become number one contender, how will the "Sassy Southern Belle" approach "The Man"?
The Miz may have been shipped from SmackDown Live but he still has a lot of baggage on the blue brand, and its name is Shane McMahon. Miz appeared on RAW last week attacking the SD Live commissioner to open the night. Does this mean the two will continue to feud from different brands? Following his loss at WrestleMania, Miz will surely want to even the odds sooner rather than later.
For weeks you've may have noticed those haunting vignettes that feature buzzard puppets and creepy dolls. WWE.com is teasing that the WWE Universe may finally learn more tonight about what is actually going on.
It's a new era for Monday Night RAW and it begins tonight. Here's everything that happened on the April 22 episode of RAW.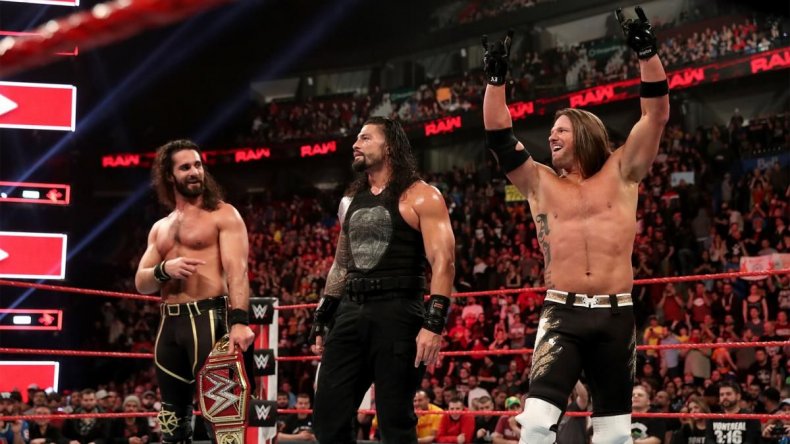 MONDAY NIGHT RAW LIVE RESULTS
Opening Segment
Triple H comes out to start the show but Seth Rollins is quickly behind him. The two shake hands and hug. Seth says that with everything he and the WWE Universe and he and Triple H have gone through, it's surreal to have the Universal Championship around his waist.
Triple H reiterates how Seth won the title but now the landscape has changed. As Universal Champion, the world is gunning for Seth Rollins.
Seth says he knows about the Money in the Bank because he's cashed it in and had it cashed in on him. Triple H says not to get carried away because he needs to think about who he will face on the MITB pay-per-view. There will be two triple threat matches and the winners of both matches will fight in the main event. The winner of the main event will be Seth's opponent at the pay-per-view.
Samoe Joe interrupts with the US Championship and says he has arrived on RAW. Joe says that he likes the idea of having two belts. He's interrupted by Rey Mysterio who says that he didn't come to RAW to just drop knowledge, but to have a match with Seth.
Drew McIntyre interrupts and says he doesn't care about the new members of the RAW roster. He says that he's been on the roster for a year and he hasn't received a title opportunity. And this will finally be his time to get his hands on the Universal Championship.
Miz interrupts and tells Seth that he has what he wants. Miz says he has gone through a reboot and he's not the same man Rollins remembers. He is worthy of the Universal Championship.
Baron comes out to say that he retired Kurt Angle but he's interrupted by AJ Styles. AJ says Baron is annoying, and says that he's going to give the WWE Universe what they want and that's AJ vs Seth.
Rollins says it doesn't matter who he faces at MITB.
AJ Styles vs Samoa Joe vs Rey Mysterio
AJ Styles pins Samoa Joe after hitting Rey Mysterio with the Styles Clash on top of Joe.
Styles moves on to the main event for the number one contendership.
Naomi vs Billie Kay (with Peyton Royce)
Before the match, The IIconics say they have each others back but who does Naomi have after Bayley left for SmackDown Live.
Naomi wins via roll up
The Miz vs Drew McIntyre vs Baron Corbin
Baron Corbin pins Miz after Drew McIntyre hit Miz with a Claymore Kick and pushed him out of the ring to steal the pin.
Backstage
AJ Styles is asked about Baron Corbin and lists off his accolades on SmackDown Live. But he's ready to take on the biggest bully in the yard and go on to take on Seth Rollins.
Sami Zayn Promo
Sami says that in the weeks since his return, he squashes the talk about him being "bitter" and that's actually happy. He says the 10 months he was away from the WWE Universe was the happiest time of his life.
Sami shows some photos of trips he went on during his rehab. He had the time to think about what he doesn't like about the WWE and he figured it out. It's the fans who are toxic. He says he would rather be anywhere but in the city he's in now. He says that they should all take advice from him and take a trip and go to hell.
Cedric Alexander vs Cesaro
When Cedric comes out from the back he looks at Sami who scoffs at him.
Cesaro is also a move from SmackDown Live
Cesaro wins via pinfall after a European Uppercut after Alexander jumped from the top rope
Usos Interview
The Usos are interviewed about the RAW tag division and they start running each team down when they are interrupted by The Revival. The Revival tells them that this is their division and the Usos say this their house now.
The Viking Raiders vs The Lucha House Party
The Viking Experience is now called The Viking Raiders
Before the match, Viking Raiders take out The Lucha House Party
Zack Ryder and Curt Hawkins Interview
The RAW Tag Team Champions are asked if they are worried about The Viking Raiders, but they say that they have experience on their side.
Becky Lynch vs Alicia Fox
Before the match, Lynch says that Lacey Evans is just a new face using the same methods as Charlotte. So while Lacey is
Lacey comes out and says that she doesn't know if it's because Becky is Irish or like a man she wants to be the center of attention. Lacey, as a lady, will teach the man how to be humble and ladylike. Lacey says that at MITB she will have Becky's titles.
Lynch says that her Irish emotions want her to slap her head off her shoulders. She says for Lacey not to confuse her recent happiness for contentment.
Lynch wins via submission after a Dis-Arm-Her
After the match, Lacey Evans comes in and hits Becky with two Woman's Rights.
Baron Corbin Interview
Corbin's asked if he will defy the odds once again by beating AJ Styles. Corbin says the same people who don't think he deserves a match with Seth Rollins are the same people who said the same thing about him and Kurt Angle but he looks forward to proving them wrong. When he's asked if he's looking past AJ Styles, Corbin says he's looking through him.
Ricochet vs Robert Roode
Bobby Roode wants to be called Robert Roode now
Robert Roode pins Ricochet after a Glorious DDT
Firefly FunHouse
AJ Styles vs Baron Corbin
AJ Styles pins Corbin after a Phenomenal Forearm.
After the match, Seth Rollins comes out and offers to shake AJ's hand. Styles looks at Rollins for a bit but eventually shakes Seth's hands before the two start jarring at each other.