WWE Monday Night RAW Live Results: Will Brock Lesnar Appear?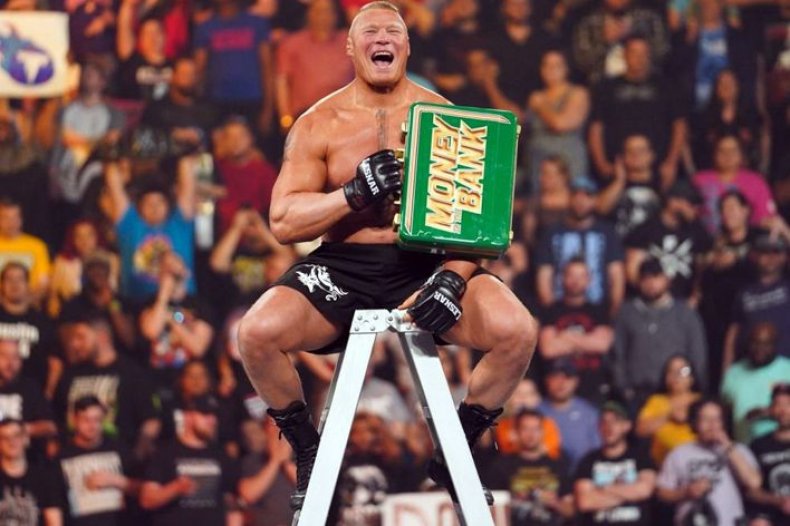 Fans are still talking about the end of the Money in the Bank pay-per-view, but less than 24 hours later Monday Night RAW will address the fallout from the controversial show.
Brock Lesnar returned to WWE and won the Money in the Bank briefcase to close out the show. He can now challenge the WWE or Universal Champion anytime, anywhere. It seems likely that The Beast will set his sights on "The Beastslayer" Seth Rollins and regain his Universal Championship.
Lesnar may not be on RAW tonight, but you can expect his advocate Paul Heyman to hype his client for what seems to be an inevitable rematch.
Also on the MITB show, it was teased that legend Mick Foley will appear on Monday Night RAW to announce a brand new championship to WWE. What could this new title be? Foley is a hardcore legend so it could be the return of the Hardcore Championship, or a new women's title because Mick is a huge proponent for the division.
Becky Lynch successfully defended the RAW Women's Championship against Lacey Evans, but could not defeat Charlotte Flair. Although Bayley would save Becky from a double team and eventually cash-in (and win) against Charlotte, how will Lynch respond to losing one of her titles? It seems Becky and Lacey's feud is not done but will anyone else from the RAW women's division step up to The Man?
The Usos defeated the SmackDown Tag Team Champions, Daniel Bryan and Rowan, on the MITB kickoff show in non-title action. So what will Jimmy and Jey do next? They are members of the RAW roster but can they use the "Wild Card Rule" to challenge for the SmackDown Tag Team Championships again? Will they continue their feud with The Revival? Or will they do both? We'll just have to wait and see what they decide to do on Monday.
It's expected to be a packed Monday Night RAW. Here's everything that happened on the May 20 episode of RAW.
MONDAY NIGHT RAW LIVE RESULTS
Opening Segment
The show starts with Brock Lesnar with the Money in the Bank briefcase and Paul Heyman.
Heyman says he can feel the paranoia going through the arena. He says that people believe that when Sami Zayn took out Strowman last week, that Lesnar snuck his way into the match. Heyman says that people believe he made a quick negotiation to become the eighth participant of the men's ladder match.
He says that Seth Rollins and Kofi Kingston should be paranoid now that Lesnar as the MITB briefcase. Heyman starts to rundown Rollins and say that he needs to be afraid of Lesnar.
Seth Rollins interrupts and says that he should be on top of the world because he beat AJ Styles last night but he's not in a good mood because he has to see Lesnar. He says that he can't be the champion the WWE Universe deserves with the MITB briefcase hanging around so he tells Lesnar to cash-in tonight.
Heyman says that Seth needs to wait for Lesnar to cash-in. Heyman says Seth should be used to waiting because he had to wait seven hours for his girlfriend to main event WrestleMania, something he can't do.
Heyman says what makes Seth think he's worthy of facing Lesnar? He says that maybe he'll want to face Kofi Kingston.
Kofi Kingston comes out and says that he's trying to establish his legacy as WWE Champion. He wants to be remembered as one of the best WWE Champions of all-time and he can't do that unless he beats the best night in and night out. He tells Lesnar to cash-in on him.
Heyman says that he learned that Kofi and Seth are not done tonight. And that Lesnar and the MITB briefcase won't be far.
Backstage
Sami Zayn pleads to Bobby Lashley to help him out against his match against Strowman tonight.
Lashley says he won't help him but he can help soften him up for Bobby's match against Braun in Saudi Arabia
Backstage
Kofi and Seth Rollins are walking backstage talking about Brock Lesnar and wondering what they ahve to do tonight. They run into Triple H who tells them that they are tagging against Bobby Lashley and Baron Corbin.
Sami Zayn vs Braun Strowman
Before the bell, Zayn leaves the ring and Strowman chases him to the back. Backstage, Strowman and Lashley have a stare down when Sami Zayn hits Braun out of nowhere. Strowman throws Sami and continues his pursuit.
Strowman carries Sami to the ring before Zayn gets the upperhand by pushing Braun into the post. The two eventually get into the ring.
Strowman wins via pinfall after a Running Power Slam
Lars Sullivan Interview
After a video hype package showing Sullivan's time in WWE, he's asked about his goals. Before he can answer, Lucha House Party comes out.
The three men take Lars out of the ring, but Sullivan evcentually gets the upperhand taking them out one by one. Sullivan was going to hit Lince Dorado with the running sitdown powerbomb when Gran Metallic and Kalisto save him before leaving.
Ricochet vs Cesaro
Match setup earlier in the day when Cesaro walked up to Ricochet in the locker room after he told people he was hurting after the ladder match yesterday. This would play into the match.
Cesaro wins via pinfall after a Gotch Neutralizer
AJ Styles Interview
He's asked where his loss against Seth Rollins leaves him on RAW.
AJ says that he can beat Seth Rollins just he was the better man last night. But he'll start from square one.
Baron Corbin comes out and interrupts him. Baron says that he pinned Seth two weeks ago and that it should have been Corbin in that match at MITB and calls it a slap in the face. AJ Styles says that isn't a slap in the face before slapping Corbin. Baron says he'll regret that before walking off.
Roman Reigns Segment
Before Roman can speak, Shane McMahon comes out and says that The Big Dog doesn't compare to the "Best in the World." He says that he's done with The Miz after defeating him at MITB. He now wants to set his eyes on Roman after what he did to Mr. McMahon.
Roman says he hates spoiled rich kids. He says he's done with Elias so his schedule is open. Shane says Roman isn't done with Elias. Roman challenges Shane tonight. Shane says that after his brual cage match he doesn't know if he can go against Roman, but he leaves it up to the crowd. The crowd cheers for the prospect fo Shane vs Roman. Shane takes his jacket off and takes a step towards the ring before stopping. He says tonight isn't going to be when their match happens. He tells Roman that he is still his boss and brings out Drew McIntyre.
Shane says that he will take on Roman Reigns at Super Showdown. Roman says that after Super Showdown, Shane will say what everyone else says and that's "I got my ass beat by Roman Reigns."
Backstage
Shane and Drew walk backstage when McMahon is asked if he will be alone when he faces Roman at Super Showdown. He's about to respond when Miz walks up to them. Miz says that he's not done with Shane, which causes Drew to get in between. Miz says that once he goes through Drew he'll come after Shane.
The Usos vs The Revival
The Revival are being extra heelish in the match.
Revival win via pinfall after a roll up. Dawson had a handful of tights
Backstage
Nikki Cross walks up to Alexa Bliss. Bliss says Nikki did a good job as her replacement at MITB but the problem is that she lost.
The Revival appear and celebrate after their win over The Usos and ask if they can be future guests on a Moment of Bliss.
Moment of Bliss
Alexa and Nikki Cross come out together and Bliss asks for her coffee. A stagehand comes out to give both of them a coffee. Bliss brings out her guest, Becky Lynch.
Nikki stands behind Alexa but Bliss asks Becky how it feels to not be Becky "Two Belts" anymore.
Before she can answer, The IIconics appear. They say they can't call her Two Belts anymore just Becky "One Belt." They said they still have their two belts. Becky retorts by saying she defended her two belts more in one night than the IIconics did since WrestleMania. She says that if they keep talking, Becky will fight them both and be Becky "Three Belts."
Lacey Evans comes out and says that Becky needs to give her credit for losing her SmackDown Women's Championship. Becky says she can say whatever she wants, but she tapped out. Becky says that she will challenge all three of them. IIconics laugh about it when Nikki Cross says she'll be Becky's partner. Lacey says they are short one woman, but Becky says Alexa will do. Bliss says she didn't agree to this, but Becky says that Alexa just needs to stay still and look pretty.
Becky Lynch, Nikki Cross and Alexa Bliss vs The IIconics and Lacey Evans
Bliss doesn't get on the apron but continues to sip on her latte
Before the end of the match, Lacey Evans walks out on The IIconics.
Lynch pins Billie Kaye after a top rope leg drop.
Firefly Fun House
Mick Foley Title Reveal
Foley comes out to reveal the new 24/7 title. This new championship will be defended every day and the third hour of RAW will see it defended. As long as a referee is around, the champion can lose it.
A slew of superstars including Cedric Alexander, The Club, Mojo Rawley, Titus O'Neil, No Way Jose, Drake Maverick, EC3, Erik Young all fight for the championship but it's Titus who gets the title first.
While he's celebrating on the ramp, Robert Roode comes out from the back with a referee. He rolls up Titus and becomes the second champion. He then runs to the back with the superstars running after him.
The Miz vs Drew McIntyre (with Shane McMahon)
McIntyre wins via pinfall after a Claymore
Shane hits Miz while the referee isn't looking, which sets up the finish
After the match, Shane sets up Miz for the Coast to Coast but Roman Reigns comes out for the save.
Samoa Joe Promo
Joe says that he was never pinned. He says he's not upset because Rey Mysterio is an honorable man and he will give him the opportunity to give him back his US Championship.
The state of the United States Championship will be determined next week as it was revealed that Mysterio suffered a separated shoulder during their MITB match.
Backstage
Robert Roode runs to the parking lot and R-Truth opens the trunk to hide in. Once the mob of superstars are gone, R-Truth lets Roode out and reveals a referee. Truth his Roode with a move and pins him becoming the third 24/7 champion.
Truth drives off saying he's taking the title to SmackDown Live.
Kofi Kingston. Seth Rollins vs Bobby Lashley, Baron Corbin - No DQ Match
It's announced before the bell that this match is a No DQ match
Before the match, Baron Corbin attacks Seth Rollins. Kofi goes for the save when Bobby Lashley comes out and takes him out.
Kofi pins Baron Corbin after a Trouble in Paradise
After the bell, Lashley hits both Kofi and Seth with Spears. Lashley looks to hit them with a chair but the champs fend him off.
Lesnar comes out and stares at Kofi and Seth. Brock gets on the apron and fakes like he's getting in the ring. Lesnar and Heyman walk to the back. Before they do Heyman says that next week they will decide who Brock will cash-in on.