WWE Monday Night RAW Live Results: Survivor Series Fallout Begins
It's the day after Survivor Seriesand Monday Night RAW came out on the short end losing to both SmackDown and NXT. With that said, the WWE's flagship show is looking to move forward to the TLC pay-per-view on tonight's show.
While there are a ton of possible storylines stemming from Survivor Series there are two confirmed matches for tonight's Monday Night RAW.
The first is the US Championship rematch between Humberto Carrillo and current champ, AJ Styles. The Phenomenal One defeated Carrillo during the Crown Jewel event in Saudi Arabia, but Carrillo has earned another shot after defeating Karl Anderson.
With his first championship in WWE in his sights, can Carrillo overcome not just Styles but his OC cohorts as well?
In the women's division, Asuka will take on Charlotte Flair in one-on-one action tonight. The two superstars have never seen eye-to-eye and that was apparent on Sunday after Asuka took offense to Charlotte tagging herself in. After spewing green mist in Charlotte's face, causing her to be pinned, Asuka also left the rest of her RAW teammates in their eventual loss to NXT.
Will Charlotte notch another victory against Asuka or can "The Empress of Tomorrow" prove her dominance against one of the most dominant women in WWE?
NXT Women's Champion, Shayna Baszler defeated both Bayley and Becky Lynch to win Survivor Series for the black and gold brand, but "The Man" got the last say as she laid out Baszler after the bell. Baszler didn't pin or submit Lynch so Becky still has a claim to be the best women's superstar in the company, but after the attack is this the last we've seen of Shayna or will Lynch move on to a new opponent for her RAW Women's Championship?
Here's everything that happened on the November 25 episode of Monday Night RAW.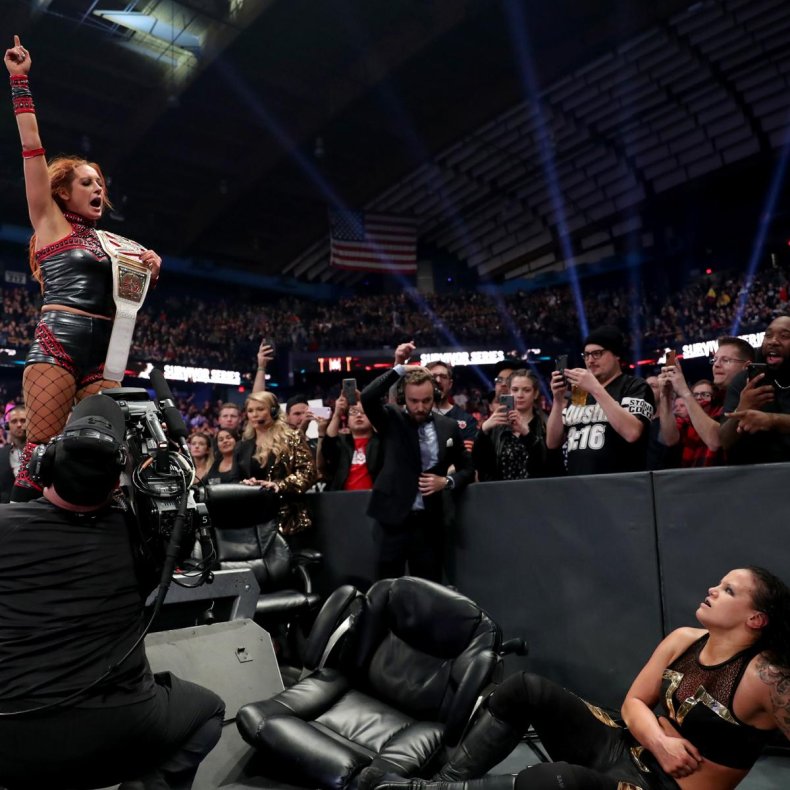 WWE MONDAY NIGHT RAW RESULTS
Opening Segment
The RAW roster gathers around the ring and Seth Rollins makes a speech. The crowd does the CM Punk chant and says that he tried to get him here, but he's too afraid.
He says that NXT mopped the floor with RAW and says that everyone sucked.
He says that RAW went from the A-show to the C-show and they need to fix it. He opens the floor to the roster to speak up. He calls Randy Orton to say something, but he leaves to the back. Charlotte is called next and brings up how she not only lost her match but wasn't even the last one eliminated. He questions her being a Flair, which causes her to walk to the back.
Seth Rollins calls out AOP and says that they've been talking for weeks and haven't done anything.
Rey Mysterio is called out next. He says that Rey let all of RAW down. He says that he beat Brock Lesnar twice this year and Mysterio couldn't do it with a lead pipe and his "stupid son." Mysterio and the rest of the RAW roster leave Seth Rollins alone in the ring.
Kevin Owens appears from the crowd and Rollins says that this isn't about him, he cares about the brand. He calls KO lazy and doesn't do anything. He says that KO wants his spot, but he will never be Seth Rollins.
Seth tries to apologize for what he said, but KO hits Rollins with a Stunner and walks to the back without saying one word.
Backstage Interview
Seth challenges Kevin Owens tonight after trying to gather the brand together.
Bobby Lashley (with Lana) vs Titus O'Neil
Lashley wins via disqualification after Rusev appeared and attacked him
After the match, the two brawl up the ramp before police come to handcuff Rusev. He has broken the restraining order. Rusev gets away from the cops and pushes Lashley off the stage and knocks a piece of scaffolding on him before he gets pulled to the back with a crazed look in his eyes.
AOP vs Zack Ryder and Curt Hawkins
Akira Tozawa vs Andrade (with Zelina Vega)
Andrade wins via pinfall after a Hammerlock DDT
Aleister Black Promo
Black talks about Buddy Murphy and his match tonight. Black says he is coming to collect what is owed. He says that Murphy came to the arena tonight to pick a fight with him.
Matt Hardy vs Buddy Murphy
Murphy wins via pinfall after three straight knees
After the match Murphy calls out Aleister and Black runs to the ring. The two brawl with Murphy leaving the ring and Aleister standing tall in the ring.
Charlotte Interview
Charlotte says she was the only one who could have captained that RAW Survivor Series team. She then recaps what Asuka did last night.
AJ Styles (c) vs Humberto Carrillo - US Championship Match
As Carrillo walks to the ring, Luke Gallows and Karl Anderson jump him from behind.
Ricochet comes out to check on Carrillo. AJ Styles and says it's a shame that his opponent has been taken out. Ricochet says to give him a title shot tonight. Styles says he signed a contract against Carrillo so he won't. Randy Orton comes out and asks for a title shot tonight.
Styles brings up how he defeated Orton at WrestleMania and has nothing to prove to both Randy and Ricochet who he beat.
Drew McIntyre comes out and says that he knows someone AJ hasn't defeated. He says that he pinned Walter last night and suggests AJ and Drew wrestle for the first time ever. Rey Mysterio comes out and challenges AJ Styles.
Styles says that the four of them can wrestle and the winner will have a title shot right after
Ricochet vs Drew McIntyre vs Randy Orton vs Rey Mysterio
Mysterio pins Ricochet after a roll up
AJ Styles (c) vs Rey Mysterio - US Championship Match
Mysterio wins via pinfall after a Frog Splash
The finish was set up when the ref took a bump when Rey hit the 619. The OC come back after being ejected to hit Mysterio with a few moves when Randy Orton comes out for the save. He takes out The OC and Rey hits AJ with the 619 followed by and RKO from Randy. Mysterio then hits the finish.
Charlotte vs Asuka (with Kairi Sane)
Charlotte chases Kairi off in the middle of the match
Asuka wins via pinfall after roll up following the green mist
The finish was set up when Kairi Sane returns and Charlotte gets distracted
Erick Rowan vs Local Enhancement Talent
AJ Styles Interview
Styles is asked about his loss, but doesn't say anything but Randy Orton's name.
Kevin Owens vs Seth Rollins
Kevin Owens wins via disqualification
AOP come in at the end of the match and start fighting with KO. They look at Rollins in the corner who tells them to bring it, but they instead walk out.
Rollins looks confused, but instead he hits KO with two Stomps to end the show.