WWE Monday Night RAW Live Results: Will Seth Rollins Retain the Universal Championship?
It's the season premiere of Monday Night RAW and the WWE is pulling out all the stops to make tonight's episode one to remember with a handful of title matches and heated rivalries.
Seth Rollins is putting his Universal Championship on the line against the legendary Rey Mysterio. Mysterio earned the number one contendership after defeating Ricochet, Robert Roode, AJ Styles and Shinsuke Nakamura in a Fatal Five-Way match last week. Now, Mysterio will look to capture his first Universal Championship.
Rollins, on the other hand, has been tormented by Bray Wyatt's "The Fiend" in recent weeks and with their Hell in a Cell match looming, will "The Architect" have his mind on his match against Mysterio?
In other championship action, AJ Styles will put his US Title on the line against Cedric Alexander. Styles has put a stranglehold on the title since he won it while Alexander failed to capture it at Clash of Champions. The former Cruiserweight Champion will have another chance tonight to win his first main roster title, but will the rest of The OC prevent that from happening?
Robert Roode and Dolph Ziggler are the RAW Tag Team Champions, but Heavy Machinery are making their way from SmackDown to challenge for the straps. Can Roode and Ziggler continue their hot streak against Otis and Tucker or will the former NXT team capture their first championships on the main roster?
In the women's division, Sasha Banks will go one-on-one with one half of the Women's Tag Team Champions, Alexa Bliss. Both women have bad blood, so this match will be an interesting watch especially if Nikki Cross or Bayley get involved.
Tonight's episode of Monday Night RAW will have major guests from WWE's past. Miz TV will have Ric Flair and Hulk Hogan appear while Brock Lesnar is scheduled to show up ahead of his WWE Championship match against Kofi Kingston on the first episode of SmackDown Live on Fox this Friday.
A lot is expected to happen on the September 30 episode of Monday Night RAW, here are all of the results.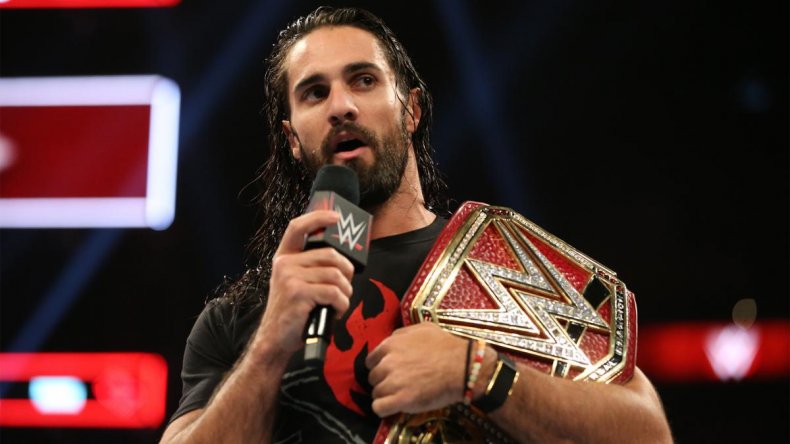 WWE MONDAY NIGHT RAW RESULTS
Opening Segment
Rey Mysterio comes out to start the night. He says later tonight he's going to face Seth Rollins for the Universal Championship. He says he owes this match to his son Dominick. His son is ringside. Mysterio is interrupted by Brock Lesnar (complete with pyro) and Paul Heyman.
Mysterio takes the mic from Paul Heyman and is about to say something when Lesnar hits Rey with two F-5s. Lesnar looks at Dominick at ringside and steps up to him. Dominick sits down before Lesnar grabs Mysterio's son from his seat and tosses him around. Lesnar then throws Dominick in the ring. Mysterio grabs onto Lesnar's leg to stop him, but Brock hits Rey with another F-5. Lesnar is about to leave, when he goes back in and hits Rey and Dominick with German Suplexes. Lesnar gets out of the ring one more time, but goes in when producers tend to Rey and Dominick. Lesnar knocks the producers away and tosses both wrestlers out of the ring before finally leaving.
Sasha Banks vs Alexa Bliss
Becky Lynch is on commentary
Sasha Banks wins via pinfall after she pretends to call for Bayley, which distracts Alexa Bliss. This allows for Sasha to kick Bliss' injured leg.
After the bell, Becky Lynch gets in the ring and she and Banks get into a brawl. Banks leaves the ring while Lynch gets on the mic and says that at Hell in a Cell she won't be able to leave.
Seth Rollins Interview
After a recap of what happened to Seth last week, Rollins cuts Charlie Caruso off. He says he can only think about what Brock Lesnar did to Rey and Dominick Mysterio and says that's a line you don't cross.
As for Hell in a Cell, he doesn't know how to game plan for someone like The Fiend. He's worked too hard to get the Universal Championship back and he will prevail on Sunday.
He says that Rey Mysterio isn't fit to compete tonight, but promises him that he has a Universal title shot when he gets better.
Robert Roode and Dolph Ziggler (c) vs Heavy Machinery - RAW Tag Team Championship Match
Roode pins Tucker after a Glorious DDT
Miz TV
He brings up how Mysterio's son was attacked by Brock Lesnar and he wouldn't know what to do if someone did that to his child.
Miz brings out Ric Flair, Hulk Hogan and Jimmy Hart.
Flair and Hogan start to talk and pump themselves up to fight when Miz stops them. Miz says that at the Crown Jewel pay-per-view in Saudi Arabia, it will be Team Flair vs Team Hogan. Team Flair will have Randy Orton as his captain with Seth Rollins on Team Hogan.
Orton comes out to challenge Rollins, which then brings out King Corbin and then Rusev. The three start to fight with Rusev getting the better of Orton.
Rusev Interview
Backstage, Rusev is asked about his intervention in the ring earlier and he challenges Seth Rollins for the Universal Champion.
When he's asked about Lana, Rusev stays silent and walks away.
AOP Vignette
Viking Raiders vs The OC
Viking Raiders win via pinfall after a Frog Splash
Cesaro Interview
Cesaro starts to talk smack about Rey Mysterio when Ricochet comes in and tells him to stop. When Cesaro doesn't stop, Ricochet challenges him to a match.
Ricochet vs Cesaro
Ricochet wins via pinfall after a reverse Hurricarana from the top rope
Firefly Fun House
Abby the Witch is seen crying while Huskus is shaking out of fear. Mercy the Buzzard is shaking scared in its box while Ramblin' Rabbit says he's scared to death before dying.
Bray Wyatt comes out to check on Ramblin' Rabbit and says he's gone before tossing him and asking the other puppets what's going on with them. Abby says they are scared about what The Fiend is going to do on Sunday to Seth Rollins.
Wyatt says it's ok to be scared and he's afraid too. Bray says that there is no place like Hell in a Cell. Huskus asks how is it. Wyatt says that it's a place to inflict suffering and a place you can enter but can't leave without emotional and physical scars. He says Seth will be trapped in there with "him." Bray says that "he" will always protect this place and them, but he will come back no matter what happens. But Bray doesn't think Seth will be the same. He feels that "he" can't wait to hurt Seth. Wyatt says that he will try and find "him" and tell him to be nice to Seth Rollins. Bray leaves and comes back laughing as he says he's just kidding. Wyatt then says "let me in" before saying goodbye.
AJ Styles (c) vs Cedric Alexander - US Championship Match
Styles wins via pinfall after a Styles Clash
This match was very competitive
Street Profits Segment
They say that they'll be in action on this Wednesday's NXT.
They get intense but that's on Wednesday, this is Monday and they are pumped for Seth Rollins vs Rusev for the title. Dawkins says that with Hell in a Cell this weekend, but Montez cuts off Dawkins every time he's about say The Fiend.
Lacey Evans vs Natalya
Evans wins via pinfall after a rollup.
The finish was set up when Evans raked Natalya's eyes
After the match, Evans hits Natalya with the Women's Right
Paul Heyman Segment
Heyman says that he can't apologize for what Brock Lesnar did earlier, but it's Vince McMahon's fault for booking Lesnar at tonight's show when he's in "fight mode."
Heyman says that this Friday, Lesnar will be the new WWE Champion and that's a spoiler not a prediction.
Maria Kannelis Interview
Charlie asks about Rusev's involvement. Maria says that Rusev is not the father and he has enough going on with Lana.
When Maria walks off, Sasha Banks takes the mic from Charlie and calls out Becky Lynch. She says she will tap out Becky and that she was in the first women's Hell in a Cell and she won't lose her match.
Seth Rollins (c) vs Rusev - Universal Championship Match
Randy Orton and King Corbin are watching the match from the ramp.
Toward the end of the match, Bobby Lashley returns with Lana. The two embrace and kiss as Rusev looks on perplexed.
The lights then start to go out as The Fiend attacks Seth Rollins with the Mandible Claw as RAW fades to black with Bray Wyatt's laugh echoing.