It's the second to last Monday Night RAW before the Money in the Bank pay-per-view, and WWE continues to build toward the company-altering show.
Not much is known about this week's Monday Night RAW, but we're getting a contract signing between WWE Champion Drew McIntyre and Seth Rollins. Contract signings in the WWE rarely go as planned, but how will McIntyre react to Rollins after "The Architect" stomped the champion last week?
In an exhibition between Money in the Bank ladder match competitors, Asuka, Nia Jax and Shayna Baszler will go head-to-head-to-head in a triple-threat match tonight. Baszler and Nia Jax have been on mean streaks in recent weeks, but can Asuka continue her journey to the top of Monday Night RAW?
Baszler has her sights set on RAW Women's Champion Becky Lynch and she won't stop until she gets a rematch with "The Man." Nia Jax, since her return, has decimated everyone who has gotten in her way including Kairi Sane twice. Asuka may have her sights set on Jax for taking out her friend Sane twice, but she'll have to watch out for Baszler.
The Street Profits, RAW's tag team champions, are on top of the tag division but with The Viking Raiders in their path, can they overcome the team that they've never been able to defeat? Bianca Belair is now on Monday Night RAW and looks to keep Montez Ford and Angelo Dawkins in check so they can keep the tag titles as long as possible.
Speaking of the Viking Raiders, Ivar and Erik weren't on Monday Night RAW last week, but they had a video of them driving and singing a song about them. It's a huge departure from their usual characters so it'll be interesting to see if we learn more about them this week.
Here's everything that happened on the April 27 episode of Monday Night RAW.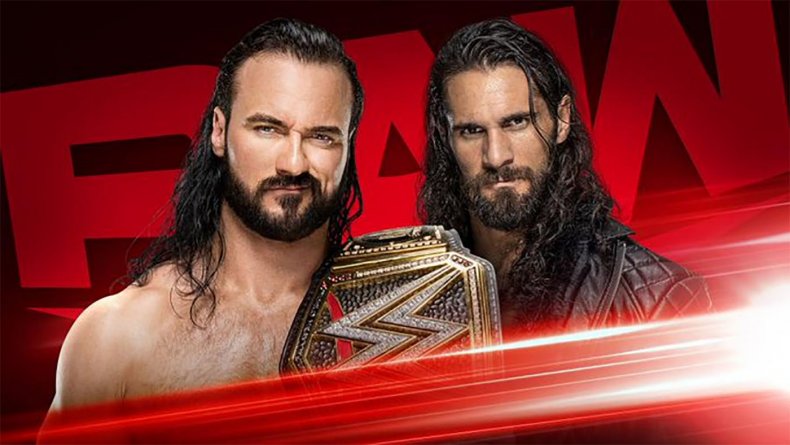 WWE MONDAY NIGHT RAW RESULTS
VIP Lounge
MVP starts off the night and introduces three guests, Rey Mysterio, Aleister Black and Apollo Crews.
MVP says that he's here to teach them what it takes to win the MITB match. He says that Aleister winning would catapult his star to rise even further.
He asks Apollo Crews if he has what it takes. Before Crews can talk, Zelina Vega and her associates interrupt.
Zelina Vega says that her faction should take Apollo, Rey and Aleister's spot in the MITB ladder match. Rey gets on the mic and says that he thinks the faction wants more than their spot, they want a fight.
Rey, Apollo and Aleister jump Zelina's group as RAW goes to commercial.
Apollo Crews, Rey Mysterio & Aleister Black vs Andrade, Angel Garza & Austin Theory (with Zelina Vega)
Apollo pins Andrade after a sitdown powerbomb
Backstage
Andrade is asked about what happened in the match. Andrade says that his partners let him down, and that neither Rey, Aleister or Apollo can beat him one on one.
Apollo comes out happy about his victory when Andrade walks up to him and starts talking trash. Apollo smacks Andrade and then gives him a title match tonight.
Asuka vs Nia Jax vs Shayna Baszler
Before the match, Asuka gets on the mic and cuts a promo in Japanese. She is sad for what Nia did to Kairi and boasts that two years ago she tapped out Jax.
The match never begins. Shayna Baszler attacks Asuka and a huge scrum ensues. The fight ends when Nia Jax takes out Baszler and Asuka with a ladder.
Bobby Lashley vs Denzel Dejournette
Before the match, Bobby Lashley and Lana are talking backstage when he asks Lana to not go to the ring with him for his match. She asks why and he tells her that he gets distracted because of how beautiful she is. Lana laughs and agrees.
Lashley wins via pinfall after a Spear
Liv Morgan vs Ruby Riott
Morgan wins via pinfall after her new finish
After the match, Liv Morgan gets on the mic and says that she's like a lot of people her age and is still trying to find herself but she will.
Nia Jax Interview
Backstage, Jax is asked about her actions tonight. Jax asks what Charlie Caruso can do about her actions. She asks what Asuka, Shayna or anyone can do about her actions. She answers nothing.
Viking Raiders Promo
Seemingly abandoned the carpool karaoke bit from last week, Viking Raiders point out how The Street Profits only won the tag titles after they were injured and have never beaten them. Viking Raiders say they want the smoke.
Akira Tozawa vs Jinder Mahal
Mahal wins via pinfall after a Kalas
Backstage
Andrade and Zelina are talking backstage when Charlie Caruso approaches them for an interview. They leave without saying anything when Angel Garza comes out and asks Charlie out.
Andrade (c) (with Zelina Vega) vs Apollo Crews - US Championship Match
Andrade wins after the referee deems Apollo Crews unable to compete
The story of the match was Crews tweaked his knee and was worked on by Andrade. After missing with a top rope move, Crews couldn't continue.
Street Profits Promo
Backstage, Street Profits run down the Viking Raiders doing carpool karaoke and say that they are open next week and they'll bring the smoke.
Ricochet and Cedric Alexander vs Ever Rise
Ricochet and Alexander win via pinfall
After the match, MVP gets on the titantron and brings out Shane Thorne and Brendan Vink and explain that they want to prove themselves against them.
Backstage
Apollo Crews is approached backstage. He has his knee iced up and is on crutches. He's asked about his injury and he doesn't say anything, he just cries and leaves.
WWE Championship Contract Signing
Jerry "The King" Lawler is there but Drew tells him to leave.
The two mean sit down and Seth Rollins says that he doesn't want to be the one to crush his dream but he'll do it for the greater good. He is the only one who can carry the burden of the title because he's done it already. He says that he will lead McIntyre too if he wants.
Drew thanks Seth but tell him he's "full of sh**." He says that when Seth talks he gets puts his foot in his mouth and has his head up his a$$. He tells Seth that he jumped him last time, but at Money in the Bank he will have to come for the throat because he will.
Seth says at Money in the Bank that everything will be clear. McIntyre slams Rollins' head on the table and is ready for the Claymore when Murphy shows up to help him. He helps Rollins up and is surprised and happy to see him, but McIntyre goes for the Claymore and Murphy pushes him out of the way and gets hit. Seth walks to the back as Drew ends the night on top.
About the writer
Phillip Martinez is a game and culture reporter for Newsweek. Prior to joining Newsweek in 2018, he was a reporter and editor for iDigitalTimes and Player.One. A Bronx native, he graduated with his Bachelor's degree in Journalism from St. John's University in 2010. An avid Nintendo fan and wrestling mark, he's always looking to become a Pokémon Master while fantasy booking this year's WrestleMania. You can contact him at p.martinez@newsweek.com