WWE Monday Night RAW Live Results: Super Showdown Fallout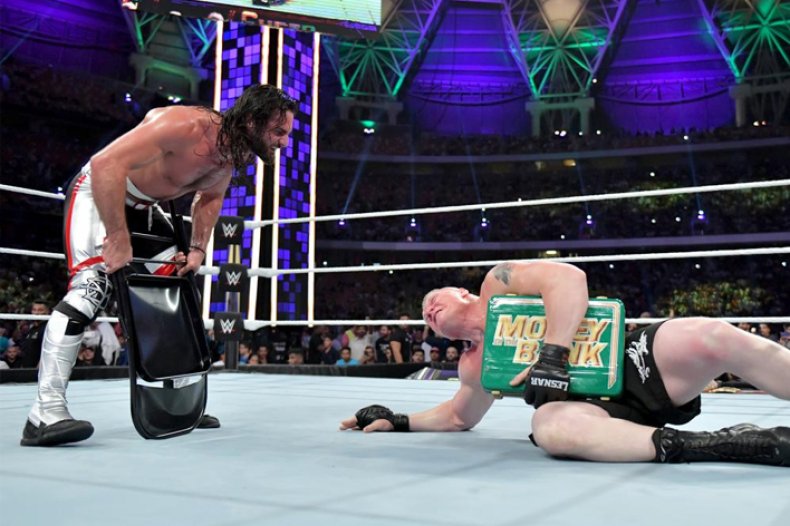 Following the latest event in Saudi Arabia, WWE returns to the States to bring its fans another episode of Monday Night RAW as they deal with the fallout from Super Showdown and build towards the Stomping Grounds pay-per-view in a few weeks.
Universal Champion Seth Rollins escaped Saudi Arabia with the title after defeating Baron Corbin and fending off Brock Lesnar. Lesnar was looking to cash in his Money in the Bank briefcase, but an untimely distraction and some well-placed chair shots helped "The Architect" take out The Beast before he was able to do so.
Corbin said the referee cost him the win and he demanded a rematch. His request was granted and the two will go head-to-head once again at Stomping Grounds.
Shane McMahon will return to Monday Night RAW - thanks to the Wildcard Rule - to celebrate his victory over Roman Reigns on Friday. While Drew McIntyre helped Shane come out victorious, The "Scottish Psychopath" will need to look forward towards his own match against Reigns at Stomping Grounds.
After Rey Mysterio relinquished his US Championship to Samoa Joe last week, Joe will appear on Miz TV to discuss Mysterio's decision and explain why he felt compelled to attack Rey when he was trying to leave the ring.
Zack Ryder and Curt Hawkins have seldom appeared on television since winning the RAW Tag Team Championships at WrestleMania 35, but the champs are being thrown into the fire against both The Revival and The Usos, arguably the two best tag teams in the company. Will Zack and Curt make it out of RAW with their titles?
In the women's division, the top story is the feud between RAW Women's Champion Becky Lynch and her challenger Lacey Evans. The two will square off again at Stomping Grounds, but will the "Sassy Southern Belle" be able to take down "The Man" on her second try? Or will it be a repeat of Money in the Bank?
Here's everything that happened on the June 10 episode of Monday Night RAW.
MONDAY NIGHT RAW RESULTS
Opening Segment
Seth Rollins comes out with a chair. He says it's a new era for the Universal Championship. There are three choices for the RAW locker room. They can come out and try to fight him for it. Or they can do things the hard way and try to take it from him. Rollins says no one has done to Brock Lesnar what he did to him at Super Showdown and it felt good to lay the chair over his back.
Baron Corbin interrupts and says that Rollins should stop worrying about Lesnar and worry about him because he'll become Universal Champion at Stomping Grounds. He says that the referee cost him the match on Friday. He says that his time as GM taught him some things and he was in meetings with the executives. He got the referee punished and a rematch at Stomping Grounds, but with a special guest referee of his choosing. Seth Rollins says that Baron has no friends so who will help Corbin out?
Sami Zayn comes out and says he's team Corbin. He says he's watched Seth's behavior recently isn't good for him. He's in a cycle with Brock Lesnar and it would be better for Seth if Baron was champion. It would be better for Monday Night RAW. Seth doesn't believe what Sami is saying. Sami says that if he helps Corbin, he would do him a favor too.
Seth says if Sami is going to help Corbin, who is going to help Zayn when he beats him in the ring. Kevin Owens comes out and says that he has Sami's back. Rollins tells KO to get in the ring. Kevin Owens agrees and the match is made for the main event between KO and Rollins.
Lars Sullivan vs Lucha House Party - 3-on-1 Elimination Handicap Match
Sullivan pins Kalisto after a Freak Accident.
Sullivan pins Lince Dorado after a Running Powerbomb
Sullivan hits Gran Metallic with a slam but refuses to pin. He then throws Kalisto on top of the steps. He hits Gran Metallic with a Freak Accident but doesn't pin. He instead slams Lince Dorado on the outside. He then finishes off Gran Metallic with a flying headbutt and pins.
24/7 Segment
R-Truth and Carmella are running backstage. A crowd runs after them. Carmella, Truth, EC3, Cedric Alexander, Drake Maverick and Heath Slater get in an elevator. They are going up and get stuck in the elevator.
Becky Lynch/Lacey Evans Backstage Interview
Lynch says that Evans already tapped out at Money in the Bank. Becky says that Lacey should have won, because she's bigger and stronger but she can't allow her to win.
Evans says that she will do anything to get her spot.
Lynch says that she doesn't care about Lacey's position, but she's angry that Evans cost her the SmackDown Women's Championship. Evans says Becky doesn't know anything about her but this "man" bravado is just a mask and deep down Lynch is driven by fear, the fear of losing it all and become obscure again.
Backstage
Nikki Cross tells Alexa Bliss that she thought we were going to become a tag team to take on the IIconics. Bliss says they were but then she went to SmackDown and won a shot at Bayley's championship. She then manipulates Nikki, saying that Bayley is continuing to treat her poorly, which endears Cross to her.
Alexa Bliss asks if Nikki forgives her and will be in her corner in her match tonight. Nikki agrees and they hug.
Miz TV with Samoa Joe
Joe tells Miz that this is not a new title, he never lost it to Rey Mysterio.
Miz shows a clip of Mysterio's vacating the title. Miz says that as a father Joe shouldn't be involving children.
Joe says he came on Miz TV to discuss future opponents, but if Miz wants to keep talking down to him maybe Joe needs to involve Miz's family.
Braun Strowman interrupts and says that Joe needs to get these hands. Bobby Lashley comes out and says that he has beef with Strowman but he's the one who should challenge Samoa Joe for the title. Ricochet says that he may not be as big as the others, but his victories over Cesaro should give him a shot. Cesaro interrupts and hits Ricochet from behind. Joe and Miz starts to fight while Strowman and Lashley get into a brawl. After a brawl, Strowman, Miz and Ricochet stand tall.
Braun Strowman, Ricochet and Miz vs Cesaro, Bobby Lashley and Samoa Joe
Ricochet pins Cesaro after a 630 that followed up a Skullcrushing Finale
Before the finish, Samoa Joe left the match with his title after getting the ring with Braun Strowman.
It should be noted that Cesaro was holding his knee after being hit by Ricochet's finisher.
Baron Corbin Interview
Corbin is asked if he figured out who his special guest referee is. Baron says he has two weeks so there's no rush. Sami Zayn walks up to Baron and wants to chat.
Bayley and Becky Lynch vs Lacey Evans and Alexa Bliss (with Nikki Cross)
Lacey Evans pins Bayley after a Women's Right and a sneak tag when Alexa went for the Twisted Bliss that failed when Bayley got her knees up.
The finish was set up when Becky went after Lacey on the outside but Nikki inadvertently got in between them, allowing for Evans to hit the Women's Right on Becky.
Backstage
Sami Zayn comes up to Shane McMahon and asks to be the special guest referee for the match between KO and Seth Rollins. Shane suggests that Sami be a referee from the outside to have extra eyes on the match.
Paul Heyman Promo
Heyman says he's disturbed at the amount of hostility between Brock Lesnar and Seth Rollins. He calls Seth a feckless thug and now that he stopped Lesnar's cash-in, they won't announce when they'll cash-in. And it's guaranteed that Lesnar will cash-in and win the Universal Championship.
24/7 Segment
Truth and the elevator gang are still stuck. EC3 says that they can resort to cannabalism and pulls out a plastic fork. Everyone starts to get anxious, Maverick says he's getting married in a few weeks, which upsets EC3. He asks why he wasn't invited. Maverick says that EC3 is his best man. R-Truth says he's afraid of losing his 24/7 championship and of Hornswoggle. Maverick says he's not Hornswoggle, just a small man. The group continues to argue.
The IIconics vs Lisa Lace and Alliyah Mia
Before the match, The IIconics say that they have been asking for the toughest competition and they have found local competition.
The IIconics win via pinfall in a short match.
Shane McMahon Celebration
Shane says that Roman Reigns is a future WWE Hall of Famer. He says Roman hits like a mule and lists his accolades. He says he holds a victory over the Undertaker and Brock Lesnar but not over him.
Zack Ryder and Curt Hawkins (c) vs The Usos vs The Revival - RAW Tag Team Championship Match
Scott Dawson pins Zack Ryder after Jey Uso hit Ryder with a Frog Splash.
The finish was set up after Jey went to the top rope, but was tagged out by Dawson and taken out of the ring.
24/7 Segment
The stuck elevator opens again, and the wrestlers waiting on the other side pull R-Truth out. But before he can be pinned, Carmella pulls Truth back into the elevator.
Firefly Fun House
Seth Rollins vs Kevin Owens - Sami Zayn is special guest outside referee
Before the match, Sami checks Seth's gear if he's holding a weapon
Sami would get involved in the match multiple times throughout. Rollins hit KO with the Stomp and was about to get a three count when Sami pulled referee John Cone out of the ring to stop it.
Seth Rollins, upset, grabs Sami by the collar which causes Zayn to DQ Rollins and give the win to Kevin Owens. After the bell, Rollins wales on Sami before Baron Corbin appears and starts to hit Seth. Rollins fends off Baron with a chair and then starts hitting Sami with the chair and then a Stomp while he looks at Baron Corbin, who is on the ramp.
WWE Monday Night RAW Live Results: Super Showdown Fallout | Sports