WWE 'Monday Night RAW' Results: Randy Orton Challenges Christian to an Unsanctioned Match Tonight
It's the night after the Backlash pay-per-view and Monday Night RAW is looking to build toward Extreme Rules and Summer Slam.
Tonight, Randy Orton will start tonight's show after winning the "greatest wrestling match ever" bout on Sunday against Edge. Orton can easily gloat now that he's defeated his nemesis, but what condition is "The Viper" in and what's next for him and Edge? With reports of Edge's injury stemming from Sunday's match, will we not see the "Rated R Superstar" for awhile?
Asuka and Nia Jax fought to a double count out on Sunday, which helped keep the RAW Women's Championship on the "Empress of Tomorrow." Not looking to take a defense like that easily, Asuka and Nia Jax will go one-on-one again tonight for the top women's title on RAW.
Can Asuka continue her recent string of domination against Nia Jax, especially with Charlotte Flair waiting in the wings, or can Jax end Asuka's reign and start her own?
WWE Champion Drew McIntyre defeated Bobby Lashley on Sunday, but it wasn't easy. Lana inserted herself into the match distracting Lashley enough for Drew to get the victory. Lashley still has beef with McIntyre, but he and his new manager MVP will take on the champ with R-Truth in a tag team match. Can Lashley get back on the winning side tonight?
Seth Rollins has invited Rey and Dominik Mysterio to tonight's Monday Night RAW. Both have accepted, but what will happen to the master of the 619? Will Rollins and his disciples continue their reign of terror on RAW or can both Mysterios take Seth down a peg?
A lot is expected to go down on the June 15 episode of Monday Night RAW. Here's everything that happened.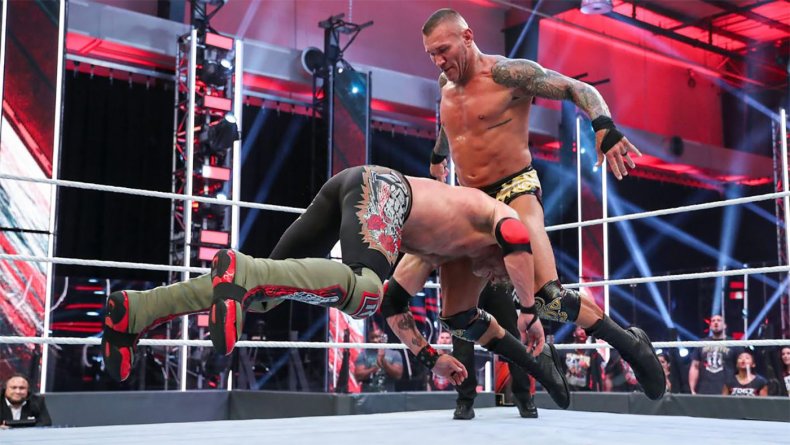 WWE MONDAY NIGHT RAW RESULTS
Randy Orton Promo
Orton begins the night and says that he knew that he would take out Edge when he came back at the Royal Rumble.
He thanks Edge for reigniting the spark of the "legend killer." He says he wishes Edge was here tonight to tell him thanks face-to-face, but he injured Edge. He had to send Edge back home to his family and now Edge has another mountain to climb and he'll see him in another nine years.
Christian comes out and calls Randy Orton a "son of a b---h." He says that Edge will never quit and when that time comes Edge will get his closure.
Randy Orton says that Christian has no business coming down to the ring and he's just jealous of his best friend, Edge. Orton says that he sees the look in Christian's eye and he wants one more match. Christian denies it, but Orton cuts him off and says that Christian had his career taken away. He knows that he's not medically cleared, so Orton challenges Christian to an unsanctioned match tonight. The offer expires by the end of the night.
Orton says that if Christian doesn't accept, that he'll prove he's a coward before he leaves.
Angel Garza Interview
Garza says he didn't cost Andrade the US Championship on Sunday. He wishes Andrade will get over his disappointment, and when he beats Kevin Owens tonight he hopes that he can get an interview with Charlie Caruso in the ring.
Andrade comes into frame and wishes Garza luck on his match with Kevin Owens tonight. But if he doesn't, he hopes Garza can get over his disappointment
Kevin Owens vs Angel Garza (with Zelina Vega)
In the beginning of the match, Andrade comes out to join Zelina on the outside of the ring.
Zelina Vega tells both Andrade and Garza that she's sick of what's going on between them and walks off to the back.
Kevin Owens pins Garza after a Stunner
The finish was set up when Andrade went to distract the referee, but while Garza went to get the ref's attention again it gave KO the opportunity to hit him with his finisher.
After the match, Vega comes back out to the ring. She tells both men to stop fighting each other and start working together because they want the same thing. Both men reluctantly follow Vega to the back.
Backstage
MVP is talking up Bobby Lashley when they are approached for an interview. MVP berates her for disturbing them. Bobby says that they are thinking about their tag match tonight.
MVP says that after 13 years, Bobby didn't get a fair chance last night and were denied their championship celebration and they are going to address it now. RAW goes to commercial
MVP and Bobby Lashley Promo
MVP says it's exclusively Lana's fault that Lashley lost on Sunday.
Lana comes out and says that it's Bobby's idea to banish her from ringside. She wouldn't do anything to hurt Lashley. She says she put his career before her. She got a divorce and changed her hair for him. Lana says that MVP is the reason everything went wrong.
MVP calls Lana a THOT. Lana tells MVP that she can't talk to her that way. MVP says that Lashley didn't sniff the title scene until he got there.
Lana says that they don't need MVP they were on a hot streak. Lashley interrupts and says that Lana ruined everything and that she only cares about getting famous. Lana says that if she wanted to get famous, she would have slept with someone more famous like Drew McIntyre.
Lashley asks Lana for a divorce when he and MVP leave Lana in the ring.
Viking Raiders and Street Profits Interview
After a recap of what happened at Backlash, Montez Ford says that they had to put their title match on hold to fight ninjas. They say that they're ready for their own cinematic universe.
Akira Tozawa and the other ninjas from Sunday show up and say that they want to be in the sequel. Street Profits say no they won't be in the sequel when Tozawa summons Jordan Omogbehin.
Erick is ready to fight and the three others hold him back as the ninjas leave. Ford says that he has an idea as RAW goes to commercial.
Viking Profits vs Ninjas
Viking Profits wins via pinfall after a double frog splash from Ford and Ivar
After the match, Tozawa and Jordan Omogbehin get in the ring when the Viking Profits summon the Big Show.
Big Show hits choke slams and punches on the ninja and they disperse
Backstage
Charlie comes up to Seth Rollins backstage and tells him that Dominik Mysterio is coming to RAW. Rollins says he's happy that Dominik is here and that he wants him here to give him and Rey Mysterio a message
Christian Backstage Segment
Christian is backstage on the phone talking with someone. He says that he doesn't know what to do.
Seth Rollins Promo
Rollins says that what happened with Rey Mysterio is for the good of Monday Night RAW. He said that Rey Mysterio declined his invitation to come to RAW, but fortunately Dominik is.
Rey Mysterio interrupts from his home and says he didn't know that Dominik was on his way. He warns Seth Rollins if he does anything to his son.
Rollins says that he doesn't want to hurt Dominik, he wants to help him. He says that Rey sacrificed himself for the future of RAW and Dominik is the future. He asks Rey to accept what's going to happen
Rey says that if Seth or one of his goons touches his son he's going to end him. Seth says that Dominik can either fight by Rollins' side or he can make the choice that Rey made. He can become a sacrifice as well.
Dominik sneakily comes up from behind Seth and tackles Rollins. Dominik throws Seth into the barricade when Austin Theory and Murphy surround Dominik in the ring. Rey's son slips away and gets away.
Backstage
R-Truth approaches MVP and Lashley backstage. He says he feels bad for what happened to Bobby on Sunday and now he's getting a divorce. Lashley says that Truth talks a lot, but can he back it up.
Truth says he can because he has the WWE Champion with him. Lashley points out that he doens't have Drew around right now, which causes Truth to run away.
After coming back from commercial, Lashley and MVP find Truth under a training ring. Truth says that there are ninjas under there when Drew McIntyre shows up. The four men have a stare down. MVP calls McIntyre a pretender and says that both Truth and Drew should put up their titles tonight. Truth accepts but Drew is not having it.
Lashley calls Drew a coward. Drew reluctantly accepts.
The IIconics vs Liv Morgan and Natalya
Royce pins Morgan after their Magic Killer double team move
Morgan had a roll up pin, but Royce distracted the referee.
After the match, The IIconics get on the mic and call out Sasha and Bayley. They challenge them to a tag team championship match on RAW. They don't a response and say that they're going to get that match next week.
Christian Backstage
Big Show comes up to Christian. He says he's not surprised that Randy asked for an unsanctioned match because he gets to do whatever he wants.
Big Show says that he's not the one to tell him what to do, but he says that Christian can either take a step back or get in the ring and prove to Randy that he's not a punk.
Christian says he knows what he has to do and leaves.
Backstage
Natalya is berating Liv Morgan after their loss. She says that Morgan made rookie mistakes and she now knows why Ruby Riott dumped her. Morgan leaves.
Natalya says that she's tired of being in a division that she helped build with ingrates. Lana appears and says she knows how Natalya feels and says that she was humiliated tonight. Natalya says she understands
Christian Segment
Christian comes out and says he's happy with his WWE career, but if Randy Orton wants to give him one more match he accepts.
Apollo Crews Segment
Apollo is getting warmed up when MVP comes up to him. MVP says that he commends Apollo for being a fighting champion, but he needs to fight smarter. He says that Apollo needs to learn who to fight and says that he can help Crews navigate his title run.
Apollo says that if he's not a fighting champion, he's not a champion at all. He declines MVP's offer.
MVP says that the only way Apollo keeps the US Championship is with him in his corner
Ric Flair and Charlotte Segment
Ric Flair asks Charlotte what's next for Charlotte. Charlotte is confused by the question. Ric says that he wants to know who gets under Charlotte's skin the most and to go after them. Charlotte says everyone gets under her skin, but she knows what to do next.
Apollo Crews (c) vs Shelton Benjamin
Crews wins via pinfall after a roll up
The finish was set up when Benjamin tried to get his legs up for a dirty pin but gets caught. In the confusion, Apollo rolls up Benjamin and uses the rope for leverage when the referee wasn't looking
Asuka Interview
Backstage Asuka is asked if Nia is too much for her to handle.
Asuka responds in Japanese before saying that Nia started this fight and Asuka will finish it.
Drew McIntyre and R-Truth Backstage
Drew walks up to Truth and says that he needs to be serious for their match. Truth, sensing Drew's nervousness about tonight, says he'll make things right.
After the Asuka interview, Truth returns to tell Drew that he spoke to the powers that be and now Truth's 24/7 Championship won't be on the line any more.
Truth says that he needs someone to believe in him. He's lost the 24/7 title so many times he won't let it happen to him.
Viking Profits Segment
Viking Raiders and Street Profits are trying to figure out what their next challenge should be. Viking Raiders suggest chariot races because they know a guy.
Big Show comes out and says that they should settle it in a RAW Tag Team title match next week. Both teams agree before they all start dancing.
Bobby Lashley and MVP vs Drew McIntyre (c) and R-Truth
Truth pins MVP
The finish was set up when McIntyre hits MVP with a Claymore, but when he was about to pin him he instead tags in Truth. McIntyre tosses Truth onto MVP for the pin.
Christian Backstage
Ric Flair approaches Christian backstage. He apologizes for not seeing him earlier but he says that getting in the ring with Orton is a mistake. He says that Randy is on the top of his game.
Christian appreciates what Ric is trying to say, but he can't forgive Orton for what he said.
Sasha Banks and Bayley Promo
They celebrate their victory from Sunday. Bayley brings up that today is her birthday. She says that this whole week will be her birthday week. Bayley says that they are going to go to NXT on Wednesday to beat Tegan Nox and Shotzi Blackheart and then return to SmackDown on Friday.
Sasha says that The IIConics can't dictate when they get a challenge.
The IIConics interrupt and say that they want an answer to their challenge. Bayley says that they lost on Sunday. Sasha starts to run down the team when Peyton smacks Sasha to the floor.
Bayley says that they can't do that and accepts their challenge for next week
Asuka (c) vs Nia Jax - RAW Women's Championship Match
Asuka Nia Jax with a roll up
The finish was set up when Jax hits Asuka with a Samoan Drop but the champ gets her feet under the rope. This upsets Jax and she pushes the referee. The referee was about to disqualify Jax when Asuka rolled up Nia and the ref did a quick count.
Randy Orton Interview
Backstage Orton asks if Charly thinks Christian is a legend but he thinks so. And like other legends, he will put him down with the RKO
Christian vs Randy Orton - Unsanctioned Match
Before the match, Ric Flair comes out and tries to stop the match from happening but Christian says he needs to do this
When the bell rings, Ric Flair hits Christian with a low blow from behind. Orton then hits Christian with the punt
Randy Orton pins Christian
After the bell, Randy talks into Christian's ear and says that he knows that he was just trying to defend his friend. Paramedics come out to stretcher him off all the while Orton tells them to take care of Christian. He also tells Christian that he didn't want to do this, but it's his fault and apologizes.