WWE 'Monday Night RAW' Results: Edge and Christian Reunite Ahead of Backlash
It's the Monday Night RAW before the Backlash pay-per-view and WWE will look to put the final touches to the matches to happen this Sunday.
Backlash is looking to put on the "greatest match ever" between Edge and Randy Orton. Both competitors had their Last Man Standing match at WrestleMania 36, but Orton wants to prove to his former tag team partner that he's more accomplished than him.
Edge's best friend, Christian will return to Monday Night RAW in a special installment of "The Peep Show." Edge will discuss his relationship with Orton and their upcoming match this Sunday. But whenever Edge is around, "The Viper" won't be far behind. How will the final beat before Orton and Edge's match at Backlash go down?
Charlotte Flair lost the NXT Women's Championship at Takeover: In Your House to Io Shirai and now she's back on Monday Night RAW in a singles match against RAW Women's Champion Asuka.
Asuka has her singles match against Nia Jax this Sunday, but she can't overlook her arch nemesis Charlotte tonight. Flair will look to get back on the right track by defeating the top woman on RAW.
RAW Tag Team Champions, The Street Profits continue their challenges with The Viking Raiders tonight. But instead of bowling, basketball or axe throwing, the two teams will compete in a decathlon. With the score even, this will determine who is indeed the top team on RAW.
WWE Champion Drew McIntyre will take on Bobby Lashley on Backlash this Sunday, but before then Lashley will be a special guest on MVP's VIP Lounge. MVP and Lashley will tell the WWE Universe what happened last week on RAW after the cameras stopped rolling. Lashley had McIntyre in a Full Nelson and wouldn't let go, but is it a sign of things to come or will McIntyre look to get revenge?
Sasha Banks and Bayley won the Women's Tag Team Champions on this past Friday Night SmackDown, and now they're appearing on RAW to make an announcement.
Will the duo have an open invitational to any team to challenge them for the titles or is there something else afoot? The IIConics have been trying to get their hands on the Women's Tag Team Championships again, and they have history with Banks and Bayley so they could be next in line.
A lot can happen on the go-home show. Here's everything that happened on Monday Night RAW.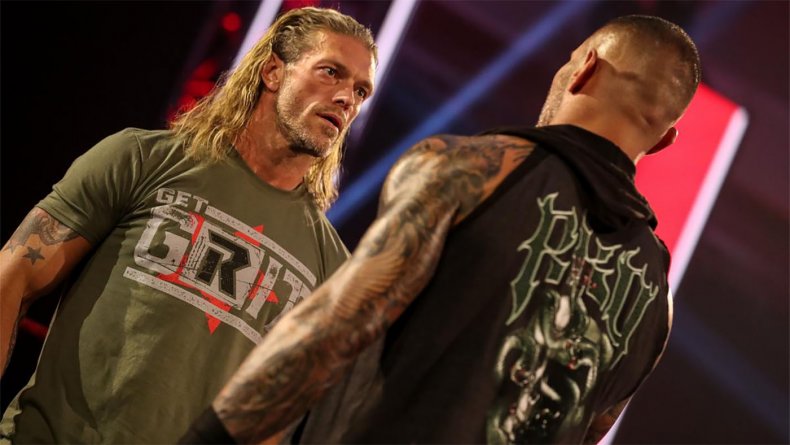 WWE MONDAY NIGHT RAW RESULTS
Opening Segment
Asuka comes out for her match with Charlotte, but Sasha Banks and Bayley come out instead
Bayley and Sasha boast about winning the Women's Tag Team Championships. Asuka interrupts and says she wants to fight
Charlotte comes out and tell Sasha and Bayley to enjoy the spotlight for once and the people really want to see her match with Asuka.
The IIConics come out and say that they have a match at Backlash featuring the champs, themselves and Alexa Bliss and Nikki Cross. The IIConics brings up how they defeated Sasha and Bayley at WrestleMania 35.
Asuka starts to yell in Japanese at all the women in the ring.
Bayley brings up how Charlotte tried to break her and Sasha up, but instead they became tag team champions. Charlotte says that she doesn't need a title or two to be relevant. She calls Sasha and Bayley garbage when the tag champs start to beat down Charlotte. The IIConics start to beat down Asuka
IIConics and Sasha and Bayley start to jaw at each other in the middle of the ring when Charlotte and Asuka clear the ring.
Sasha Banks and Bayley vs The IIConics vs Asuka and Charlotte Flair
Asuka submits Billie Kay

The story of this match was Asuka and Charlotte tagging each other in to get the victory
After the match, Charlotte and Asuka are jawing at each other before Charlotte hits her with a forearm and says, "you've never beat me."
Rey Mysterio Interview
After a recap package of Seth Rollins' "retirement" of Rey Mysterio, Rollins comes out and asks to replace Byron Saxton on commentary. He wouldn't want to miss this interview with Mysterio before RAW goes to commercial.
Rey Mysterio says that his eye is healing but any further damage or an infection can happen. When he's ready to compete, he tells Seth that he'll have a 619 when the bell rings. He'll make Rollins pay for what he did to him and his family
Seth Rollins says that Rey had a chance to walk away after his biggest moment, but Mysterio continues to spread this misinformation. Rollins invites Rey and Dominick to Monday Night RAW next week so he can show them that the sacrifice he made was for the further good.
Mysterio says that he will be cleared soon and when he does the whole world will know. And that the only reason he's inviting him is because he's not medically cleared
When Rollins tries to reply, Aleister Black dives onto Rollins and starts to beat him down as RAW goes to commercial.
Aleister Black and Humberto Carrillo vs Austin Theory and Murphy
Black pins Murphy
After the bell, Rollins comes out in Rey Mysterio's mask and music to distract Carrillo and Black. Rollins and his disciples take out the faces.
Randy Orton Interview
Orton is asked about preparing for a match with high expectations. Orton just wants to know if Edge is going to be the only guest on "The Peep Show." Charlie Caruso says he is and that it's next.
Orton says that there may be two guests on "The Peep Show."
The Peep Show
Christian says that Edge is running on fumes. He says that Edge couldn't pull off "the greatest match ever" in his prime.
Edge says that he has some self-doubt because the expectations are too high. This Edge is different, it's not the same Edge as the one who helped give Christian the confidence before their tag team matches. And he's taking on Randy Orton who is still in his peak.
Christian says it's all excuses and brings up Edge's mom who will be watching his match. And if he can't do it, then he should go home
Edge stares at his friend like he wants to hit him. Christian says that's the look he was waiting for. He says that at WrestleMania Edge put Orton down and the people have confidence in him.
Randy Orton interrupts from the back. He says that the expectations on this match are astronomical and asks Edge what he will do when he doesn't fulfill those expectations. Orton says he's going to take away Edge's confidence and grit until he goes home and stays there. After Backlash, the redemption of Edge is over.
Edge simply says, "no it's not" and slams the mic on the ground.
MVP Interview
Backstage, MVP is asked about what happened at the end of RAW last week. MVP says that Lashley put McIntyre in a Full Nelson, which will be how he'll win on Sunday. We'll have to watch the VIP Lounge later for more details
R-Truth interrupts when he's trying to open up a carrying case to hide in. He tells MVP he's just trying to keep the 24/7 Championship. MVP calls Truth a clown when Lashley puts Truth in a Full Nelson and he passes out.
Street Profits vs Viking Raiders Decathlon
First event is the 1600 meter dash, which the Profits choose and win
Viking Raiders select Archery. Raiders win
Street Profits select Flip cup. Profits win
Viking Raiders select Sword Fighting. Raiders win after Montez quits before it begins
Profits select Hurdles. Profits win
Viking Raiders select Stick Fighting. Raiders win
Profits select Dance Off. Ford dances to Shawn Michaels' theme song. Ivar dances to Fandango's theme. Profits win
Raiders select Shotput. Profits win
Raiders select Turkey Leg Eating. Raiders win
Profits select Pole Vault. Raiders win
The competition ends in a tie
Apollo Crews Promo
Apollo says he's excited to challenge the winner of this upcoming triple threat between Andrade, Angel Garza and Kevin Owens at Backlash.
Andrade vs Angel Garza vs Kevin Owens
Garza and Andrade come out together before Kevin Owens runs down and beats both men down.
During the match, Angel Garza pulls Andrade off the pin and the two start fighting on the outside. Zelina Vega tries to stop them, but she gets pushed to the ground. Vega is taken to the back
Andrade pins Garza after Owens hits Angel with the Stunner and Andrade throws KO out of the ring
Charlotte Flair Interview
Flair acknowledges she lost the NXT title last night, but didn't get pinned or submitted. And now Asuka is trying to steal her spotlight, but she'll show her tonight.
Asuka comes in and starts to dance before slapping Charlotte and walking off.
Backstage
Andrade and Angel Garza are arguing backstage when Zelina Vega comes in. They ask if she's ok with Vega not saying a word, just pointing as all three walk in that direction.
Backstage
Drew McIntyre walk up to The Viking Raiders. Erik and Ivar ask if McIntyre is ready to be a viking. McIntyre says he's not sure, but he congratulates The Viking Raiders on the decathlon. They say that if The Viking Raiders win against MVP and Bobby Lashley they'll go out and celebrate
McIntyre says that the Raiders should watch the VIP Lounge because you don't know what can happen
VIP Lounge
MVP starts to introduce his guest, Bobby Lashley but Drew McIntyre comes out instead
MVP asks why he's here. McIntyre says Lashley and Lana were having an argument backstage so he decided to come out to not make MVP look foolish. McIntyre asks for MVP to continue talking him up. MVP says he was talking about Lashley not Drew
MVP says that he's a business man and his plan will go into motion when Lashley becomes WWE Champion on Sunday. McIntyre asks if MVP is going to teach Lashley how to become champion with the zero titles he's won.
McIntyre tells MVP that he's going to countdown and give him a Claymore. He starts counting down when he turns around to see Lashley there. He's surrounded and tells Lashley that he'll only take the WWE Championship from his cold, dead hands. He hits MVP with a Glasgow Kiss when The Viking Raiders and Street Profits come out.
MVP and Bobby Lashley vs The Viking Raiders
Lana is interviewed backstage during the match. She says that she's back there because she's selfless and doesn't want to get in Bobby's way. She also says that 2020 will be her year.
Lashley submits Erik after a Full Nelson
After the match, MVP gets in Erik's face on the floor. Ivar pushes MVP away before Lashley puts him in the Full Nelson. The Street Profits try and pry Lashley off of him, but it's not until McIntyre hits Bobby with a Claymore that he rolls out of the ring. Lashley is still standing even after a Claymore.
Asuka vs Charlotte Flair
When the bell rings, Sasha Banks and Bayley show up to sit on commentary
The IIConics who were watching from behind the plexiglass, attack Bayley and Sasha.
Charlotte pins Asuka after a Big Boot.
The finish was set up after Charlotte and Asuka went more than 20 minutes and Nia Jax showed up to distract the RAW Women's Champion
After the bell, Jax hits Asuka with the Samoan Drop