WWE 'Monday Night RAW' Results: Mustafa Ali to Speak on Retribution Reveal Tonight
There's a lot to look forward to on the October 12 episode of WWE's Monday Night RAW.
Not only is it the second and final night of the 2020 WWE Draft, Mustafa Ali is set to explain the purpose of Retribution after revealing himself as the leader last week.
Ali, who has been aligned with the likes of Apollo Crews and Ricochet in recent months, swerved the entire WWE Universe when he directed Retribution to attack MVP and the rest of The Hurt Business.
Following the reveal, the WWE Universe wants to know "why?" but will Ali give us his answer or is there something else afoot with his formation of Retribution? Also, how will The Hurt Business react following the beatdown from last week?
Night 2 of the 2020 WWE Draft may have more surprises than the first night on SmackDown. Seth Rollins was drafted to the blue brand, but before he goes he'll have his farewell to Monday Night RAW tonight. Rollins thought he was escaping the Mysterio Family when he was drafted, but Rey and Dominik Mysterio were also selected by SmackDown later in the night.
Couple that with the drafting of Murphy on Saturday, and WWE fans will likely get a continuation of the months-long feud.
RAW Women's Champion Asuka was drafted to stay on Monday Night RAW, but who will be her opponent as the promotion builds toward this month's Hell in a Cell pay-per-view? To determine her opponent, a dual-brand battle royal will go down tonight with superstars from both RAW and SmackDown.
Who will emerge victorious tonight and earn a shot at Asuka?
After being defeated by "The Fiend" on SmackDown, Kevin Owens arrives on Monday Night RAW to face Aleister Black. The two former friends will go at it in a No Disqualification match tonight, which will likely mark the end of their feud.
Here's everything that happened on the October 12 episode of Monday Night RAW.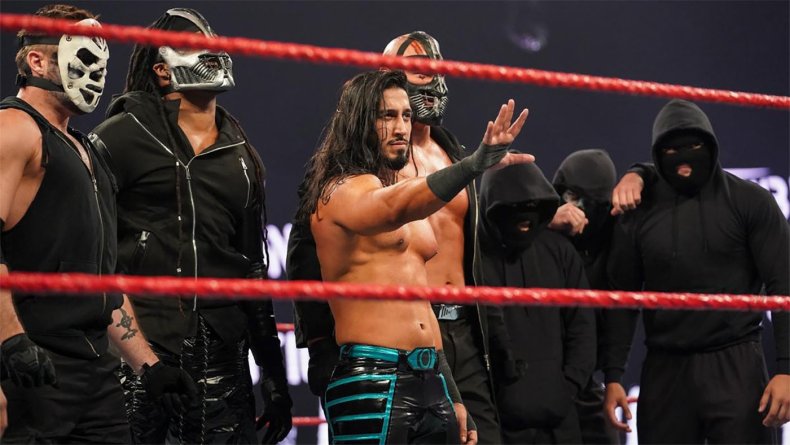 WWE MONDAY NIGHT RAW RESULTS
Opening Segment
Randy Orton comes out to start the night. He says that whether he goes to SmackDown or stays on RAW, he's going to defeat Drew McIntyre and will take the WWE Championship from him.
He says that 2020 has been a hell of a year, but it's the year of Drew McIntyre. He puts over McIntyre as becoming one of the faces of the WWE, but he's going to pin him again just like he did last week. He's going to do so by hitting him with the RKO.
Drew McIntyre interrupts Randy and congratulates Orton on becoming the first person to pin him in almost a year. He says that he didn't expect Orton to gloat about the RKO, and was expecting a Punt and that's his mistake because he got back up. He says that all the pain and suffering he puts on Orton at Hell in a Cell will be for him.
McIntyre says he promised Orton that whenever they're in the same building, he was going to kick his ass. The champion walks to the ring and the two start brawling, after the two exchange hits, Orton takes it to the outside. McIntyre eventually comes out on top as Orton escapes up the ramp.
WWE Draft First Round
Monday Night RAW selects "The Fiend" Bray Wyatt
SmackDown selects Bayley
Monday Night RAW selects Randy Orton
SmackDown selects The Street Profits
Monday Night RAW selects Charlotte Flair
Aleister Black vs Kevin Owens - No Disqualification Match
Owens wins after a Stunner and power bomb through a table in the ring.
WWE Draft Round 2
Monday Night RAW selects Braun Strowman
SmackDown selects Daniel Bryan
Monday Night RAW selects Matt Riddle
SmackDown selects Kevin Owens
Monday Night RAW selects Jeff Hardy
Miz TV
Miz and Morrison talk about how The New Day was split up and so was Heavy Machinery. Morrison says that Miz used his USA connections to make it happen, but it was for the greater good before they introduce their guests, Mandy Rose and Dana Brooke.
Rose says that moving her to RAW was petty not generous. She says that he did it to punish Otis and he's ruining people's lives.
Miz and Morrison say that Rose has been doing better since she got to RAW. They ask Dana if she's ok being Mandy's tag team partner after what happened with Sonya Deville.
Dana says she's ok with it because she's not jealous of Mandy and during the battle royale tonight they'll let the best woman win.
Lana and Natalya come out to interrupt and ask why they aren't being interviewed since they're also in the battle royale. Dana and Mandy tell Lana and Natalya that if they spent less time on Tik Tok and more time training they would win more.
Lana and Natalya hit Mandy and Dana and a brawl ensues, but Rose and Brooke get the upperhand as RAW goes to commercial.
When RAW comes back from commercial, the ladies are gone and Miz and Morrison are still in the ring. Miz says that since the ladies left, he has a Plan B for a guest and it's Morrison. Morrison starts to talk about "The Dirt Sheet" when they were interrupted by Lars Sullivan.
Sullivan attacks them, but Morrison gets a good shot in before Lars destroys him. Miz tries to pull Morrison out of the ring, but is unsuccessful before Lars hits Morrison with the Freak Accident.
Backstage
The New Day and The Street Profits are backstage with Adam Pearce as the official says that they will have a title exchange between the two teams.
The two teams agree and swap belts when Dolph Ziggler and Robert Roode come in and say that it's convenient that The Street Profits leave before they get their title shot. They say they don't care who which team they face and The New Day accepts the challenge.
WWE Draft Round 3
Monday Night RAW selects Retribution
SmackDown selects Lars Sullivan
Monday Night RAW selects Keith Lee
SmackDown selects King Corbin
Monday Night RAW selects Alexa Bliss
Seth Rollins Promo
Seth says that tonight must be excited to see him in the ring for the last time as a member of the RAW roster. He says RAW is losing a champion and a purveyor of the greater good.
He asks if anyone can fill his shoes and he says the answer is no. Jeff Hardy interrupts him.
Seth says that he's been looking for a leader and that's not him and tells him to get out of his ring. Hardy says he's a RAW wrestler now and it's his ring now. Seth says that he tells Hardy that Jeff has a match with Lars Sullivan on Friday.
Seth Rollins walks up the ramp when AJ Styles comes out. He tells Hardy that it's not Last Call. Rollins laughs, but Styles tells Seth to leave because it was never "Monday Night Rollins." Styles starts talking to Hardy when Rollins comes down and tells Styles he heard what he said. Hardy attacks both men and the three brawl when Jeff eventually challenges both of them to a match.
Jeff Hardy vs Seth Rollins vs AJ Styles
Styles pins Hardy
The finish was set up when Hardy hits Styles with a Twist of Fate and is about to go for the pin when Elias hits Hardy in the back with his guitar. Styles pins Hardy off of the attack.
WWE Draft Round 4
Monday Night RAW selects Elias
SmackDown selects Sami Zayn
Monday Night RAW selects Lacey Evans
SmackDown selects Cesaro and Shinsuke Nakamura
Monday Night RAW selects Sheamus
Mandy Rose and Dana Brooke vs Natalya and Lana
Brooke pins Lana after Dana flips off of Rose's shoulders onto Lana.
After the match, Natalya tells Lana that it's not working out and that she's done before walking out on her tag team partner.
Backstage
The Hurt Business (with Cedric) is talking backstage saying how Retribution is avoiding them tonight.
Ricochet approaches them and says that he wants one last match against Hurt Business so they can go their separate ways. Ricochet says if he wins they leave him alone, and if they win he'll join Hurt Business.
Cedric Alexander steps up and says he won't want anything more.
Angel Garza vs Andrade
Zelina Vega is on commentary and is only out there because of her contractual obligations.
Garza pins Andrade after a Wing Clipper. He says that is for Zelina.
After the match, Zelina gets in the ring to help Andrade when the lights go out slowly. When it comes back up. Alexa Bliss is shown doing the Bray Wyatt, upside down stand in the corner. The Fiend appears behind Andrade and hits him with the Mandible Claw. Alexa then grabs Zelina as the two hit the duo with Sister Abigails.
WWE Draft Round 5
Monday Night RAW selects Nikki Cross
SmackDown selects Robert Roode and Dolph Ziggler
Monday Night RAW selects R-Truth
SmackDown selects Apollo Crews
Monday Night RAW selects Dabba-Kato
The New Day (c) vs Robert Roode and Dolph Ziggler - RAW Tag Team Championship Match
Kingston pins Roode after the Midnight Hour
Backstage
Backstage Charlie Caruso walks up to Elias and asks why he did what he did.
Elias says he hasn't forgotten about what Jeff Hardy did to him when he hit him with a car. Charlie says that it wasn't necessarily Jeff, but Elias has heard the rumors and reports but he doesn't necessarily believe it.
He says that he has an album coming out and he will come out next week to give a concert to the people.
Cedric Alexander (with Hurt Business) vs Ricochet
Ricochet wins via disqualification.
The finish was set up when the referee takes a bump and MVP throws a chair in the ring for Cedric. Ricochet grabs it instead and looks around, and while the referee is about to get back up he slams it on the floor and tosses it to Alexander who catches it tricking the referee to think he was hit with it.
WWE Draft Round 6
Monday Night RAW selects Titus O'Neil
SmackDown selects Carmella
Monday Night RAW selects Peyton Royce
SmackDown selects Aleister Black
Monday Night RAW selects Akira Tozawa
Women's Battle Royal
Asuka is on commentary
Before the match starts, Nia Jax says that the match will be won by either Shayna or her and that the rest of the women should eliminate themselves. All the women jump the tag champions when the bell rings
Nia Jax eliminates Tamina
Nia Jax eliminates Billie Kay
Nia Jax eliminates Mandy Rose and Dana Brooke
The women all gang up on Nia and try to pull her over, but Shayna Baszler joins in and eliminates Jax. In her rage, she grabs Lana and Samoa Drops her on the commentary table.
Backstage we see Drew McIntyre and Randy Orton fighting as RAW goes to commercial
During the break, Natalay eliminates Peyton Royce
Lacey Evans eliminates Nikki Cross
Bianca Belair eliminates Shayna Baszler
Liv Morgan and Ruby Riott eliminate Bianca Belair
Natalya eliminates Ruby while Lacey Evans eliminates Liv Morgan
Natalya eliminates Lacey Evans
Lana shows up when Natalya thinks she won and eliminates Natalya
Almost immediately, Randy Orton and Drew McIntyre take their fight to ringside before officials break them up as RAW goes to commercial.