WWE 'Monday Night RAW' Results: Randy Orton's Latest Title Reign Begins Tonight
Hell in a Cell is in the rearview mirror, but the WWE will build to the Survivor Series pay-per-view starting tonight on Monday Night RAW.
The October 26 edition of WWE's flagship show will see the beginning of a new top champion and a lot more fallout from Hell in a Cell. Randy Orton defeated Drew McIntyre in a Hell in a Cell to capture his 14th WWE Championship.
Orton proved that he is at the top of his game on Sunday, but what will this new reign mean for the rest of Monday Night RAW? Will we see a new challenger in "The Fiend" or Keith Lee? Will Drew McIntyre get a rematch, or will he get into another feud? The top of Monday Night RAW is in flux, so it'll be interesting to see how the WWE handles it.
The Miz finally got what he wanted, the Money in the Bank briefcase. After getting a Hell in a Cell match against Otis with the briefcase on the line, the former champion won with the assist of a heel turn from Tucker.
Miz is a Monday Night RAW superstar, but will he really want to cash-in on Randy Orton or will he keep an eye on who is holding the title for the right time? Also, will we see Otis and Tucker start their feud on RAW tonight?
Jeff Hardy got to get one over on Elias after striking him with his own guitar on Sunday. While the act got Hardy disqualified, the WWE Universe knows this is just the beginning between these two.
In an impromptu match, US Champion Bobby Lashley took out Retribution's Slapjack in a one-on-one bout. What is the next chapter in the feud between The Hurt Business and Retribution?
With Survivor Series next month, we'll likely get some more information on what the format will be. Will we get Monday Night RAW taking on SmackDown again? Will NXT be involved this year? How will The Undertaker get involved? Plenty of questions, and tonight may be the start of some answers.
Here's everything that happened on the October 26 episode of Monday Night RAW.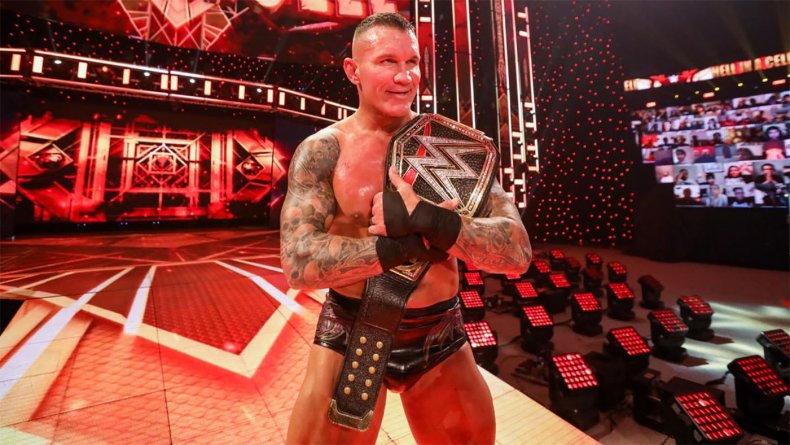 WWE MONDAY NIGHT RAW RESULTS
Drew McIntyre Promo
McIntyre starts the night by coming out to the ring. He says he doesn't have the words to say, but promises he will be WWE Champion once again.
He says it's not about how hard you get hit, it's about how you get up and move forward.
The Miz interrupts and gets to the ring with John Morrison. Drew says he'll drop them both where they stand. Morrison says that Drew had an impressive reign with Miz saying it's almost as impressive as being a two-time MITB winner.
Miz says that Drew doesn't have to worry about facing Randy Orton because he has the briefcase. Miz brings up how he cashed-in on Orton 10 years ago and Drew should be thankful that McIntyre doesn't have the title because he would have been cashed-in on.
Morrison says that he just hopes it doesn't take 19 years for Drew to get the title again. McIntyre headbutts Miz and throws Morrison around.
McIntyre goes for the Future Shock DDT on Morrison, but Miz chop blocks him and helps Morrison get away. McIntyre crushes Miz's glasses and says that he has an idea for management regarding Miz and Morrison.
Survivor Series Announcement
Commentary announces a series of qualifying matches to determine RAW's team.
Matt Riddle will take on Sheamus, AJ Styles will take on Jeff Hardy, Elias will take on Keith Lee.
AJ Styles (with his bodyguard) vs Jeff Hardy - Survivor Series Qualifying Match
Before the match, Styles gets on the mic and says that Monday Night RAW missed him.
He says he shouldn't be having this match because he should already be on the team. In fact, he should be the captain of Team RAW. He says that if Jeff Hardy tries what he did to him what he did to Elias on Sunday, his associate will have some words with him.
Styles wins via pinfall after a Phenomenal Forearm.
After the match, Elias hits Hardy in the back with his guitar.
R-Truth Interview
Backstage, Truth is asked about Gulak, Tozawa and the Lucha House Party going after his 24/7 Championship. Truth says he doesn't worry because they're in a tag team match tonight and his middle name is dangerously because that's how he lives.
Drew Gulak and Akira Tozawa vs Lucha House Party
During the match, Truth walks out to the ring and everyone in the match tries to pin Truth.
In the confusion, Gran Metalik rolls up Gulak for the victory.
After the bell, everyone goes after Truth.
Firefly Fin House
The Fun House puppets are having a tea party and Wyatt is dressed as the Mad Hatter from Alice in Wonderland. Alexa Bliss comes in and gives Ramblin' Rabbit a special tea that has arsonic. Rabbit passes out as Wyatt explains that Alexa must be "mad" for being there and explains how "him" protects and heals them.
Wyatt puts his "heal" hand on Alexa and her eyes glow red as she says "let him in."
Alexa then goes back to her cheery self and says that she has a special Moment of Bliss with Randy Orton. This triggers Wyatt who is standing in front of the picture of the Wyatt compound being burned as you can hear burning.
Rabbit wakes up, but Wyatt takes his frustrations on him by bashing him with the Wyatt Family crest. Bray says he can't wait for the segment later tonight and he and Alexa say goodbye.
Keith Lee Interview
Backstage, Lee says there is no question about what Braun did last week. He says that next time he sees Braun, he'll show him a real monster, but not tonight. Tonight is about him winning his match with Elias.
Backstage
Nia Jax and Shayna Baszler find Adam Pearce backstage. Jax says she's the captain of the RAW Women's Team and has a list of potential members. Pearce says that Jax isn't the captain.
Shayna gives her own list that doesn't have Nia on it.
Adam Pearce says that they'll let everyone know who is on the team later tonight.
Elias vs Keith Lee - Survivor Series Qualifying Match
Before the match, Elias gets on the mic and says that he did what he had to do to Jeff because he ran him over with the car.
Elias promotes his new album and says before he faces Keith Lee he'll play a song, but is interrupted by Lee's music.
Keith Lee wins via pinfall after a Spirit Bomb.
The finish was set up when Jeff Hardy's music played when Elias was on the top rope causing a distraction.
After the match, Hardy hits Elias in the back with a guitar.
Backstage
Hurt Business is backstage when someone tries to use the bathroom next to them, but they stop him because he never asked to use "their bathroom." He runs away in fear as Hurt Business laughs.
After a commercial and a recap from Orton and McIntyre's match, Randy is asked about his appearance tonight on Moment of Bliss and if he's worried if "The Fiend" will appear.
Orton explains that he doesn't care if you're Roman Reigns, "The Fiend" or Drew McIntyre. Whoever crosses him should b ethe one who is concerned.
The Hurt Business vs Retribution - Tag Team Elimination Match
Before the match, MVP gets on the mic. He says that Hurt Business was the only ones not running from Retribution and when they finish the job, they expect to be paid in gold.
Slapjack rolls up and eliminates MVP after Reckoning (Mia Yim) gets on the apron and starts to scratch her skin and convulse in the ring. During the commercial, Reckoning is shown to have been faking it, but the referee ejects her from ringside.
Lashley elimninates Slapjack after a Spear.
Lashley and T-Barr are eliminated when they fight on the outside and are counted out.
Benjamin eliminates Mace after a Flatliner.
Mustafa Ali is eliminated after Ali hits Alexander with a steel chair getting himself DQ'd. Hurt Business surround Ali afterwards, but Ali runs off into the Thunderdome.
Backstage
Angel Garza is talking game to Mandy Rose and Dana Brooke. Rose says that she is still "close" to Otis and she's not interested. Nia Jax and Shayna Baszler walk in and tell Garza to go away--after he tries to give them a rose, which Jax takes.
Nia and Shayna ask Mandy and Dana if they want to be a part of their team. Dana explains that she and Mandy haven't been pinned on RAW and it's their team before walking away.
Shayna looks at Rose who is sniffing the rose and says, "Garza, really?" with Jax shrugging.
Drew McIntyre vs The Miz (with John Morrison)
McIntyre pins Miz after a Claymore.
Morrison was constantly distracting and getting involved, and Miz targeted McIntyre's midsection since he's still nursing injuries from Sunday.
Backstage
The New Day, dressed as the Street Profits, talk about Survivor Series and how they will take on the SmackDown tag team titles at the pay-per-view. Asuka comes out and says she "wants the smoke" and will take on Sasha Banks.
The Hurt Business come in and MVP reminds them that Lashley will take on Sami Zayn. They also challenge New Day for the tag team titles, but Asuka says they will lose because New Day rocks.
Women's Survivor Series Segment
Adam Pearce and Pat Buck are in the ring and announce the RAW Survivor Series team. They reveal Nia Jax, Shayna Baszler, Mandy Rose, Dana Brooke.
Before the last member is announced, Nia interrupts and says that the captain should announce it.
Adam Pearce says a match will determine the last member. Peyton Royce, Lana, Lacey Evans and Nikki Cross (with new music).
Lana vs Peyton Royce vs Lacey Evans vs Nikki Cross
Lana pins Cross after Peyton Royce does a super plex and both Cross and Evans.
Lana came in and threw Royce out of the ring to steal the pin.
After the match, Jax offers a hug to Lana and Samoan Drop hers on the commentary desk.
Backstage
Charlie Caruso knocks on Orton's locker and asks if Randy is still going to be a guest on a Moment of Bliss after seeing Firefly Fun House. Orton says he doesn't care about any threats, and if The Fiend wants to show up he'll introduce him to the RKO.
Retribution Promo
Backstage, Ali says that they win when the opponent suffers because they will decide when it's all over.
Matt Riddle vs Sheamus - Survivor Series Qualifying Match
Sheamus wins via pinfall after a Brogue Kick.
Moment of Bliss
Alexa Bliss introduces Randy Orton as her guest and tells Orton to take a seat.
Randy says he'll stand.
Orton says he's not surprised that he won on Sunday, but asks Alexa if she has a surprise for him. Alexa says she doesn't and just says that she's surprised that Randy and Drew "burned the house down."
Orton says he knows that Wyatt is close and asks where "The Fiend" is.
Alexa just laughs when Drew McIntyre comes out and runs to the ring as he and Orton start fighting all while Alexa laughs. McIntyre destroys the set and is getting ready to deliver a Claymore when the lights go out.
When the lights come back up, Randy Orton left the ring and is up on the ramp while Alexa Bliss is nowhere to be found. Drew is standing alone in the ring as "The Fiend's" music and red lights echo in the arena. Randy looks over his shoulder to see "The Fiend" standing there. Orton slowly walks towards the ring, choosing to not attack Wyatt, as Drew comes down and the two start fighting again.
The segment ends with Orton slamming McIntyre onto the table as they continue to brawl as RAW goes off the air.