WWE Monday Night RAW Results: Big Show To Take Part in Fistfight
The Big Show returned last week to Monday Night RAW and the future Hall of Famer will make another appearance on tonight's episode.
Following his unexpected return and match against Seth Rollins and the Authors of Pain, The Big Show, Samoa Joe and Kevin Owens will take on the heelish trio in a fistfight. Can KO and Joe overcome Rollins' machinations or will the self-proclaimed "Monday Night Messiah" take another step to changing RAW?
WWE Champion Brock Lesnar made a huge announcement last week. Not only did his advocate Paul Heyman say that there was no one on any of the brands worthy of taking him on at the Royal Rumble, the champion will take part in the 30-man rumble as the number one entrant.
Lesnar is scheduled to appear tonight. What is the reason for Lesnar appearance and does Heyman have another announcement for the WWE Universe?
Bobby Lashley and Lana finally got married last week, but Rusev—again—crashed the party to rub it in the newlyweds' faces. Lashley challenged Rusev to a match and the former US Champion was happy to oblige. The two will go one-on-one tonight and Liv Morgan teased her involvement so fans are likely to see her again.
Aleister Black and Buddy Murphy stole the show at the TLC pay-per-view event and now they are ready for round three. Tonight, Murphy and Black will square off again in a battle of hard-hitting strikes. Black and won the first two encounters between them, but Murphy still feels he can hand Aleister his first loss.
Randy Orton will take on AJ Styles once again tonight. Styles and Orton have been going at it for about a month and while the two are eyeing another WrestleMania match, they'll go at it against on Monday Night RAW.
And finally, RAW Women's Champion Becky Lynch and Asuka will meet in the ring to sign the contract to make their Royal Rumble title match official.
Here's a live rundown of what happened during the January 13 episode of Monday Night RAW.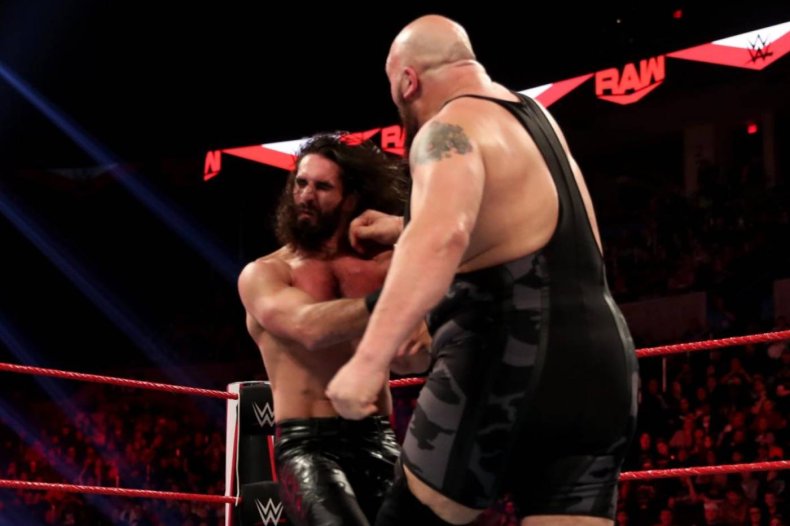 WWE MONDAY NIGHT RAW LIVE RESULTS
Opening Segment
Randy Orton starts the night off to cut a promo. He invites AJ Styles to come out to the ring. He says he's going to show Styles why he's the favorite to win the Royal Rumble this year.
Styles asks why he's been called out to the ring. He admits that Orton got him when he faked his injury, and says that he's such a good guy he was legit worried for him. He says that Orton isn't the favorite because Styles hit a "beautiful" RKO. He says some people said it's the "best RKO they've ever seen." He says he'll use it to knock Brock Lesnar, Randy Orton over the top rope.
Drew McIntyre comes out and says that includes him. He says he's looking for bigger and better opponents after defeating No Way Jose. He asks the crowd if they want to see the three of them talk all night or have a triple threat match.
AJ Styles vs Randy Orton vs Drew McIntyre
Before the commercial, Gallows and Anderson show up but are taken out by McIntyre and Orton.
Orton actually hits Styles with the Styles Clash after avoiding AJ's RKO attempt.
McIntyre pins Styles
The finish was set up when Orton hits Styles with the RKO and then McIntyre hits Orton with the Claymore before pinning AJ.
Seth Rollins and AOP Backstage
Rollins and AOP hype up tonight's Fist Fight and Rollins goes on how it won't matter because they are going to save RAW.
Ricochet vs Mojo Rawley
Ricochet wins via pinfall after a 720
Street Profits Backstage
The Street Profits hype up tonight's RAW and announce that Charlotte Flair in fighting next.
Charlotte Flair vs Sarah Logan
Charlotte wins via submission after a Figure Eight
After the match, Charlotte throws Logan out of the ring.
Kevin Owens, Samoa Joe and Big Show Backstage
KO, Joe and Show are backstage and are trying to figure out the rules of the Fist Fight. Show says it doesn't matter because he has a large fist and they're going to win.
Paul Heyman and Brock Lesnar Promo
Heyman starts heeling on the crowd and starts saying that the truth will set them free when Lesnar wins the Rumble.
This brings out R-Truth who declares himself for the Rumble. And he says that he'll put Heyman over the top rope. Paul says he's not in the Rumble and he will face Lesnar in the match. Truth says he will then "un-declare" for the Royal Rumble.
Truth starts to do his schtick, but Lesnar clotheslines and F-5s him. He picks up the 24/7 Championship and drops it on Truth before saying, "that's what's up."
When RAW comes back from break, Truth is seen being helped up the ramp when Mojo Rawley hits Truth with a knee. He pins Truth to become the new 24/7 Champion. He tells anyone to come at him for the title.
Bobby Lashley (with Lana) vs Rusev
Lana distracts Rusev, which brings Liv Morgan out from the back. She starts yelling at Lana, who takes a fan's drink and throws it at Liv. She then tosses Morgan into the barricade. The distraction allows Lashley to hit a Spear.
Lashley wins via pinfall after a Spear.
Lashley and Lana Interview
Lashley and Lana say that Liv Morgan is a bigger problem than Rusev. Lana issues mixed tag match between she and Lashley, and Liv and Rusev.
Lashley gets upset saying he just beat Rusev and now he has to face him again and protect Lana at the same time. Lana says she won't be intimidated while Lashley walks away.
Viking Raiders Open Challenge
Viking Raiders say it's a new week and a new challenge. Whoever steps up to them will be put down. They start the open challenge with The Singh Brothers accepting.
Viking Raiders win via pinfall after a Viking Experience
Liv and Rusev Promo
Rusev accepts Lana's challenge. Liv Morgan tells Lana that she's the living embodiment of Lana's karma. And karma is not only poweful but a b***h.
Becky Lynch and Asuka Contract Signing
Asuka comes down with Kairi Sane. Becky shoos Kairi out of the ring before Asuka signs the contract.
Becky tells Asuka "let the best woman win" when Asuka spits the green mist into Lynch's eyes. After Asuka and Kairi leave, Becky gets on the mic and says that Asuka has been hungry while Lynch has been happy and content. But when someone puts their hands on her that's when she wakes up and at the Rumble she will fight Asuka and if she loses she will go down swinging and take Asuka with her.
Andrade Interview
It's announced that next week it'll be Andrade vs Rey Mysterio for the US Championship in a Ladder Match.
Zelina says there is a big difference between Andrade and the disgrace hero, Rey Mysterio. Andrade was "man enough" to beat Mysterio for the championship. She calls Mysterio a "low life criminal" for his actions last week and that it's a bad example for Rey's son.
Mysterio is interviewed next and he says that he's not a bad example for his children and Latinos. He says that Andrade has been a disgrace ever since he injured Humberto Carillo. He knows the consequences of this ladder match and he accepts them. He's not just going to win the US Championship, he's going to take it away from Andrade.
Buddy Murphy vs Aleister Black
Black wins via pinfall after a Black Mass
Murphy hits the Murphy's Law on Black, but Aleister got his foot on the ropes. Murphy went for a Black Mass of his own
Rowan vs Local Enhancement Talent
Before the match, Charlie goes to Buddy Murphy who is still at ringside. She asks to talk with him, but Buddy says not now.
Rowan wins via pinfall after the Iron Claw
Before the finish, Rowan puts his hand in the cage but whatever is in there bites him and makes him bleed.
Big Show, Kevin Owens and Samoa Joe vs Seth Rollins and AOP - Fist Fight
During the match, Seth Rollins is thrown to the outside and Buddy Murphy is still there. Rollins looks at Buddy and asks him to help him. Big Show is about to throw Rollins into a table when Murphy hits him with a low blow. He and Seth throw Big Show into a table that's held up against the corner.
Rollins and AOP win after Joe and KO are put through the announce table and Big Show gets hit with a Stomp.
After the bell, Seth opens his arms to Murphy. Buddy takes Rollins' offer and the four gather over Big Show