WWE Monday Night RAW Results: Brock Lesnar Returns and Two Championship Matches Highlight This Week's Show
After a wedding-filled Monday Night RAW, WWE will continue its build towards the Royal Rumble with a massive return and a pair of championship matches.
First up is the return of WWE Champion Brock Lesnar. After defeating Rey Mysterio (and his son Dominick), he returns to Monday Nights and the WWE Universe may learn what's next for "The Beast" as we head to the Royal Rumble. With a slew of challengers that are at the ready, who will step up to Lesnar?
As for the two title matches, the first is the RAW Tag Team triple threat between champions The Viking Raiders, The OC and Street Profits. Gallows and Anderson are the only ones to pin The Viking Raiders on the main roster, but the Street Profits have pinned The OC twice already so tonight will decide who is the top tag team on RAW.
Secondly, Rey Mysterio gets a rematch against Andrade for the US Championship. After losing the title at Madison Square Garden, the legendary Mysterio looks to put the championship back around his waist. Andrade finally won his first singles title on RAW or SmackDown so he and his manager, Zelina Vega, won't want to part with it so soon. Fans can expect some heelish moves during this match, but viewers and those in attendance can expect a barn burner tonight.
And then we have the saga between Seth Rollins and Kevin Owens. Rollins is trying to mold Monday Night RAW in his image and Owens doesn't fit in those plans. With the Authors of Pain behind him, Rollins has the muscle to do what he wants but KO has found a friend in Samoa Joe. Can Joe and KO stand up to the "United Front" of Rollins and the AOP? Or will "The Architect" continue his journey to bring RAW to another level?
Here's everything that happened on the January 6 episode of Monday Night RAW.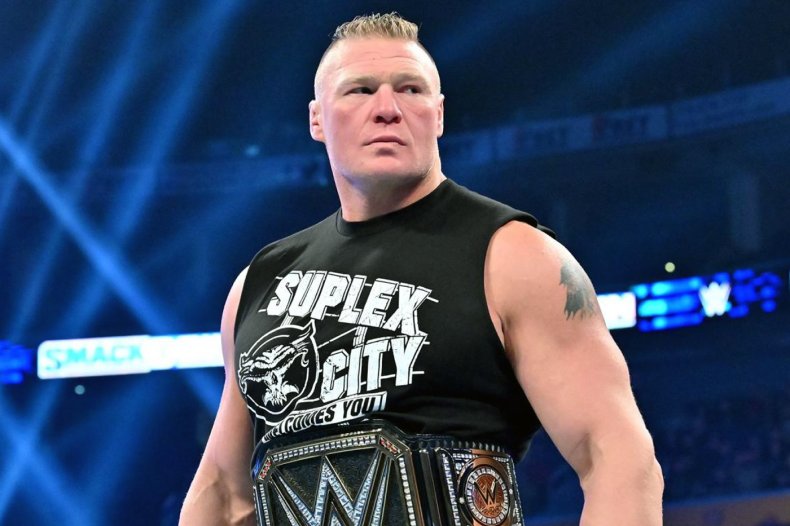 WWE MONDAY NIGHT RAW LIVE RESULTS
Opening Segment
Brock Lesnar and Paul Heyman start the night. Heyman gets on the mic and says that Lesnar makes history and that Brock was wondering who is going to challenge him at the Royal Rumble. Heyman asks Brock who he thinks is worthy of getting in the ring with him and Lesnar's answer was no one on RAW, SmackDown or NXT is worthy or man enough to step to him.
Heyman announces that Lesnar will enter the Royal Rumble first. He says that Lesnar will be the first one in the ring and the last to exit.
Rey Mysterio Promo
Backstage, Mysterio says that his match with Andrade is special because he doesn't have years left, but days in his career. He thanks his son who encourages him everyday. He says that Andrade doesn't represent Latinos.
Andrade (c) (with Zelina Vega) vs Rey Mysterio - US Championship Match
After a few minutes, Mysterio rolls up Andrade but Zelina Vega put the champion's leg on the rope before the three count. The referee counted the three, but noticed the leg afterwards. The referee restarts the match.
Andrade wins via pinfall after a Hammerlock DDT after Mysterio went to check on Zelina after she took a bump from Rey. After the bell, Andrade took Rey's mask off.
Kevin Owens and Samoa Joe Interview
Owens and Joe say that they have a match against Seth and the AOP tonight. Joe says he has a third man for their team but won't tell KO who it is.
Seth and AOP Interview
After commercial, Seth says that they are on RAW to get the show back on track and it doesn't matter who KO and Joe have as their partner.
The Viking Raiders (c) vs The Street Profits vs The OC (with AJ Styles) - RAW Tag Team Championship Match
Viking Raiders win via pinfall after a top rope splash on Anderson
Samoa Joe Interview
Joe is asked about the third person is. KO comes in and is eager to know who this person is because he's done a lot of bad things to a lot of people. Joe tells KO that he would rather show him who it is before RAW goes to commercial.
When it returns from break, Joe takes KO to a dark room and Owens looks inside and is happy with the choice.
Becky Lynch Promo
Lynch says that she's happy to get her match against Asuka at Royal Rumble but she's doubting her wisdom on the decision.
Over the holidays she thought about what it means to be "The Man" and if she should take the advice of people backstage and not go against the one woman who defeated her.
A recap package of all the times Asuka defeated Becky is shown, but then Asuka interrupts Lynch. Asuka speaks completely in Japanese and gets in the ring. She is about to speak again when Becky punches her in the mouth and leaves.
Backstage
Erick Rowan is walking backstage with his cage when Mojo Rawley walks up to him and asks to look inside. Rowan says he will allow it if he keeps it a secret.
Rawley looks inside and screams and asks what is wrong with Rowan.
Andrade Interview
Andrade is about to say how he defeated Mysterio and how much better he is when an unmasked Mysterio comes in and beats him down and takes his mask back and steals the US Championship.
Rowan vs Local Enhancement Talent
Rowan wins via pinfall after an Iron Claw
After the bell, Rowan puts the jobber's head to the side of the cage and he comes out with red substance on his face.
AJ Styles vs Akira Tozawa
It's announced that Styles will take on Randy Orton next week
Styles wins via pinfall after an RKO
Styles hit the Phenomenal Forearm but didn't keep the pin and instead did Orton's draping DDT and then the RKO.
Lana and Bobby Lashley Wedding
The same minister from last week comes out with both of them to marry them officially this time. Lana and Bobby say that they are not happy especially with Rusev for ruining their special day.
Rusev appears on the titantron and it looks like he's on the beach. He says that Bobby and Lana are the most miserable people in the arena and that he decided to take a honeymoon because they didn't. He puts together a wedding album of what happened last week.
Lashley is about to say something when Lana interrupts. Bobby tells Lana to shut up so he can talk. Lashley challenges Rusev to a match next week. Rusev's mood changes and he becomes intense, saying the "Bulgarian Brute" will return and whatever is left of Lashley next week, Lana can have.
R-Truth Interview
Truth is congratulated for winning a record number of titles when Liv Morgan interrupts and announces she will be in Rusev's corner next week.
Charlotte Flair vs Sarah Logan
Logan attacks Flair before the bell. Logan takes Flair's robe and slams it on the floor a few times, which fired Charlotte up.
When Charlotte gets the upperhand, she takes her robe and leaves. The match never starts
Drew McIntyre vs No Way Jose
McIntyre attacks the conga line before the bell
McIntyre wins via pinfall after a Claymore Kick
After the bell, McIntyre tosses Jose into the conga line. McIntyre gets on the mic and asks the crowd if they dare him to do another Claymore. He tosses Jose back in the ring and hits one more finisher
He says that it's criminal that he hasn't had one world title shot, but he will put himself in the Royal Rumble to get one.
Aleister Black vs Shelton Benjamin
Black wins via pinfall after a Black Mass
After the bell, Buddy Murphy attacks Black and ends the segment on top
Seth Rollins and AOP vs Kevin Owens, Samoa Joe and Big Show
Before the match, Rollins gets on the mic and he says that he gave the people "Monday Night Rollins" and it wasn't good enough. He will bring the people to the promised land.
Owens, Joe and Show win via disqualification after Rollins hits Big Show with a chair
After the bell, a brawl happens but Show ends the segment hitting Seth with a Knockout Punch