The final Monday Night RAW before this Sunday's Hell in a Cell pay-per-view will see a title match and more build for current feuds as the WWE heads into the final months of 2020.
On tonight's episode Lana, who won last week's battle royale to determine RAW Women's Champion Asuka's next opponent, will now take on the "Empress of Tomorrow" in her first title opportunity in the WWE.
Can Lana shock the WWE Universe and defeat Asuka or will the match end as fast as her opportunity came?
Braun Strowman has moved over from Friday Night SmackDown and his first match on the Monday Night RAW brand is against Keith Lee. The last two times these two behemoths had a match, it ended in a no contest as both superstars threw themselves off the stage. Who will come out on top and be the "monster" of RAW?
Elias made a surprise return last week to attack Jeff Hardy. The troubadour believes Hardy is the one who hit him with his car and put Elias on the shelf for weeks. Tonight, Elias will put on a concert to mark his return to Monday Night RAW.
Bray Wyatt will bring the Firefly Fun House to Monday Night RAW tonight. After he and Alexa Bliss took out Andrade and Zelina Vega last week, what will the duo have up their sleeves for RAW tonight? And will we see "The Fiend" attack again?
Retribution has run rickshaw on Monday Night RAW in the last few weeks and The Hurt Business will try to take it to them tonight in an eight-man tag match. Can MVP and the others get a win over Mustafa Ali and his group or will Retribution stake a claim as the top group on RAW?
WWE Champion Drew McIntyre and Randy Orton have been at each other's throats for weeks ahead of their Hell in a Cell match on Sunday. On the go-home show, what will happen to each competitor and will both men be at 100 percent by the time Sunday comes round.
Here's everything that happened on the October 19 episode of Monday Night RAW.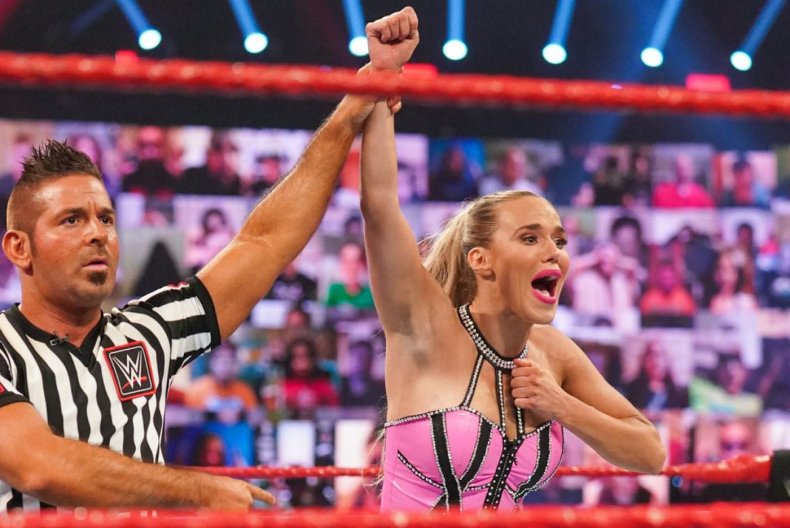 WWE MONDAY NIGHT RAW RESULTS
Opening Segment
Alexa Bliss starts off the night in the middle of the ring and announces that "he is here" as she laughs.
The lights go down and The Fiend enters holding Alexa Bliss' hands, but they are interrupted by Retribution and Mustafa Ali. They surround The Fiend and Bliss in the ring when the lights go down. You can hear Ali tell his group to "get them" but when the lights come up, Fiend and Bliss are gone.
The Hurt Business then comes out and a brawl ensues in the ring. The Hurt Business end the segment by throwing Retribution out of the ring.
The Hurt Business vs Retribution
Bobby Lashley submits T-Barr with the Hurt Lock.
Immediately after the match ends, "The Fiend" shows up next to Mustafa Ali on the ring apron and starts taking out Retribution.
He brings Ali into the ring and T-Barr tries to stop him, but The Fiend hits him with the Mandible Claw and the Sister Abigail.
AJ Styles vs Matt Riddle
Styles comes out with Jordan Omogbehin.
Styles gets on the mic before the match and says that Monday Night RAW made the right move to draft him. He says that Seth Rollins spewed propaganda on his way out and he assumes that it was Jeff Hardy stumbling that made Rollins feel like he can come to the promised land, but he's the prodigal son and he will make RAW phenomenal.
Matt Riddle comes out and gets ready to fight. Jordan doesn't get out of the ring and the referee tells AJ Styles to tell him to get out of the ring or he's disqualified. Jordan refuses and stops the referee's count of five. The referee politely asks Jordan to leave, and he eventually does.
Styles pins Riddle after a Styles Clash.
The finish was set up when Omogbehin gets in Riddle's face on the outside and makes a fist, causing Riddle to roll in and be set up for the Styles Clash.
Drew McIntyre Interview
Backstage, Drew is asked about his inexperience in the Hell in a Cell match. McIntyre takes the mic and tells Orton that he's the most dangerous and entitled superstar in the WWE. He admits that Orton is intelligent because when he defeated him in the Ambulance match that should have been it, but he knew hot to get under his skin and get him to accept another match.
He says that being in the Hell in a Cell would give Orton a massive advantage over anyone else, but since he's facing Drew he doesn't have any. Drew says that he's been more hell than Randy ever had. He tells Orton not to be surprised if he shows up for Randy's interview later tonight.
Asuka (c) vs Lana - RAW Women's Championship Match
Asuka wins via submission after an Asuka Lock
Immediately after the match, Nia Jax and Shayna Baszler come out and attack Asuka. Jax puts Lana through the table with a Samoan Drop and Shayna goes after Asuka, but the champion fends them off.
Shayna and Nia Promo
After a commercial, Nia and Shayna say that ever since they became women's tag team champions they have dominated and there's no one who can beat them.
They are interrupted by Mandy Rose/Dana Brooke, Lacey Evans/Peyton Royce--who don't like each other--and The Riott Squad.
Shayna Baszler and Nia Jax vs The Riott Squad vs Peyton Royce and Lacey Evans vs Mandy Rose and Dana Brooke
Jax pins Lacey Evans after a Samoan Drop.
The finish was set up when Ruby was about to pin Lacey, but Shayna pulled her off allowing for Nia to tag herself in.
Elias Concert
Elias performs "Amen" from his upcoming album in its entirety when at the end Jeff Hardy shows up and attacks him.
After commercial, Elias is asked about Hardy's attack and he says that he wants Jeff at Hell in a Cell.
Backstage
Tucker walks up to Miz and John Morrison to tell them how he knows what they are up to separating him and Otis. Miz says that he didn't do anything and that they accept a match for tonight if Tucker can find a tag team partner.
Kofi Kingston (with Xavier Woods) vs Sheamus
Before the match, The New Day says that they are finally on RAW full time.
Sheamus comes out and interrupts to say that it's been four years since the New Day were on RAW, but they're not the same without Big E. Kofi and Woods says that he's wrong because New Day rocks.
Kofi wins via pinfall after a Trouble in Paradise.
Retribution Promo
Backstage, Mustafa Ali talks about how his power is sowing chaos. He talks about how he stood at home for a year because WWE didn't know how to make a buck out of someone named "Mustafa Ali."
He says in that time he was the mysterious hacker on SmackDown because he wanted to stick it to those who would backstab each other to get ahead while they were left behind. He says it doesn't matter if its Hurt Business or The Fiend, they will make WWE pay.
Backstage
Titus O'Neil walks up to the Hurt Business and says that he wants to join them and his image could take them worldwide.
MVP says he needs some time to think about it, after a few seconds they say they decided and Cedric Alexander sucker punches him as the faction jumps him.
Miz and Morrison vs Tucker and Mystery Partner
Tucker comes out to introduce his partner, el Gran Gordo--which is clearly Otis.
Miz says that Otis is proving him right by being a joke who shouldn't carry the MITB briefcase and his lawsuit will strip him of it. He calls Otis the underdog and says that it doesn't matter what gimmick or name he uses, a pig wearing a mask is still a pig which causes Heavy Machinery to run into the ring and clear it before commercial.
El Gran Gordo pins The Miz after a Vader Bomb.
The finish was set up when R-Truth runs through the ring as Drew Gulak and Akira Tozawa soon follow distracting Miz. Lucha House Party comes out for Truth too, but stop when they see El Gran Gordo.
Backstage
Tucker and El Gran Gordo are hanging with New Day when Mandy Rose shows up with a ham for El Gran Gordo.
Firefly Fun House
Bray Wyatt is unpacking out of a box and pulling out paraphernalia like the black sheep mask. He says he's happy to make new friends on RAW.
Abby says that he wants him to shut up, but Bray Wyatt tells her not to be crabby. Ramblin' Rabbit says that he promises with this new start to be a better father and husband. Wyatt is shocked by this revelation, Bray says that he'll be a better friend from now on.
After a reel of Ramblin' Rabbit being eaten and destroyed by Wyatt over the months Mercy comes out of nowhere and eats him.
A knock comes at the door, and Alexa Bliss comes through the door and says she's ready to have a lot of fun as the two of them wave goodbye.
Braun Strowman vs Keith Lee
Strowman wins with a Big Boot.
The finish was set up when Strowman low blows Lee with his head. After the match, Keith Lee hits Strowman with a low blow and tells Braun that he's messed with the wrong person.
Randy Orton Promo
The Hell in a Cell is lowered and Orton locks himself in. He starts talking about Drew McIntyre and how he'll be a future hall of famer, but HIAC is his match.
McIntyre eventually comes out and although he can't get in, he grabs a bolt cutter and breaks the chain that was locking the cage. Orton rolls into the ring and arms himself with a chair and waits for McIntyre.
McIntyre just stares at Orton as RAW goes off-air.
Uncommon Knowledge
Newsweek is committed to challenging conventional wisdom and finding connections in the search for common ground.
Newsweek is committed to challenging conventional wisdom and finding connections in the search for common ground.
About the writer
Phillip Martinez is a game and culture reporter for Newsweek. Prior to joining Newsweek in 2018, he was a reporter and editor for iDigitalTimes and Player.One. A Bronx native, he graduated with his Bachelor's degree in Journalism from St. John's University in 2010. An avid Nintendo fan and wrestling mark, he's always looking to become a Pokémon Master while fantasy booking this year's WrestleMania. You can contact him at p.martinez@newsweek.com