Following Sunday's Clash of Champions pay-per-view, WWE will now build towards the next show starting with tonight's Monday Night RAW.
WWE Champion Drew McIntyre outlasted Randy Orton to retain his title on Sunday with the help of some returning legends like Shawn Michaels and The Big Show. It's these same legends that will join McIntyre on Monday to kick off the show. What will the returning legends have to say and will McIntyre's next opponent show themselves?
RAW Women's Champion Asuka retained her championship against a very game Zelina Vega at Clash of Champions. However, while Asuka went to congratulate Vega on a good match, Vega wasn't having it and attacked the "Empress of Tomorrow." WWE has confirmed that the two will have a rematch tonight. Can Vega get her hands on her first title or will Asuka continue her championship run?
Rey Mysterio and his son Dominik are embroiled in a feud with Seth Rollins. The duo will be special guests of Jerry Lawler's "The King's Court" to talk about Dominik's recent run in the WWE and what their next step is. Rollins showed up on RAW last week to claim that Rey's daughter Aliyah wasn't his, but will those accusations continue tonight?
Kevin Owens and Aleister Black have been at each other for weeks now. The two even had a match in the RAW Underground, but Owens and Black are ready to have a rematch tonight.
Bobby Lashley and The Street Profits retained the US Championship and RAW Tag Team Championship, respectively, on Sunday, but what's next for both acts and who will step up to them?
Lashley and the rest of The Hurt Business have gone at it with Retribution in recent weeks, but will the war between the two factions continue tonight? Speaking of Retribution, the group made their presence known last week, but will we see any of them tonight?
Here's everything that happened on the September 28 episode of Monday Night RAW.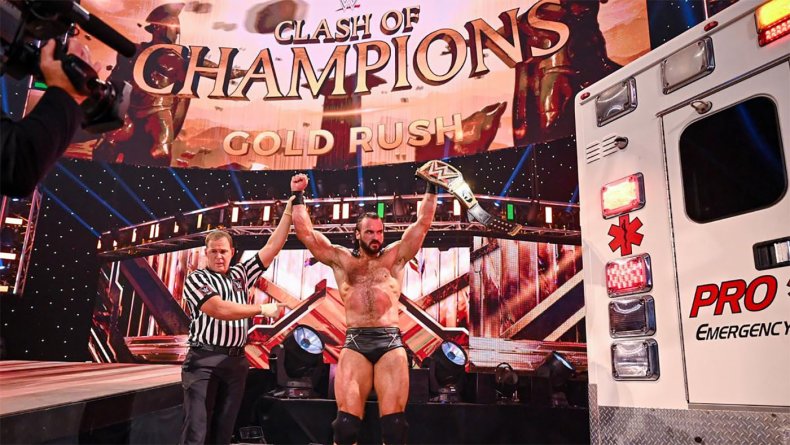 WWE MONDAY NIGHT RAW RESULTS
Opening Segment
Ric Flair, Big Show, Christian and Shawn Michaels enter the ring to start the show. Michaels introduces Drew McIntyre.
Drew says that he grew up in the business with Big Show and Christian in his first run with the company. He puts over Flair and Michaels and brags about his victory over Orton.
Shawn Michaels says that the guys got together to thank him for defeating Orton. He says that if McIntyre is upset that they got involved with their match, it was Flair's idea.
McIntyre says he doesn't care because he already beat Orton at SummerSlam.
Orton interrupts on the Titantron and says that he's not done with McIntyre until he says so. He says that there has to be a price for crossing the "legend killer." He takes his bag and walks out of the building.
McIntyre announces an open challenge to anyone he hasn't faced yet for the title for tonight. He begs for someone to step up.
Backstage
Kayla Braxton interviews Zelina Vega in gorilla and points out how she was a poor sport last night. Zelina says that it doesn't matter because she's going to beat Asuka tonight.
Asuka comes in and says that Zelina isn't ready for her and will lose again. The two start arguing, but before anyone gets physical officials get in between both competitors.
Asuka (c) vs Zelina Vega - RAW Women's Championship Match
Asuka wins submission after an Asuka Lock.
Andrade Promo
After the commercial break, Andrade is in the ring and tell Zelina Vega that she's nothing without him. He says he was the one who held the team together and that's why Angel Garza got hurt on Sunday.
He calls out anyone to face him tonight.
Keith Lee answers the challenge.
Keith Lee vs Andrade
Lee wins via pinfall after a Spirit Bomb.
Hurt Business Segment
Earlier in the day, MVP and Shelton are eating when a backstage producer sits with them.
Lashley comes up and tells him to get out of his seat. The man leaves and the three men are laughing.
24/7 Segment
Earlier in the day, R-Truth is playing "Lil' Jimmy" in chess when he wins and says he feels likes facing Drew McIntyre.
A ninja walks up to him and gives him a note. The note is from Akira Tozawa and it reads that he was lonely until he met him and they had incredible matches. The ninja gives Truth a briefcase and it's Tozawa's blackbelt. Tozawa comes out from under the table and rolls up Truth and wins the title.
The ninja who gave Truth the briefcase hits Tozawa with the briefcase and pins them to win the title. Drew Gulak was in the ninja getup when Truth hits him with the briefcase, rolls him up and wins the title back.
There will be a triple threat between the three later on tonight.
Backstage
Murphy is sitting alone when Seth Rollins walks up to him and hugs him. He asks what is wrong. He says it's a big night because the Mysterios will be on the King's Court. He asks why Murphy is in his ring gear when he doesn't have a match tonight. He says that he gave Murphy a new suit and to put it on.
Murphy leaves without saying anything, but he leaves his phone. Seth picks up the phone and puts it in his pocket.
King's Court
Rey says that his family means the world to him and that he and his wife have done everything to raise them. He says that it takes a sick human being to fabricate the lies that Seth Rollins has spewed. Dominik says that the next time he sees Seth he's going to
King brings up how Aalyah felt about Rey's words about her being naive. Aliyah reminds everyone that she's 19 and that she can take care of herself.
Seth Rollins shows up on the Titantron and says that what he has to tell the Mysterio family is the truth. He says that one of them isn't being 100 percent honest with the family. He says that Aalyah isn't being honest about her feelings toward Murphy.
Rollins shows a text exchange between Aalyah and Murphy. Aalyah tells her family that Murphy isn't like Seth and walks away.
Backstage, Murphy walks up to Seth and berates him for what he did. Dominik shows up and attacks Murphy before the two are separate by backstage officials.
Natalya and Lana Promo
Natalya and Lana start demanding that Nia Jax and Shayna's titles should be stripped.
Adam Pearce comes out and says that Natalya and Lana can earn their way to a tag title shot against the newest members of RAW, Mandy Rose and Dana Brooke.
Natalya and Lana vs Dana Brooke and Mandy Rose
Rose pins Lana after a pump knee strike.
Aleister Black Segment
In his dark room, Black says that Kevin Owens betrays the people who depend on him. He brings up how KO was not a good man in the past and he'll be sure to show the world the truth.
Kevin Owens vs Aleister Black
Of note, Aleister Black has new theme music.
Owens wins via disqualification after accidentally striking the referee.
After the bell, Owens hits Black with the Stunner.
Backstage
The Hurt Business (minus Cedric Alexander) are walking in the halls when they run into Mustafa Ali who walks out of their office because he was lost. Apollo Crews and Ricochet comes to Ali's aid and The Hurt Business say they'll have a match with them tonight.
R-Truth (c) vs Akira Tozawa vs Drew Gulak - 24/7 Championship Match
Truth pins Gulak after an Attitude Adjustment.
Backstage
Mandy Rose and Dana Brooke are interviewed backstage. Mandy says that Dana has always been there for her and that's why she wanted to make her RAW debut alongside her.
Dana Brooke says that Mandy is an inspiration because she gets back up. Mandy says that whoever comes out of the Women's Tag Team Championship match, they'll be next.
Murphy vs Dominik Mysterio
Murphy wins via pinfall.
The finish was set up when Dominik went for the kendo stick, but Aalyah comes out to stop him. She distracts him, causing Murphy to roll him up. After the bell, Dominik hits Murphy with the kendo stick, but Aalyah gets in between them.
The siblings argue with Dominik telling his sister that Rey was right, that she's naive. This causes Aalyah to smack her brother and walk off.
Backstage
Dolph Ziggler is talking to Adam Pearce about McIntyre's open challenge. Pearce says that Ziggler has already challenged Drew for the title, but Dolph says he has someone else in mind.
The Hurt Business vs Apollo Crews, Mustafa Ali and Ricochet
Before the match, MVP says that Apollo is the definition of insanity since he does the same thing over and over. MVP says that Apollo and Ricochet got the best of him and Cedric last week, and that's why Cedric was sent to Hurt Business boot camp.
Before the bell, the face team jump The Hurt Business and the two teams fight onto the outside before the heels get the upperhand. The lights start flickering as The Hurt Business get in the ring getting ready for Retribution when RAW goes to commercial.
Ali pins MVP after a 450.
Backstage
The four legends are still playing poker when Ric Flair wins the latest hand and walks away using the Flair strut.
Bianca Belair Vignette
Bianca defeats multiple runners in track and field in three rounds.
Drew McIntyre (c) vs Robert Roode - WWE Championship Match
Drew comes out and waits for his opponent. Dolph Ziggler comes out and says that this will be special. He brings out Robert Roode.
McIntyre wins via pinfall after a Claymore.
The match was competitive with Ziggler getting involved in spots, and Roode targeting McIntyre's compromised leg from Sunday.
Backstage
A man dressed in a custodial outfit walks backstage. His face is covered, but he grabs a steel cage and walks up to the "Legends Lounge" where Flair and the others are. The man unmasks to reveal Randy Orton who puts on goggles and flips the switch. All you hear is the chair banging.
When the lights come up, all the legends are on the floor and Orton scoffs before walking out. He then puts the hood and mask back on and leaves before officials arrive.
About the writer
Phillip Martinez is a game and culture reporter for Newsweek. Prior to joining Newsweek in 2018, he was a reporter and editor for iDigitalTimes and Player.One. A Bronx native, he graduated with his Bachelor's degree in Journalism from St. John's University in 2010. An avid Nintendo fan and wrestling mark, he's always looking to become a Pokémon Master while fantasy booking this year's WrestleMania. You can contact him at p.martinez@newsweek.com