WWE 'Monday Night RAW' Results: Seth Rollins to Host Rey Mysterio Retirement Ceremony
After the craziness that was last week's Friday Night SmackDown, how will WWE's flagship show Monday Night RAW react?
The big story on tonight's Monday Night RAW is a scheduled retirement ceremony for Rey Mysterio. After Seth Rollins assaulted Mysterio on the steel steps two weeks ago, the "Monday Night Messiah" is hosting Rey's retirement ceremony tonight. But will this ceremony go as advertised?
Rollins has a scheduled match against Aleister Black tonight, so we could see the former NXT Champion interrupting the ceremony, but will we see the return of Rey Mysterio? WWE fans will have to wait and see.
RAW Women's Champion Asuka will take on Charlotte in a champion vs champion showdown tonight. Charlotte has defeated Asuka on multiple occasions in their careers, while "The Empress of Tomorrow" has yet to take down "The Queen" could tonight be the night?
Asuka will take on Nia Jax at the Backlash pay-per-view, and Charlotte has a triple threat match against Rhea Ripley and Io Shirai at NXT Takeover: In Your House this weekend so both women could be looking over their shoulders.
New US Champion Apollo Crews is looking to give other wrestlers an opportunity the same way he was tonight as he lets anyone challenge him for the title tonight. Unlike the open challenge that is normal for the US Champion, Crews has an opponent in mind for his first defense.
The Street Profits and The Viking Raiders will go head-to-head in another non-wrestling competition. After basketball, axe throwing and golf, the two tag teams will now face off in a game of bowling. Can the Viking Raiders pull even with The Street Profits in their own series of games?
WWE Champion Drew McIntyre is on a collision course with Bobby Lashley and after their pull-apart brawl last week, tonight may see another chapter in this fresh feud.
McIntyre will take on Lashley's manager MVP tonight as Drew looks to send a message to Bobby.
Here's everything that happened on the June 1 episode of Monday Night RAW.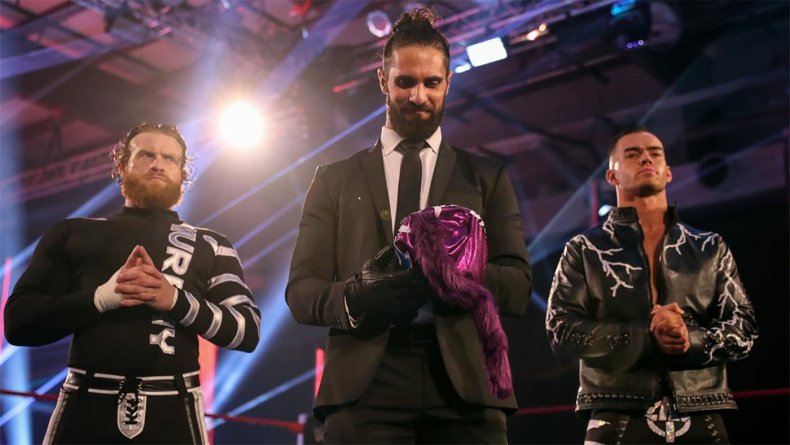 WWE MONDAY NIGHT RAW RESULTS
Seth Rollins Promo
After a recap of last week's events involving Seth Rollins and his crew, and Aleister Black and Humberto Carrillo, Seth gets on the mic.
Rollins says that Aleister is confused regarding Rey Mysterio. He says he will enlighten him, himself. He says that Rey Mysterio will be out later tonight but he feels that he won't be able to announce his own retirement. Seth Rollins says that he will do it for Mysterio himself for the good of Monday Night RAW.
Rollins says that Mysterio was chosen as a sacrifice for the good of RAW. And that's legendary. He puts over Rey Mysterio and he says that his sacrifice will allow Seth to lead RAW.
Seth plays a video package of Mysterio's accomplishments and says that he formerly inducts him into the WWE Hall of Fame. This causes Aleister Black to run out and force Rollins out of the ring.
Aleister Black vs Seth Rollins
Early on in the match, Rollins tells Murphy and Austin Theory to get Black on the outside but Humberto Carrillo comes out with a chair to prevent the DQ.
Black wins via pinfall after a roll up
The finish was set up when Murphy and Theory tried to distract Black. Rollins used the opportunity to roll up Black, but Aleister reverses it
After the bell, Rollins, Murphy and Theory beat down Carrillo and Black. Rollins hits Humberto with The Stomp in front of him to send a message
Angel Garza and Zelina Vega Interview
They are asked about their actions against Kevin Owens last week. Vega is about to talk, but Garza says he's got this and tells Charlie Caruso that he did what he had to do and gives her a rose. He walks away and Vega takes that rose and breaks it
MVP and Lana
Backstage, Lana asks MVP to talk to Bobby Lashley. MVP says he's not going to get involved in their marriage. Lana says that MVP is just using Bobby to save his washed up career.
MVP says he doesn't care and Lana slaps him before walking away.
Apollo Crews Interview
Crews is asked about his first reign as US Champion. He says it's been a wild week and that his choice for his first title defense is Kevin Owens
Owens comes out and congratulates Apollo Crews on his win. Crews tells KO that he deserves this title opportunity and Owens says he already knows. Owens is also sorry that he has to end Crews' first title reign.
Apollo Crews (c) vs Kevin Owens - US Championship Match
Match ends in a double DQ after Garza and Andrade run in and attack both wrestlers after a highly-contested match, which sets up a tag team match.
Kevin Owens and Apollo Crews vs Andrade and Angel Garza
Crews pins Andrade after a Power Bomb
Asuka Interview
Backstage is asked about preparing for her match with Charlotte and Kairi Sane's match against Nia Jax tonight. Asuka says that she'll beat Jax at Backlash.
Asuka says that she's always getting better but Charlotte stays the same. And the Empress doesn't bow down to anyone.
Street Profits/Viking Raiders Bowling
The Raiders are destroying the Profits in bowling when the tag team champions ask for the smoke. The light dims and a smoke machine lets them make a comeback, but Erik and Ivar win the match.
Nikki Cross (with Alexa Bliss) vs Billie Kay (with Peyton Royce)
Kay wins via pinfall after a sitdown Uranagi
Drew McIntyre Interview
Backstage says that anyone who wants to step up to him will get a one-way ticket to Claymore Country
Rey Mysterio Update
Mysterio calls in from his home. He says that he doesn't have a timetable for his return. He says that if he gets an infection in his eyes his career can be over.
Mysterio is asked whether he is going to retire. Rey says he doesn't know, but he's been thinking about it for some time now. Mysterio says that Seth Rollins carries a lot of negativity.
Dominik Mysterio shows up and says that someone in this family needs to stop him. Rey Mysterio tells his son to calm down. Rey condemns Seth Rollins' actions and he won't forgive him for what he did to him and what he put his family through.
Rey Mysterio gets up and leaves. Dominik, who stays, talks to Seth Rollins and tells him "an eye for an eye."
Nia Jax vs Kairi Sane
Before the match, Jax gets on the mic and says she didn't start this. She says she's been constantly attacked and not to believe their hype. She says at Backlash she's going to expose Asuka for who she really is and that she didn't earn the RAW Women's Championship
Jax wins via pinfall after a Leg Drop
After the match, Asuka comes out and stares down with Nia. Jax walks out of the ring with a smile.
Randy Orton Promo
Orton says that the claims of Edge from last week that called him complacent are correct. Orton says that although he's lazy and complacent he still accomplished more than Edge and it drives him crazy.
He says at Backlash he's going to prove he's the best
Charlotte vs Asuka
Before the match, Charlotte gets on the mic and says that she will defend her championship at NXT Takeover. She says that Io Shirai and Rhea Ripley are who the crowd should aspire to be and she's rooting for all of them. She wants one of them to be the next Rhea or Io and stand up to her, so she can make you bow down.
She lists all of Asuka's accomplishments and says that Asuka wants to be just like her.
Charlotte wins via count out after Nia Jax comes out in Asuka's mask and her music. When the bell rings, Jax should tackles Asuka leaving her on the ramp
Lana Interview
Charlie asks if Lana being sidelined was Bobby or MVP's idea. Lana says she's not sure. On second thought, she says that it couldn't be Lashley's idea. She smiles and says that Bobby said not to come out for his matches but said nothing of MVP's.
Drew McIntyre vs MVP (with Bobby Lashley)
Before the bell, Lana comes out to be ringside
McIntyre wins via pinfall after a Claymore Kick
After the bell, Lashley runs into the ring and puts McIntyre in a full nelson as the show ends.