It's the Monday Night RAW after the 2020 Royal Rumble and there are a lot of developments from Sunday's show.
First, we have our winners of the men's and women's Royal Rumble matches. Drew McIntyre and Charlotte Flair won their respective matches and now have to decide which champion they want to face at WrestleMania.
McIntyre was the one who not just won the match but eliminated Brock Lesnar, so it seems that the former NXT Champion will take on "The Beast" in April. Tonight, fans should learn what Drew McIntyre is thinking in regards to his title opportunity and perhaps Lesnar and/or his advocate, Paul Heyman, will react.
On the other side, Charlotte Flair reasserted her dominance of the women's division. After Becky Lynch retained the RAW Women's Championship against Asuka, it seems we are destined for another clash between these bitter frenemies. Like McIntyre, WWE fans will likely learn who Charlotte is planning to take on at WrestleMania.
The feud between Bobby Lashley and Rusev continues Monday night as Liv Morgan and Lana go one-on-one. Lashley and Rusev are barred from ringside for this bout, but that likely won't keep both men out of this fight.
Lana and Lashley have come out on the winning end of the feud in recent weeks, but this could be a turning point for Morgan and Rusev.
And then there's Edge. The WWE Hall of Famer and former champion made a surprise return at the Royal Rumble lasting until the final three competitors. WWE fans may get an appearance from the "Rated-R Superstar" and an idea as to where his in-ring career is heading.
A lot is expected to happen on tonight's episode. Here's a live update on all the ins and outs of the January 27 episode of Monday Night RAW.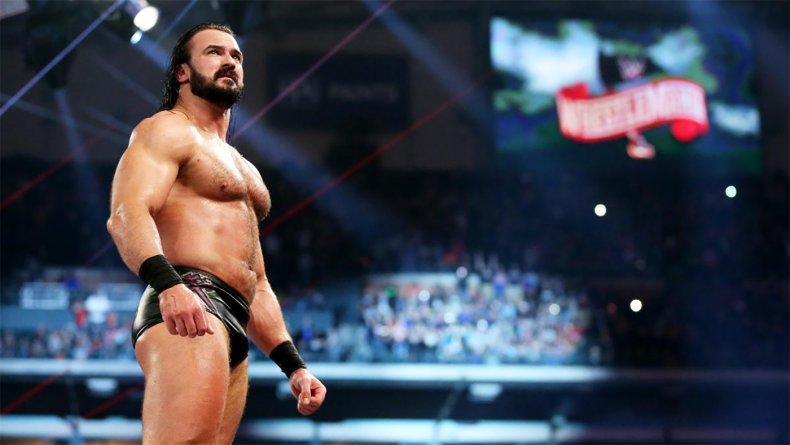 WWE MONDAY NIGHT RAW RESULTS
Drew McIntyre Promo
He says it feels so good to be the Royal Rumble winner. McIntyre says he's going to WrestleMania and knows that some people like to draw their match announcement out, but he's not like them.
McIntyre says he challenges Brock Lesnar for the WWE Championship. He says a lot of guys in the back are terrified of Lesnar, but not him. When he got in the ring with him on Sunday he knew he could Claymore him and he'll beat him at WrestleMania.
He says he needs to calm down and get this energy out. He says he wants to have an official Claymore party right now. McIntyre challenges anyone in the back to try and make a name for themselves.
Karl Anderson and Luke Gallows come out. Karl and Luke say they'll both fight him tonight. Drew says they both can fight him.
Drew McIntyre vs Karl Anderson and Luke Gallows
McIntyre wins via pinfall after hitting both with a Claymore.
After the bell, McIntyre throws both Gallows and Anderson out of the ring. This allows Brock Lesnar to run in and hit Drew with an F-5.
Rey Mysterio vs MVP
Mysterio wins via pinfall after a 619 and then a Frog Splash
Match Announcement
It's announced that Seth Rollins and Buddy Murphy will defend the RAW Tag Team Championships against Samoa Joe and Kevin Owens
Aleister Black vs Local Enhancement Talent
Black wins via pinfall after a Black Mass in a quick match
After the bell, Black gets on the mic and talks about what happened at the Royal Rumble on Sunday. He says that he's asked people to pick a fight with him, but now he will bring the fight to anyone in the RAW locker room
Seth Rollins Promo
Before the match, Seth says that he was close to winning the Royal Rumble for the second year in a row. He says he was eliminated the eventual winner, Drew McIntyre. Seth tells McIntyre to enjoy the love now because the fans will turn on you.
Seth says that it's ok that he lost because he eliminated Samoa Joe and Kevin Owens from the Rumble and they aren't going to WrestleMania.
Owens and Joe come out and says Seth talks too much. KO says that these past few months, Seth has been a jackass. Seth says that KO is the one talking too much and to get in the ring. Joe and KO ask where the AOP are hiding. Rollins pulls up a video feed of AOP in the back. Joe and KO still don't believe them and says that this is a place where things are recorded. Rollins assures them that the AOP are in his private dressing room.
Viking Raiders attack the AOP in the dressing room and now Joe and KO are ready to fight.
Seth Rollins and Buddy Murphy (c) vs Samoa Joe and Kevin Owens - RAW Tag Team Championship Match
Samoa Joe is taken out of the match after landing wrong on a suicide dive. It appears to be a legitimate injury.
Murphy pins Kevin Owens after a roll up following a distraction from Seth
Becky Lynch Interview
Lynch says that after winning on Sunday she realized she had nothing to worry about. Becky says she's ready for whoever challenges her next.
Andrade (c) (with Zelina Vega) vs Humberto Carrillo - US Championship Match
Carrillo wins via disqualification
The DQ came when Zelina Vega broke up the pin after Carrillo hit Andrade with a Moonsault
After the match, Carrillo attacks Andrade and pulls the mat to expose the concrete. Carrillo hits Andrade with a Hammerlock DDT on the concrete
Charlotte Flair Promo
Charlotte says she did exactly what she said she would and plays highlights from the women's Royal Rumble.
Charlotte is about to say who she will challenge at WrestleMania. She then says she hasn't decided yet.
Asuka and Kairi Sane interrupt Charlotte. Asuka says that if she entered the Royal Rumble she would have won. They then attack Charlotte before RAW goes to commercial.
Charlotte vs Asuka (with Kairi Sane)
Charlotte wins via disqualification after Sane hits Flair with an Insane Elbow to break up the Figure Eight
After the bell, Charlotte throws Sane out of the ring following a short brawl
Street Profits Segment
They hype up Edge's appearance when Kelly Kelly appears and Angelo Dawkins starts to flirt with her.
Mojo Rawley (with Riddick Moss) vs No Way Jose - 24/7 Championship Match
Before the match, Mojo introduces Riddick Moss as his offensive linemen to help protect the 24/7 Championship
Rawley wins via pinfall
After the match, R-Truth dressed as a taco rolls up Rawley to win back the 24/7 Championship. When Truth tries to leave, Riddick stops him allowing Rawley to hit his finisher on Truth and win the title back.
Lana vs Liv Morgan
Liv Morgan wins via pinfall
Erick Rowan vs Local Enhancement Talent
Rowan wins via pinfall after an Iron Claw
Edge Promo
Edge comes out and talks about his journey back and what comes next. He says he's not sure how long he'll be doing this but asks the WWE Universe to come along for the ride with him. Randy Orton interrupts.
Uncommon Knowledge
Newsweek is committed to challenging conventional wisdom and finding connections in the search for common ground.
Newsweek is committed to challenging conventional wisdom and finding connections in the search for common ground.
About the writer
Phillip Martinez is a game and culture reporter for Newsweek. Prior to joining Newsweek in 2018, he was a reporter and editor for iDigitalTimes and Player.One. A Bronx native, he graduated with his Bachelor's degree in Journalism from St. John's University in 2010. An avid Nintendo fan and wrestling mark, he's always looking to become a Pokémon Master while fantasy booking this year's WrestleMania. You can contact him at p.martinez@newsweek.com