Otis and Asuka Win Men's and Women's Money in the Bank Ladder Matches
Otis and Asuka won the men's and women's Money in the Bank ladder matches Sunday night.
This Sunday's Money in the Bank pay-per-view was main evented by both the men's and women's ladder matches. However, this year's show would do something different with their ladder matches. Instead of having the traditional ladder matches, all 12 competitors will go to WWE headquarters in Connecticut and climb the "corporate ladder" starting from the ground floor to the roof.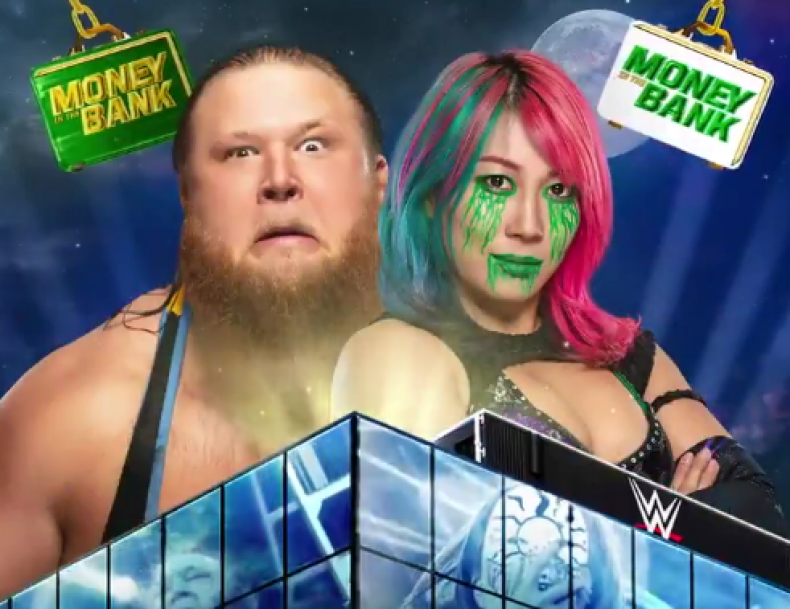 Asuka grabbed the women's briefcase first after a huge brawl in the WWE headquarters that also involved Nia Jax, Carmella, Dana Brook, Shayna Baszler and Lacey Evans. She grabbed the advantage in the beginning when she jumped on the other women in the lobby from the next floor. She also was the first to grab the elevator.
However, the finish of the women's portion of the match saw Asuka, Lacey Evans and Nia Jax as the only competitors to make it to the roof. Carmella, Dana Brook and Shayna Baszler were taken out on their ascent of the building.
After fending off Jax and Evans, Asuka climbed the ladder but was met by King Corbin at the top. Corbin, inexplicably, started to fight Asuka but the "Empress of Tomorrow" knocked the King of the Ring winner off the ladder and grabbed the briefcase.
The men were next. Corbin was joined by Rey Mysterio, Otis and Aleister Black but the King threw Mysterio and Black off the roof. Otis tried to climb the ladder, but like this past Friday Night SmackDown, the lower rungs would break.
AJ Styles and Daniel Bryan would eventually join the fight with Styles and Corbin climbing the ladder. Both Styles and Corbin pull down the briefcase, but Elias would show up to hit King Corbin in the back with a guitar causing him to fall. This would also cause Styles to fumble the briefcase and drop it down to the ring and into Otis' hands.
What the victories mean for both Asuka and Otis is unknown. WWE is promoting the return of Becky Lynch on May 11 to confront the MITB winner, so Asuka could look to get a victory over the RAW Women's Champion. Otis, on the other hand, will take the briefcase back to SmackDown.
Braun Strowman is the current Universal Champion, but is in a feud with Bray Wyatt so it may be a while before Otis cashes it in.
What do you think of Otis and Asuka winning the Money in the Bank ladder matches? Let us know in the comments section.