WWE's Naomi Talks Survivor Series, Women's Tag Titles and Possibly Going Back to RAW
This year's Survivor Series pay-per-view is on Sunday and former SmackDown Women's Champion Naomi is part of an impressive group of WWE superstars representing the blue brand.
Naomi, along with Asuka, Sonya Deville, Carmella and a mystery competitor, will take on the women's RAW team of Mickie James, Tamina, Nia Jax, Ruby Riott and Natalya in a traditional Survivor Series elimination match. But as this Sunday's event looks to be a hard-fought affair, Naomi is looking forward to one of her favorite pay-per-views of the year.
Newsweek caught up with Naomi ahead of her match at Survivor Series to talk about the pay-per-view, her success on SmackDown Live and working with Asuka.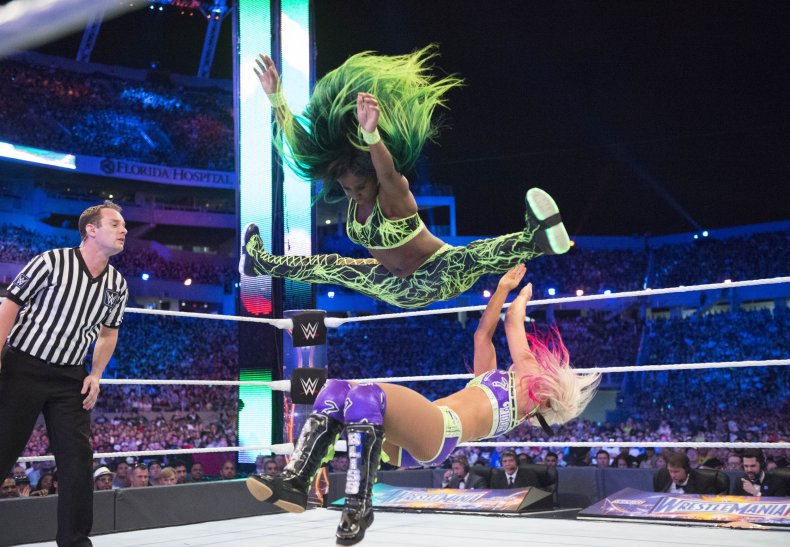 You're part of an impressive group of women at this year's Survivor Series. What does it mean to be in that match?
Survivor Series is one of my favorite pay-per-views because I'm Smackdown strong, I bleed blue. I've been my most successful since being on SmackDown. It is so fun to be able to go against RAW like we did this week when we jumped the girls. It's one of the most exciting pay-per-views for me, so I'm looking forward to going against the other Total Divas and show them who the best side is.
You mention having success on SmackDown but have you thought about going back to RAW?
I'm super happy with where I am right now. They say RAW is the "A-Show" but I truly believe SmackDown is. It's an amazing show and I love all the people I work with. Eventually I would love to hold the RAW title at some point before I retire or make that transition. But right now, absolutely not. I love SmackDown. Whether my husband were to go to RAW, that would lead the open the door as to if I would or want to go. Who knows? But right now, SmackDown is where it's at.
Currently you're working a lot with Asuka. She's well-traveled and a great competitor, what's it like working with her so closely?
It's truly a gift. I've always been a fan of Asukas. I didn't get to know her until she came to SmackDown. I remember thinking when everything went down, "I hope we get Asuka" and then we got her. I lost it. I think she's probably my favorite woman on the roster, work wise. She's so experienced, so talented, so smart. I love everything about Asuka. And everyone loves Asuka. She's an amazing performer, worker, mother and friend. Genuinely, she is the best. I can see myself growing and learning so much with her. She's done it all and she's the toughest woman I know.
You two have great chemistry in the ring, is the WWE grooming you guys for Tag Titles?
Right now we're just having fun. I've heard the rumors and maybe we will get tag titles. I'm hoping and praying we do at some point. I don't see it happening in 2018, but maybe in 2019. I just hope it happens before I retire and before I leave, because I want to be the first to hold them with Asuka.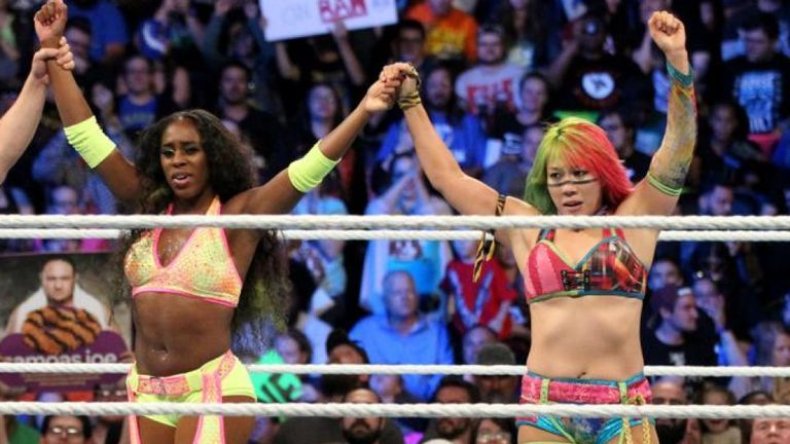 Speaking of teaming up, you participate in Mixed Match Challenge with your husband, Jimmy. WWE announced the prizes for the team that wins, so where would you go and if you won the Rumble who would you challenge?
That's two very good questions. When Jon and I got married, we got married on Total Divas in Maui and we literally flew out the next day to a show in Dayton, Ohio. So we never got a honeymoon. So we would probably go back to Maui and actually have a honeymoon.
If I were to win the Rumble, I'd want to face the champ, Becky Lynch. Because she's the baddest man, right? [laughs]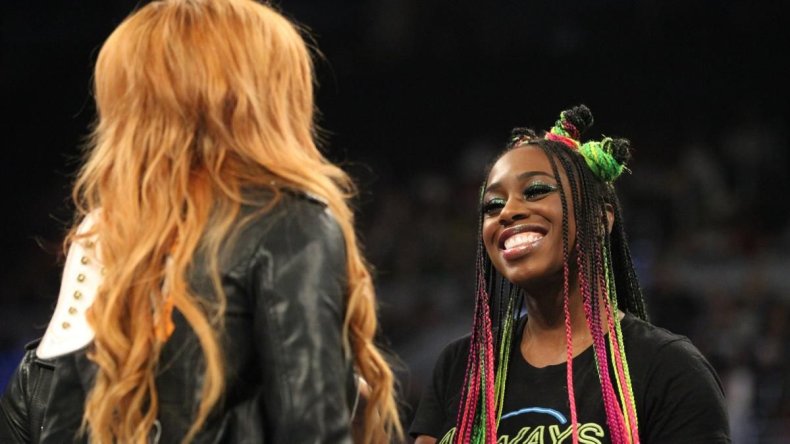 Survivor Series will stream live on Sunday, November 18 at 7pm ET on WWE Network.