WWE Evolution: Nikki Bella Wants a 'Diva' to Beat Ronda Rousey
WWE's Evolution, the first all-women's pay-per-view in the company's history, is set for Oct. 28. The main event will pit RAW Women's Champion Ronda Rousey against former Divas Champion Nikki Bella.
It's that Divas Championship title that Nikki and her sister Brie are most proud of—even if the WWE wants to move away from it. But will Nikki be the "diva" that dethrones Rousey?
Newsweek spoke with the former champion about her upcoming match with Rousey, her return to in-ring action and why the "diva" moniker shouldn't be vilified.
Note: This interview has been edited for clarity and length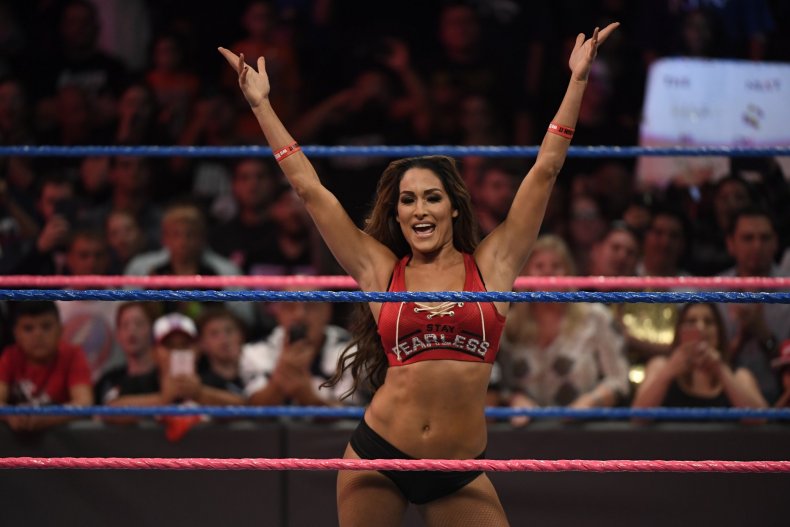 When you and Brie entered the first-ever Women's Royal Rumble, did you even think Evolution would be a thing?
Oh my god, absolutely not. I was so happy and honored to be a part of the rumble and I didn't think I was going to get the call to be a part of Evolution. Then to go against Ronda Rousey in the main event! I did not see that coming.
How was Evolution pitched to you on that call?
In our business, we always have to say "potentially." You can never confirm it, because you change every week. You never know what's going to happen on Monday Night RAW, which makes our business so fun. So I'm told something like, "we have this idea and we think we're going to do this. Are you interested starting at this time?"
I didn't have to take 30 seconds to answer yes. [laughs]
It's well-documented how many jobs you have outside of WWE. Now that you're back, is it difficult to balance it all?
It is definitely been hard. But a good lesson I've learned on this comeback is about balance. I didn't think it would be that hard to run two companies, filming [ Total Bellas ], doing this comeback and provide content for a YouTube channel. I didn't factor in sleep. I've been triple-booking myself because we do appearances on top of everything. And then my sister is a mother. So I've been doing a lot on my own, because I have to tell Brie just go home to Birdie. It's been tough on my sister, but I didn't realize how hard it's been. But it's been a difficult few months.
Do you feel your comeback has been worth it?
Every single second has been worth it. This week, I feel like I'm prepping for the Olympics or the Super Bowl. This has been incredible. All the cheers and media coverage and the support from the Bella Army. We have so much planned for this weekend. With the Bella Army, I see all the things posted online after RAW. They are literally doing a tailgate at Gate 4, 5:45 pm to have a group photo.
This is amazing. We're die-hard Eagles fans and this is the best thing ever.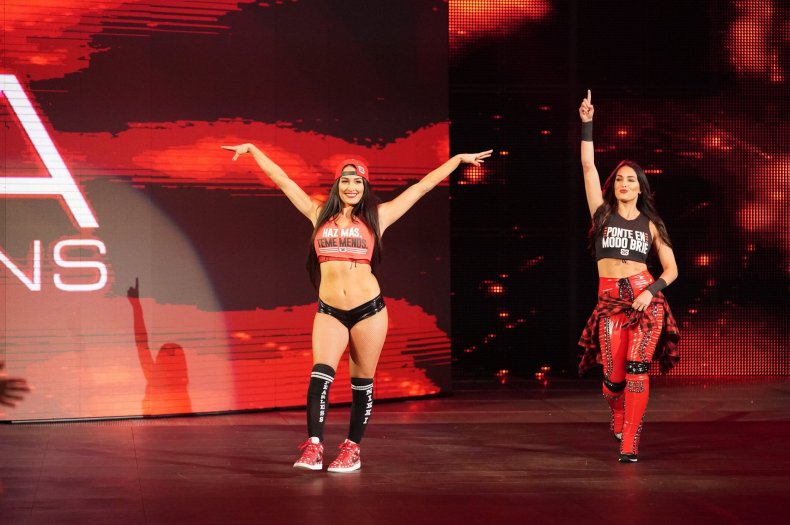 What are you feelings heading into your match with Ronda Rousey?
I love working with Ronda Rousey. It's been the biggest challenge of my career, I would say. There's a lot of pressure because of Ronda, and how big she is and how Brie and I crossed over. There's a lot of pressure on us women, but it's been incredible. This is the most nervous I've been walking into that ring. It's like "dayum, I'm about to fight Ronda Rousey." This is insane, I never in my life would have thought it would happen.
It's really cool, because not only has Evolution been so empowering this week and my comeback and my journey, but then to know who I'm facing. That's been even more empowering and I feel so grateful.
One day, I'm going to be able to tell my kids "not only was mom a part of an amazing group of women who worked so hard for so long to have this all-women's pay-per-view. Your mom was main eventing against this woman named Ronda Rousey." How lucky am I to be able to say that?
Did it help that you were working with her, as a friend, for months before your heel turn?
We all have our moments where you can get confused with creative, "is this going to work or not?" But it gives me more to talk about and we need that for our characters, because sometimes you can say it all to someone and then you're left thinking, "where do I go from here?"
Those buildups help because it gives us those "remember whens" that help answer "why were you this or that?" What people don't realize now but when they watch, say, the package at Evolution, we love to point out all the times when we were friends, I took one step back and stared at her up and down, or when she made one little comment and it made my eye twitch. That's what's so beautiful about what we do, because people go "I didn't catch that, you weren't liking her at all."
It's so much fun to look back on, and that's what's so important: to be the best friends, but really I never liked you and you were too stupid to see it.
Do you enjoy being the heel more than a face?
I love being the villain. Being a villain is so much more fun and you are given more freedom than if you were a babyface. The babyface, they always have to smile and wave, and they always have to be happy. Come on, that's not life.
There's something so creative about [being a heel], it's so easy to make people hate you. Babyfaces have it way harder. But [as a heel] you're allowed to be more creative and say "how am I going to take this person down?" Babyfaces are going to show us the best they got in the cleanest way, but think how fun it is to figure out ways to beat you because I can do whatever I want. I love it.
The last few weeks, you and Ronda traded scathing promos. A lot of that was very personal to you, how could you stand there and take it?
I mean, it hurt. At the end of the day, we're still human. That is something that is still one of the most important things in my life, my past relationship. I still have so much love for that man and he's an incredible human being.
But not only him, but my sister, my family, my friends—they've all seen how hard I've worked over the past 10 years. Does it hurt when people constantly try and take away your hard work because of someone you've been with? Of course. I was so lucky to share six amazing years with a truly incredible man. But that doesn't mean he made me. I was in the company for 12 years and with him for six. There's been so many years of being on my own with the blood, sweat and tears, and turning my nos into yes, negatives into positives. That was me. All my hard work was me, but I know it. So that's where it can hurt, but it doesn't affect me because I've heard it so much.
The right people know my worth. God's the only one who can judge me. So at the end of the day I show up with a smile, which I think can really annoy people [laughs]. Once you know your worth, no one can take it away from you, and I know my worth.
You and Brie worked your way up during the Divas Era, but the term "diva" is almost taboo in the company. How do you feel about that?
I think it should be accepted. The one thing that I love is that we're called what the men are called. We're WWE Superstars, and there's not the distinction of Superstars and Divas. I like how we're all together equally, but we never should have made it a bad word because I think of what that word meant.
The women now weren't there when we were creating that. We were told in so many meetings that this is what we're going to be called—you're strong, beautiful and powerful—and that's what we did. And the women on SmackDown had nothing to compete for. We were just doing matches, and then we got this Divas championship and it was amazing that we had something. We had something to challenge each other with. I saw all the hard work that went into the Divas Championship and all the little girls who wore it and loved it and still bring it to live events. For me, that's where it's difficult because I've seen the hard work that went into that era, I have wrestled with the amazing champions of that title and we could have had the change without dissing that generation of woman. That's not revolutionizing, that's not empowering each other. That's the only disagreement I've had with this, and that's why I'm coming back to remind people of how beautiful that history was. That history was special. Just because you weren't a part of it doesn't mean it wasn't iconic or historic.
And you've heard past women speak out about it. That's what's special about Evolution, there wouldn't be change without the Divas championship. It wouldn't exist and there would be no meaning because you need something to go against. But the [Divas era] women never should have been attacked, because they were doing their job. I've been at the forefront of how it fell on the women who were trying to make it work.
Are you thinking about your in-ring future after Evolution? Have another run in you?
You definitely have to tune into Evolution to see what happens. And your question will be answered, but I want to win that championship. I said on Monday night about a Diva beating [Ronda] for that championship. And yes, it's being sarcastic because of what that term has meant. But I would love for a Diva to win that title in the main event of Evolution, to show people that it was a beautiful era in front of the women of that era, every Divas champion. And just start a fun run with the RAW Women's Championship.
I love to create chaos, shake up RAW a little bit and "Bella-fy" it. It'll be fun.
Not to mention being the first to beat Ronda.
You don't understand. I don't brag. My mom always says, "you and your sister never appreciate your accomplishments." Me and my sister just work 24/7, we're like our dad. I think if I beat Ronda Rousey I'll be talking about it for a long time, popping bottles of champagne. That one I will have to brag about.