WWE Appoints Paul Heyman and Eric Bischoff Executive Directors of RAW and SmackDown
The WWE is shaking things up backstage. The company announced today that Paul Heyman and Eric Bischoff will be Executive Directors - newly created positions - of Monday Night RAW and SmackDown Live, respectively.
First reported by Justin Barrasso of Sports Illustrated, the appointment of Heyman and Bischoff will see both pro wrestling legends take on full-time roles and report directly to WWE Chairman and CEO Vince McMahon.
There are currently no plans for them to be introduced as part of a television storyline.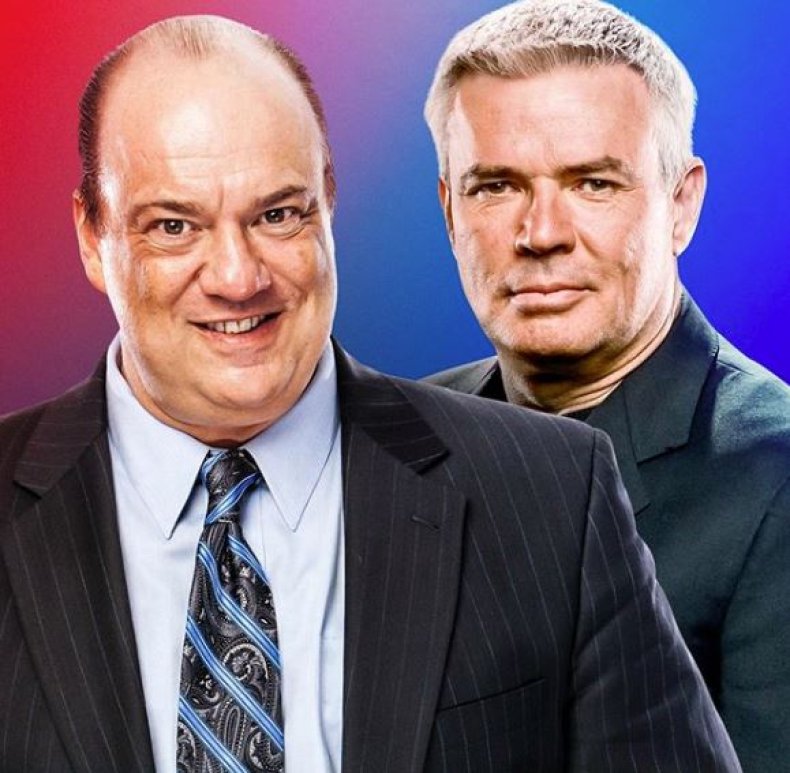 Current WWEfans know Paul Heyman as the slick-talking advocate for Brock Lesnar, but from 1993-2001 he served as the President of Extreme Championship Wrestling (ECW). The Philadelphia-based promotion was a hotbed for indie and hardcore wrestling.
The promotion launched the careers of Steve Austin, Tommy Dreamer, Rob Van Damand many others.
While best known for his on-air persona, Heyman is credited for developing many current and former WWE Superstars as part of its creative team.
Eric Bischoff is the former President of World Championship Wrestling (WCW), the promotion that rivaled the then WWF during the infamous "Monday Night Wars." For 83 weeks - from June 1996 to April 2018 - Bischoff would shepherd WCW's flagship show, Monday Night Nitro and defeat Monday Night RAW in the ratings.
The success was largely due to the popular NWO storyline that featured Scott Hall and Kevin Nash after they jumped ship from WWF to WCW, and would eventually bring in "Hollywood" Hulk Hogan for his legendary heel turn. The Atlanta-based promotion is credited for launching the careers of Booker T, Diamond Dallas Page, Chris Jericho, Goldberg and many more.
Bischoff would become a part of the WWE as the Monday Night RAW General Manager from 2002-2005 and make sporadic appearances in the company since.
The appointments of Heyman and Bischoff comes ahead of SmackDown Live moving to Fox in October with Monday Night RAW remaining on the USA Network - a part of NBCUniversal.
It would seem that Heyman and Bischoff will not only have to navigate through weekly creative, but also the demands of both networks. It's been reported that both USA and Fox have had a hand in recent changes to the programs as ratings have sagged and fans begin to eye competitors like the new promotion AEW that debuts on TNT this fall.
The Wrestling Observer reported that the now-popular 24/7 Championship was created to boost rating of RAW's third hour, which has fallen to historic lows. The current "wild card rule" is also reportedly a way for USA and Fox to have the company's top stars like Roman Reigns and Kofi Kingston on both shows.
What do you think of the new WWE hires? Do you believe they can right the ships of both RAW and SmackDown? Let us know in the comments section below.