WWE Launches Performance Center Site to Encourage More Tryouts
The WWE has made it easier than ever for prospective sports entertainers to get noticed. The company launched its new Performance Center site to recruit athletes from all over the world, and teach them the ins and outs of the tryout process.
The new WWE Performance Center site offers step-by-step instructions on how to apply for a tryout in Orlando, as well as access the official application form and a rundown of all the Performance Center has to offer potential recruits. Big names on the WWE roster, like Finn Balor and Charlotte Flair, give testimonials about how the Performance Center shaped them into WWE Superstars.
"The hardest part about this business is there is no pathway," Paul Levesque, a.k.a. Triple H, told Sports Illustrated. "We're creating a pathway. Vince [McMahon] and I spoke about it, and he said, 'Let's go do it.' We are going around the world to look for international stars."
Levesque's plans for expanding the WWE's global recruitment reach was first detailed in April at the 2 018 Business Partner Summit during WrestleMania 34 weekend. T he head of NXT, WWE's developmental system, Levesque spoke about "global localization" and his plan to create a global territorial system where potential recruits can hone their craft before making the jump to WWE.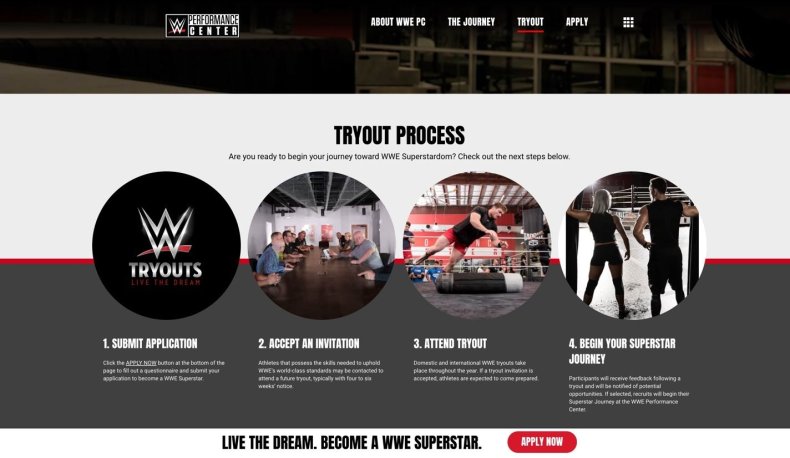 For now, the Performance Center recruitment site is the best and easiest way to apply for a tryout no matter where you are. The WWE is looking for recruits from all types of backgrounds, from the NFL to the military, who possess the following::
World-class athleticism.
Size, flexibility, strength and agility.
Personality and charisma.
Global appeal and diversity.
Coachability, work ethic and professionalism.
So if you believe you have what it takes for a WWE tryout, head over to the Performance Center site and apply.