WWE's Renee Young Talks Hell in a Cell, Evolution and Preparation
One of the biggest recent developments in the WWE was the addition of Renee Young to the Monday Night RAW commentary team. She is the first woman to be a full-time commentator in company history.
Her appointment has been met with positive response from the WWE Universe and peers both past and present. And with a couple of weeks of experience under her belt, Young is preparing for her biggest test yet, calling a WWE pay-per-view.
Newsweek spoke with Young to talk about the response to her appointment, preparing for Hell in a Cell on Sunday and the women's evolution.
The Hell in a Cell pay-per-view will stream live Sunday, Sept. 16 starting 7 p.m. EDT on the WWE Network.
Editor's Note: This interview has been lightly edited for clarity and length
It's been a few days since the announcement. Has it sunk in that you're on commentary full time?
It goes in waves. I'll read a cool article or reflect mentally on how the week has gone and get that moment of "oh my god, this actually happened." It feels like such a dream, this opportunity. I've been waiting so long to do it and now it has finally happened.
I'm just so excited about it. And it's starting to sink in, but I'm just trying to mentally prepare for Hell in a Cell this Sunday. Thinking about how different it is to call a pay-per-view to doing Monday Night RAW. It's so brand new to me, so my brain is in overload right now.
Speaking of Hell in a Cell, do you have to prepare differently for a pay-per-view?
I talked to Michael Cole a little bit about it last week. I'm still figuring out how I prepared to do commentary, which is different than how I would prepare for a Kickoff panel which I have down to a science. With commentary it's so different because you want to be prepared with information on the guys and girls and some of the stories I want to tell. But I also want to react to what I'm seeing. I haven't got my preparing down to an art just yet.
I talked to Cole about it and he told me to go back, watch some old Hell in a Cells. Just watching any ppv to hear how the commentary is different, how your remarks are going to be different.
Another person who has been great is Nick Joseph. He's a total wrestling nerd and a commentary nerd so he actually has great points like "during an entrances you want to have this and this put together." "For pay-per-views you get to tell this story." He's been really great with that.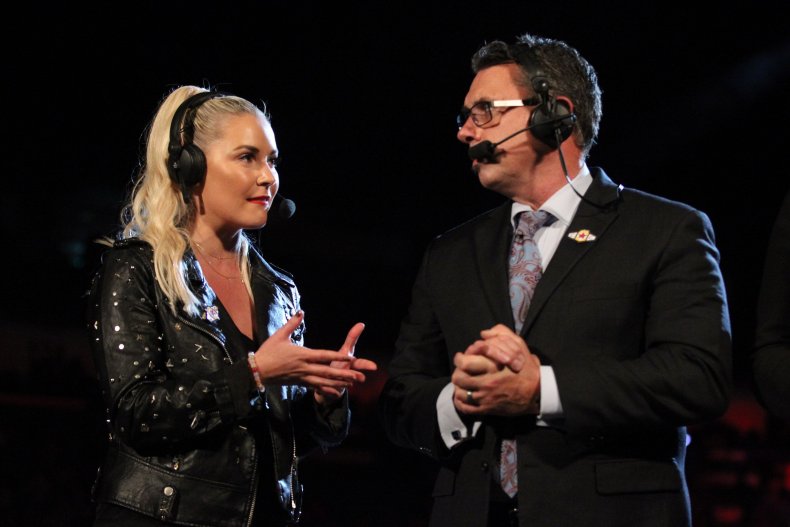 How did your past experiences on commentary help?
My experience with commentary before is so much different than it is now. When I was doing it before I wasn't ready to do it. But it's like, any opportunity that comes your way and you want to wear that hat. There's a lot that goes into doing commentary. Man, I commend Cole, Corey Graves, Byron Saxton, Tom Phillips all these guys who are doing it, and who have ever done it, because it's a lot to think about.
For me, it's been doing the panels for a couple of years that's helped. I'm so much more confident and familiar with what my role is within WWE and how I am able to talk about our product and our content in a better way for the WWE Universe to enjoy. For anyone who works in the company to enjoy.
I'm at different point of my career, personally. Where I'm at in WWE, I feel so much more comfortable even though I'm still trying to find my footing and my own take on things. I think a lot of it has to do with the panels and the time I spent backstage and the relationships I have with all the superstars that has definitely helped me get a second go at doing commentary now.
You did commentary for this year's Mae Young Classic. Looking back, do you think it was a trial run for your position now?
When we were doing the Mae Young, it was the week before I had my first night on RAW commentary filling in for Jonathan Coachman. When you do the Mae Young Classic, you're calling 32 matches over two days, which is like commentary bootcamp. Beth Phoenix and I, we showed up, we did all our preparation and we probably over thought everything. I think sitting next to Cole and getting him to hear our takes on everything definitely put him at ease when it was announced I was going to call RAW for the first time.
But everything is a trial. You're only as good as your last thing you did, right? I'm so happy to have the opportunity and nothing terrible has happened since I've been doing commentary so I'm trying to ride that out [Laughs].
Being the first female commentary, what's the best reactions you've received?
I can't believe how cool and supportive they've been, from my family, my peers and the WWE Universe. Everyone's been really great. Of course, there are going to be people who are going to have different opinions to that and I'm hoping over time I can prove them wrong.
Hearing from JBL, he gave me some great advice. To stay off social media, do my own thing, listen to Cole, listen to Vince, Kevin Dunn. Hearing from him, getting notes from Dino Curlander or Booker T. It's so funny to me that these guys I grew up watching are giving me nuggets and advice. It blows my mind.
How do you feel being a part of the Women's Evolution going on in the WWE?
I definitely didn't think it would be at this point when I got to WWE. I know that I've been asking for more— I always want to do more, I want to learn this skill. I'm so excited to have the opportunity to put in the work and make everybody proud and live up to these expectations of what everyone wants, and what I want.
Sitting back and watching the Women's Evolution, I wanted to be a part of it. Trying to find a way, and I feel so honored and to be able to use this platform and this voice to show everyone that women can do anything in the realms of the WWE. So many doors are being blasted open. For me to sit at the table on Monday nights and a little girl can watch on TV and feel she wants to do that in the future whether it's in the WWE, the NFL or MLB. There are different avenues for women to be involved in sports and broadcasting, and as an entertainer and performer. I'm just happy to be a part of it.
The Evolution pay-per-view happens in October, will you be a part of the commentary team?
I know I'm going to be there! As more matches are revealed and announced, the fact that we're going to see Mickie James vs Lita and Alexa Bliss vs Trish, I would love nothing more than to call those matches. I guess only time will tell how everything shakes out in the next couple of weeks.
Do you see yourself doing play-by-play?
[Laughs] I don't think so. And it's funny because I feel like so many people have asked me that even before this opportunity. "You should do play-by-play" and I don't think I can do that!
Michael Cole is so seamless and good at what he does and being able to sit next to him and observe the way his mind works, how he compartmentalizes and have things down to a tee. I like that. Doing the pay-per-view kickoff panels is a little bit more like play-by-play because you're getting us in and out of segments and throwing it to graphics and video packages. That was something I was familiar with, but going out there and straight calling fujiwara armbars, I don't know if that's in my wheelhouse. I think I'll stay in my lane doing color commentary for now.
But we'll see! I never thought I'd be doing Monday Night RAW so who can say?
What's the biggest thing you've learned so far on commentary?
The biggest one for me, was when Undertaker returned. That blew my mind. If you've ever been to a WWE show and were lucky enough to have Undertaker there and you get to hear the gong and he's coming out and the smoke is taking over the set, it's unbelievable to see but to be there on commentary and not to have a full-blown meltdown while it's happening. That's what I learned.
I'm looking at my monitor and I was so close to the Undertaker when he made his entrance and when Shawn Michaels came out before. I was like "whoa man they're here and I get to talk about these things" I was floored that that happened.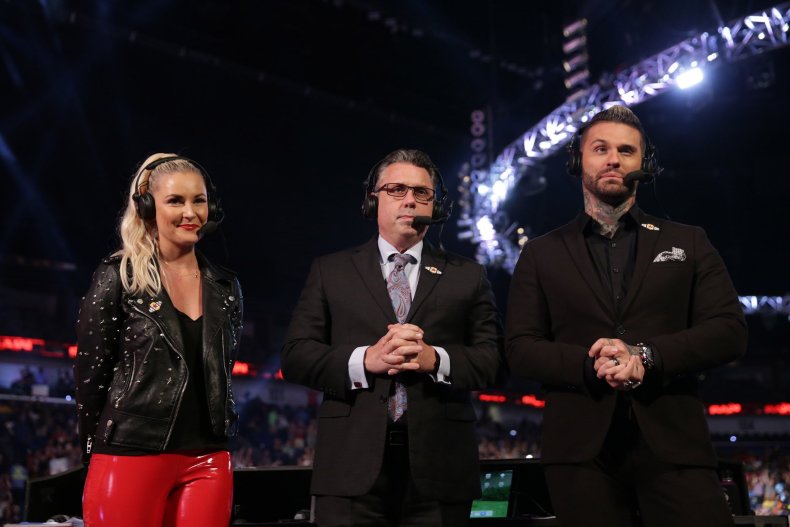 You're being praised by having great chemistry with Cole and Graves. How did that come about?
Corey Graves is one of my best friends in the whole world. We've been friends since we met at NXT. We've been on a bit of a journey together,from him stepping down from wrestling to doing the panels on NXT with me. I can remember that day when he told me that he would no longer be wrestling and will be joining me on the panels. That was such an emotional day for him, and for anyone who has been passionate about something and having to step away. So we're good friends.
And Michael Cole, from the day that I started in WWE I used to travel with Cole and JBL. They really were my introductions to the WWE. They showed me how life in WWE worked, life on the road, and he's been such a great champion ofs me from the beginning. And now I get to share this moment with him and Graves, and it means the world to me and it feels very comfortable. We all understand each other, we know what makes each other tick, what to say to make each other laugh or annoy each other to get the right conversation started on commentary. So I can't wait to see how it develops further. We've only done it three times so I think the more we get into a groove and I'm so new and unfamiliar with everything so im leaning on Cole and Graves pretty heavily to make sure im doing everything right. But once those kinks are out of the way I can't wait to see where our story goes.
If you could be on commentary with anyone, past or present, who would it be?
Oooo wow. I would love to work with JBL. He's so smart and brilliant as a human being and in the world of the WWE, he knows it all. And of course, the greats like Bobby Heenan, Gorilla Monsoon any of those guys I would love to sit and learn from.