WWE Crown Jewel Main Event Changed After Roman Reigns Leukemia Announcement
With Roman Reigns taking a leave of absence to battle leukemia, the main event of WWE's Crown Jewel pay-per-view for the Universal Championship has changed.
Reigns, real name Joe Anoa'i, was in remission since late 2008, but made sure to tell the crowd and the viewers at home that this was not a retirement speech as he expects to win this new battle and return for his title, and to also raise awareness and funds for research in order to advance cures for the disease.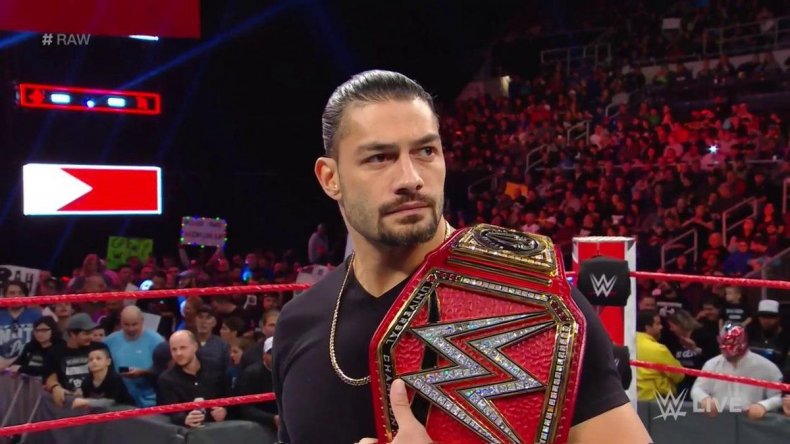 After Reigns' announcement, the RAW commentary team revealed that the Championship match at Crown Jewel will now be a one-on-one match between Brock Lesnar and Braun Strowman. The two WWE Superstars have battled in the past in numerous matches, with the last one-on-one going down at No Mercy 2017.
Lesnar's advocate, Paul Heyman came out later in the night to put over the match at Crown Jewel when Strowman interrupted him to say he will leave Saudi Arabia as the new Universal Champion.
Reigns won the Universal Championship at SummerSlam after defeating Lesnar. Strowman, who won the Money in the Bank briefcase earlier in the year, was waiting for the winner of the match so he could cash-in afterward.
Lesnar would take out Strowman with chair shots before losing to Reigns. Strowman, would then cash-in his opportunity at Hell in a Cell against Reigns but was interrupted by Lesnar, causing a no contest. Strowman will have his chance to get revenge on Lesnar and capture the Universal Championship at Crown Jewel.
Crown Jewel is set to stream on the WWE Network on Nov. 2.