WWE Returns to Saudi Arabia for June 7 Show; Undertaker and Goldberg Advertised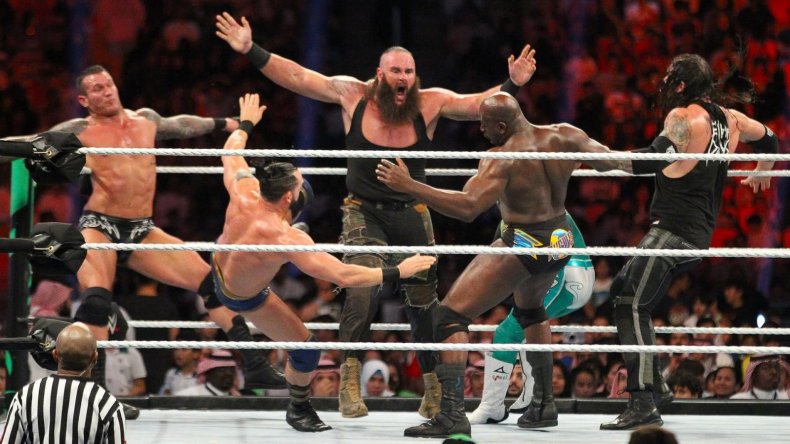 The WWE is returning to Saudi Arabia for another show this June.
The company's official site announced that it'll return to Jeddah - the site of the first Saudi Arabian show - on Friday, June 7. Not many details were given, but the WWE is currently advertising Roman Reigns, Undertaker, Kofi Kingston, Braun Strowman, Seth Rollins, Goldberg, AJ Styles and Brock Lesnar for the event.
According to WWE.com, more details on the new Jeddah show will be announced in the coming weeks.
Notably, Undertaker will return to the ring after last appearing on the RAW after WrestleMania. The "Deadman" hasn't appeared in a match since the second Saudi Arabian show, Crown Jewel in November, when he teamed with Kane against Triple H and Shawn Michaels.
Goldberg retired from the ring following his loss to Brock Lesnar at WrestleMania 33. The former WCW superstar returned to the ring in 2016 where he defeated Lesnar at Survivor Series and captured the Universal Championship from Kevin Owens in early 2017. He would drop the title to Lesnar at the aforementioned WrestleMania 33.
This new Saudi Arabia/WWE show marks the third event in the 10-year partnership between WWE and the Saudi General Sports Authority. The deal was inked in March 2018 and began in April with The Greatest Royal Rumble show.
However, this partnership has not been without controversy. The Greatest Royal Rumble caused concern after female superstars were not allowed to perform. WWE Superstar Sami Zayn was also barred from the trip because of his Syrian descent.
At the time, WWE released a statement regarding Zayn's absence on the show: "WWE is committed to embracing individuals from all backgrounds while respecting local customs and cultural differences around the world."
The controversy would grow larger with The Crown Jewel show in November following the disappearance of journalist Jamal Khashoggi. A strong critic of Saudi Arabia, Khashoggi was killed inside the consulate in Turkey, leading some WWE fans, and even politicians, to question the company's new partnership with the country.
While WWE stated they would monitor the situation regarding Khashoggi, the company would eventually move forward with the event.
What do you think of the next WWE Saudi Arabia show? Will you watch? Let us know in the comments section below.