WWE 'SmackDown' Preview: Is There a New Stage and What Time Does 'SmackDown' Start on Fox?
The WWE on Fox era begins Friday night when SmackDown premieres on its new home on network television.
Friday's big launch show will feature appearances from WWE superstars past and present, including WWE legend Dwayne "The Rock" Johnson, a.k.a. the man who coined the term "smackdown." Johnson confirmed his return to WWE on Twitter Monday:
The Hobbs & Shaw star will appear on the program to mark its 20th anniversary and move to Fox. Also joining the celebrations will be memorable WWE icons Hulk Hogan, Ric Flair, Trish Stratus, Sting, Lita, Kurt Angle, Goldberg, Mick Foley, Mark Henry and Booker T.
The current generation of WWE stars will also be in action on Friday Night SmackDown's Fox debut, and fans will get their first look at SmackDown's brand new stage.
Here's what you need to know ahead of Friday's premiere:
What time is SmackDown on Fox?
SmackDown is live on Fox from 8 p.m. Eastern every Friday beginning tonight.
Ahead of the premiere episode tonight, Fox will air a live half-hour kickoff show at 7:30 p.m. ET. The pre-show will feature blue carpet interviews from the Staples Center in Los Angeles. The kickoff show will be hosted by Renee Young and Booker T.
New WWE SmackDown stage
Like WWE's Monday night primetime show Raw, SmackDown will be getting a facelift for its Fox debut. Expect a brand new stage and the return of pyrotechnics.
The new set will first be revealed on the SmackDown kickoff show at 7:30 p.m. ET on Fox.
New WWE SmackDown theme song
The newly rechristened Friday Night SmackDown will also have a new sound over its opening credits.
The new theme song is "Are You Ready" by AC/DC, first heard on the Australian rock group's 1990 album The Razors Edge and released as a single in 1991.
Listen to "Are You Ready" below:
New WWE SmackDown announce team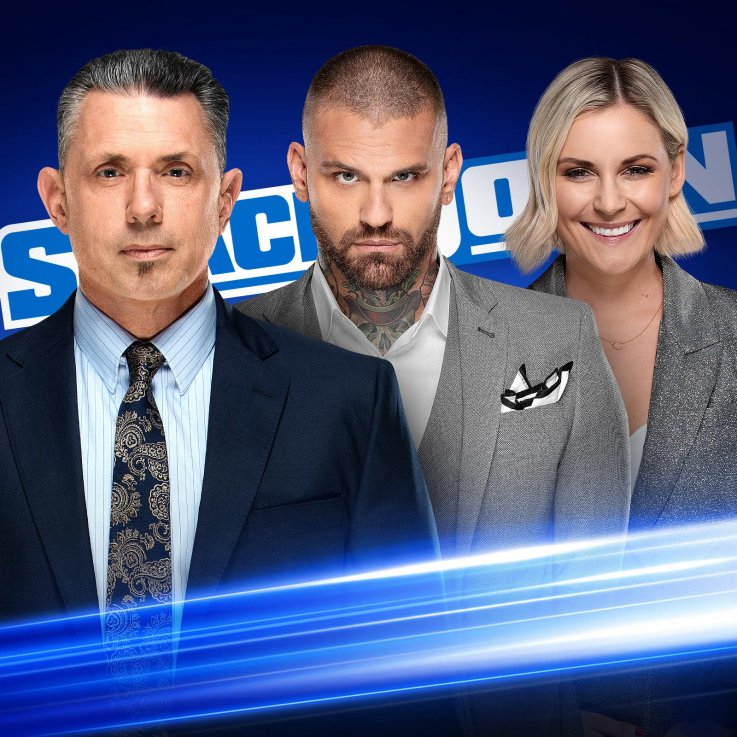 Michael Cole, Corey Graves and Renee Young.
WWE
SmackDown is going to sound a lot like Raw going forward.
WWE's Friday night program will now be called by the former Raw announce team of Michael Cole, Corey Graves and Renee Young.
The trio were replaced this past Monday on Raw by the team of Vic Joseph, Dio Maddin and Jerry "The King" Lawler.
Young will also host the blue carpet kickoff show at 7:30 p.m. prior to SmackDown at 8 p.m.
SmackDown on Fox matches and more
Friday's big premiere episode of SmackDown on Fox will be headlined by a WWE Championship match between Kofi Kingston, the reigning champion, and Brock Lesnar.
Kevin Owens and Shane McMahon will compete in a ladder match, with the loser being fired from WWE.
Here is what has been announced so far:
WWE Championship: Kofi Kingston versus Brock Lesnar
Loser leaves WWE ladder match: Kevin Owens versus Shane McMahon
Becky Lynch and Charlotte Flair versus Sasha Banks and Bayley
Roman Reigns versus Erick Rowan
Dwayne "The Rock" Johnson to appear
WWE legends Hulk Hogan, Ric Flair, Trish Stratus, Lita and more to appear
SmackDown airs at 8 p.m. ET on Fox. The kickoff show is at 7:30 p.m. ET.