SmackDown Live Results: How Will Kofi Kingston Respond to Kevin Owens' Betrayal?
Monday Night RAW announced its participants for both the men's and women's Money in the Bank matches at the next pay-per-view, and this week's episode of SmackDown Live will do the same.
There are four men and four women to be announced for this year's Money in the Bank tonight. Alexa Bliss announced Braun Strowman, Baron Corbin, Ricochet and Drew McIntyre will represent RAW. On the women's side, Bliss announced herself, Natalya, Naomi and Dana Brooke as the red brand's reps.
With SmackDown Live having deep rosters for the men and especially the women, who will fill out the field for both ladder matches?
Last week, Kevin Owens turning on the New Day was the talk of the show and now it's time for WWE Champion Kofi Kingston to respond to the betrayal. Kingston is scheduled for an interview that will address Owens' actions and what he plans to do about it. Big E is out with an injury, and Owens taking out Xavier Woods last week leaves Kofi alone to handle things but will Kingston and KO's path end at the Money in the Bank pay-per-view? Looks like it will.
Ahead of her two championship matches in May, Becky Lynch will square off against Bayley for the first time on the main roster. Bayley showed a lot of fire when she took on Charlotte Flair last week, but she lost the match and her chances at the SmackDown Women's Championship. Bayley looks to make a case for herself when she takes on Lynch and give The Man a rare loss.
Roman Reigns has had to deal with the McMahons and Elias since his move to SmackDown Live. But now that he has a one-on-one match with the troubadour at Money in teh Bank, what is the next step for Reigns on Tuesday?
Tonight's episode will give the WWE Universe a better picture for the MITB pay-per-view. Follow along below for all the happenings on this week's SmackDown Live.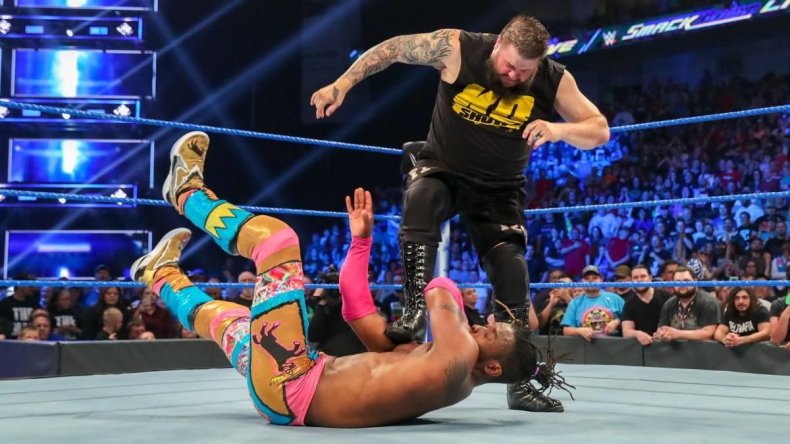 SMACKDOWN LIVE RESULTS
Opening Segment
Kofi Kingston interview starts off the night as Michael Cole asks Kofi about Kevin Owen's betrayal.
Kofi says that if KO wanted a title opportunity all he had to do was ask. He challenges KO at MITB.
Kevin Owens comes out and accepts Kofi's challenge. He says no one will forget Kofi's WrestleMania moment but he says the WWE Universe doesn't actually believe he's championship material. He also says that he can tell Kofi is starting to feel the same way, but is interrupted by Xavier Woods. Kevin Owens hits Woods and runs off before Kofi can come to help.
The match between Kofi Kingston and Kevin Owens is set for MITB.
Backstage
Kofi tells Xavier Woods as he gets medical attention in the back. Kofi says that he needs to take care of himself and that he will help him.
Bayley vs Becky Lynch
Before the match, Bayley is confirmed for the women's MITB ladder match
Becky wins via submission after a Dis-Arm-Her. The finish was set up when Becky got her knees up when Bayley went for the flying elbow.
After the bell, Charlotte Flair comes in and hits Becky with the Big Boot. She then launches Bayley into the post.
Aleister Black Vignette
He says that his opponents feel they figure him out by the way he looks but before they realize what happened, they are being pinned. He says opponents don't like looking into his eyes because they see the truth about themselves.
Hardy Boyz Promo
Jeff Hardy comes out on a crutch. They show a video package of Lars Sullivan before Jeff says that he's unable to walk because of Lars and that he'll need surgery. Matt says that they must relinquish the SmackDown Tag Team Championships. Jeff says that this isn't the end of their journey.
Lars Sullivan interrupts and grabs Matt Hardy. Jeff Hardy is trying to get out of the ring when Matt attempts to stop him. Lars hits Matt with the Freak Accident. Jeff takes his crutch and threatens to hits Lars when R-Truth comes out and hits Sullivan with a chair. Lars doesn't sell it and hits him with the Freak Accident and then a sitdown Powerbomb.
Money in the Bank Announcement
The commentators announce the four SmackDown Live participants for the men's ladder match and they are: Ali, Finn Balor, Andrade and Randy Orton. A tag match between the four is announced for later in the night.
Kairi Sane and Asuka (with Paige) vs Two Enhancement Talent
The IIconics are on commentary
Sane picks up the victory with an Insane Elbow
Backstage, Sonya Deville and Mandy Rose are watching the match. Mandy informs Sonya that one of them will be in the MITB women's ladder match. Mandy says that Sonya should get the shot, but Sonya knows that she's only saying that so she can give up her spot. However, Sonya says that Mandy was close to winning the SmackDown Women's Championship this year and that she should finish the job.
Roman Reigns Promo
Roman says you get only one shot at making a good first impression so he thought he'd hit Mr. McMahon. He says that it didn't have to be him, it could have been anyone, but he wanted to make sure everyone on SmackDown Live knew that he's still the Big Dog and that this is his yard.
Shane McMahon comes out to remind Roman that the McMahon family owns the land.
Roman says that no, only Vince does and when they both were in the ring Mr. McMahon was on the ground while he was on his feet.
Shane says that last week Roman was the one on the mat. Roman comes back saying Shane had help from Elias. Shane says that he is going to hop on a jet and go train for his cage match against the Miz at MITB. He says that there are a ton of guys who would want to fight Roman. Shane brings out the B-Team (who are now on SmackDown) and books a handicap match. Shane isn't finished, he makes Elias the special guest referee enforcer.
Roman Reigns vs The B-Team (with Elias as special guest referee enforcer) - Handicap Match
Reigns pins Curtis Axel after a Spear.
Throughout the match, Elias got involved pulling the referee at one point.
Randy Orton/Andrade vs Finn Balor/Ali
Before the match, Andrade says he has no respect for Finn and Ali. He says that if Randy Orton wants to learn something, he'll teach him.
Ali pins Andrade after a
After the bell, Orton RKOs Finn Balor. Ali Superkicks Orton and throws him out of the ring.
Backstage Interview
Ember Moon is the next confirmed participant of the women's MITB ladder match.
Carmella comes in laughing saying she's "Ms Money in the Bank" and that she's the first one to win the first two MITB ladder matches. She confirms she's the final participant.
The Kevin Owens Show
KO says he has taken away all the graphics, table and set pieces because that's something the New Day would do. He is the show and all he needs for the KO Show. He reiterates that Kofi Kingston is way in over his head. He says that help is coming and at MITB he will relieve him of that burden and he will take the WWE Championship from him.
Owens calls Xavier Woods out to just have a chat. KO wants to know what's going through Woods' head while everyone is talking about Kofi.
Woods doesn't show up but KO pulls out an Xavier Woods action figure. Kevin Owens starts to interview the action figure and then pulls out a Big E figure with a makeshift cast on one of its legs. Kevin Owens says he knows exactly how Big E and Woods are feeling.
Before he can finish, Kofi Kingston comes out and runs at KO. The two brawl onto the outside. Kevin Owens escapes into the crowd and the show ends with Kofi standing tall in the ring.