It's the first SmackDown Live since Extreme Rules and the results of Sunday's show will be felt on the blue brand this week.
The big question heading into Tuesday's show is what announcement will Daniel Bryan make? Following his loss to the New Day - and dropping the SmackDown Tag Team Championships in the process - an upset Bryan came to a realization. To "save the planet" he needs to aim higher than the tag division. What he plans to announce is anyone's guess, but The Planet's Champion could be ready for another singles run and may revisit his great rivalry with current WWE Champion, Kofi Kingston.
Shane McMahon took a loss on Sunday to the Undertaker, but now that a couple of days have gone by the GM has decided to host a town hall meeting to allow the SmackDown Live superstars to list their grievances. Whatever happens, fans should expect to hear from Kevin Owens.
There are two scheduled matches tonight, both in the women's division. First, Ember Moon will take on both Sonya Deville and Mandy Rose. Moon was tasked with finding a tag partner but did she succeed? Or will she have to take on Fire and Desire alone?
Also, The IIconics will put their Women's Tag Team Championships on the line when they face Asuka and Kairi Sane, the Kabuki Warriors. Can Peyton Royce and Billie Kay escape SmackDown with their titles, or will a new reign begin?
Here's everything that happened on the July 16 episode of SmackDown Live.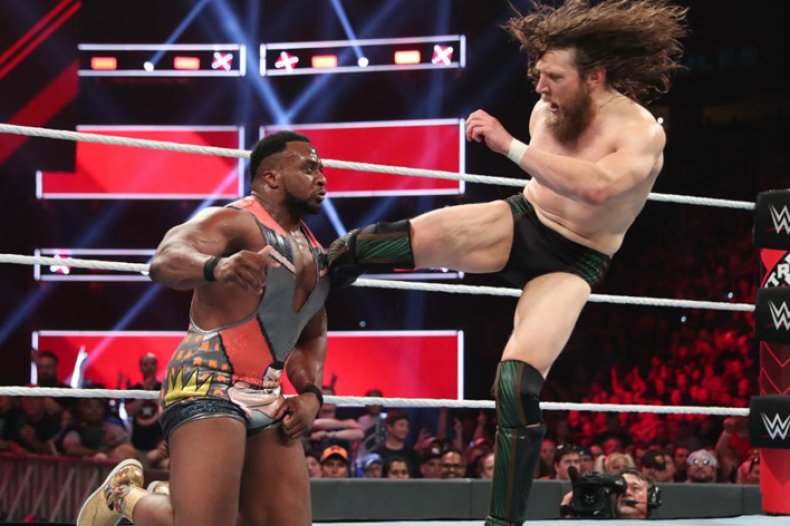 SMACKDOWN LIVE RESULTS
Opening Segment
After a recap package of Kevin Owens' tirade last week, Shane McMahon is shown backstage earlier in the day telling security to watch for KO. When Kevin Owens comes in, Shane tells him that he'll have a town hall and gives Owens the night off.
SmackDown Town Hall
The SmackDown roster is on the stage with two mics in front of them. Shane is in the ring. He says as long as the superstar is respectful, he will listen to them
Roman Reigns is the first one to the mic. He says that no one in the room respects him. He also tells Shane to kiss his ass. Shane says that it wasn't respectful so he'll be fined and dealt with later
Shane calls on Charlotte Flair to go to the mic. Charlotte says that what Roman said was uncalled for and she thanks Shane and the McMahon family.
Liv Morgan interrupts Charlotte and asks her to stop being a phony. She asks if there's anything real about Charlotte.
Charlotte asks who Liv is? She forgot that Liv even works here. Before Liv can respond, Shane cuts them off.
Buddy Murphy is called to the mic. Buddy says that while Kevin Owens said his name, he wants it out of his mouth or he will smack it out of his mouth.
Apollo Crews is called to the mic. He says that everyone agreed with what Kevin Owens said last week. Zelina Vega got on the mic and says that she and Andrade don't like that Apollo is trying to suck up to the fans. They challenge Apollo to a match tonight.
Elias is next but is quickly interrupted by The New Day. Big E says that Elias is the biggest jackass in SmackDown history. Kofi says that he and the New Day don't like KO but Owens makes good points. Kingston brings up how long it took for him to get a WWE Championship shot. Kofi says that everyone on the stage is worthy of getting opportunities. Shane cuts Kofi's mic but he concludes the town hall.
While everyone leaves, Cesaro gets on the mic. Shane asks what he's doing here. Cesaro says that as a wild card he is there to challenge Aleister Black. Shane gives Cesaro his match.
While Shane starts talking to the crowd, Kevin Owens pops up behind him and hits the Stunner.
Aleister Black vs Cesaro
Black wins via pinfall after a Black Mass
Backstage
Dolph Ziggler comes up to Shane and asks for a match against Kevin Owens. Shane tells him that KO is gone, but Ziggler insists he can get him back if he makes the match for the main event. Shane agrees and lets him have it.
Charlotte Flair vs Liv Morgan
Flair wins via submission after a Figure Eight
It should be noted that Liv got some good hits in
After the match, Liv takes Corey Graves' mic and says that Charlotte was right. But when she comes back, she's going to be real.
Mandy Rose and Sonya Deville vs Ember Moon and a Mystery Partner
It's revealed that Bayley is Ember's partner
Moon pins Mandy after an Eclipse
After the match, both Ember and Bayley are interviewed. Bayley is asked about her next opponent. She wants to elevate the SmackDown women's division. She says she wants to face someone she's never fought before and someone who would make a great champion if she loses. She looks at Ember with a smile.
Ember accepts the challenge
Shinsuke Nakamura Interview
Shinsuke says he is free to rain down chaos on anyone now that he's champion.
Ali shows up and congratulates Shinsuke before walking away with a smile
New Day Segment
All three celebrate their victories from this Sunday. Big E says they already know what Daniel Bryan wants to say and they accept his challenge for a rematch and call out Bryan and Rowan.
Daniel Bryan and Rowan come out, but don't say anything. Daniel finds a mic and is about to say something but doesn't. They both walk to the back. Bryan comes back out and then drops the mic and the two leave to the back.
Samoa Joe then comes out with a mic. Joe says while Bryan may not want the championship opportunity, he does. He tells Kofi to put the title on the line tonight but he's interrupted by Elias. Elias says that Joe had his chance on Sunday, so it's Elias' chance at the title.
Randy Orton comes out and says that it's been awhile since he's had the gold around his waist.
Elias says they all can't have championship matches tonight, but they can send a message. The New Day accept the challenge. Randy Orton says he's good and walks to the back but Kofi chides him by saying the Viper has gone a little limp. This causes Randy to get on board.
The New Day vs Elias, Samoa Joe and Randy Orton
Orton pins Kofi Kingston after an RKO
24/7 Segment
Carmella is looking for R-Truth backstage. She finds him in a washing machine. After helping him out, Carmella says that she knows exactly where to hide in plain sight. She'll take him to Comic-Con.
The IIconics vs The Kabuki Warriors (with Paige) - Women's Tag Team Championship Match
The Kabuki Warriors win via countout but The IIconics keep their championships
After the match, Asuka and Kairi beat up The IIconics out of frustration
Andrade (with Zelina Vega) vs Apollo Crews
Before the bell, Andrade attacks Apollo
Apollo wins via pinfall after a roll up. The finish was set up after Andrade dominated the match.
Dolph Ziggler vs Kevin Owens
Toward the finish, Shane McMahon comes out with heels that include Drew McIntyre, Cesaro, The B-Team, AOP, Andrade, Shelton Benjamin, Buddy Murphy, Elias, Samoa Joe and Shinsuke Nakamura.
The distraction led to a Zig Zag, but KO kicked out
Kevin Owens hits Ziggler with a Stunner and goes for the pin but Shane pulls him out. KO hits Shane with a Stunner but runs to the back as the heels run after him.
Shane says that Kevin Owens is going to pay.
Match ends in a no contest?
Uncommon Knowledge
Newsweek is committed to challenging conventional wisdom and finding connections in the search for common ground.
Newsweek is committed to challenging conventional wisdom and finding connections in the search for common ground.
About the writer
Phillip Martinez is a game and culture reporter for Newsweek. Prior to joining Newsweek in 2018, he was a reporter and editor for iDigitalTimes and Player.One. A Bronx native, he graduated with his Bachelor's degree in Journalism from St. John's University in 2010. An avid Nintendo fan and wrestling mark, he's always looking to become a Pokémon Master while fantasy booking this year's WrestleMania. You can contact him at p.martinez@newsweek.com