Following an eventful Monday Night RAW, SmackDown Live wants to continue the momentum towards the Extreme Rules pay-per-view.
On Monday, Kofi Kingston was unable to escape Samoa Joe's Coquina Clutch during a non-title bout as the WWE Champion took his first loss in quite some time. Will Kingston be able to bounce back from this loss ahead of his clash with Joe in two weeks? Or has Joe already gotten into the champ's head?
Hopefully Kofi's loss doesn't affect Big E or Xavier Woods as the duo continue their climb to become number one contenders for the SmackDown Tag Team Championships. The New Day pinned the champs twice last week so they may have a stake at a future title shot.
The story of Nikki Cross and Alexa Bliss' friendship has been playing out over RAW and SmackDown lately, but the tale took an unexpected turn this week. Following Cross' victory over SmackDown Women's Champion Bayley last week - winning another title opportunity for Bliss - and a pinfall over Carmella last night (Bliss failed to pin her) the WWE Universe wants to see Nikki in the title match at Extreme Rules instead of Bliss. How will this story shake out? Is Bayley ready for either competitor?
Elsewhere in the women's division, Ember Moon took a loss last week against Sonya Deville with an assist from Mandy Rose. But with the duo using their numbers game to win, will Moon demand a rematch or is this the rise of Fire and Desire?
Intercontinental Champion Finn Balor has not been in action for a few weeks, but Shinsuke Nakamura made it clear he's after the workhorse title last week when he interrupted Balor's interview. Will this week start this new feud? Or will someone else vie for the Intercontinental title?
Here's everything that happened on the July 2 episode of SmackDown Live.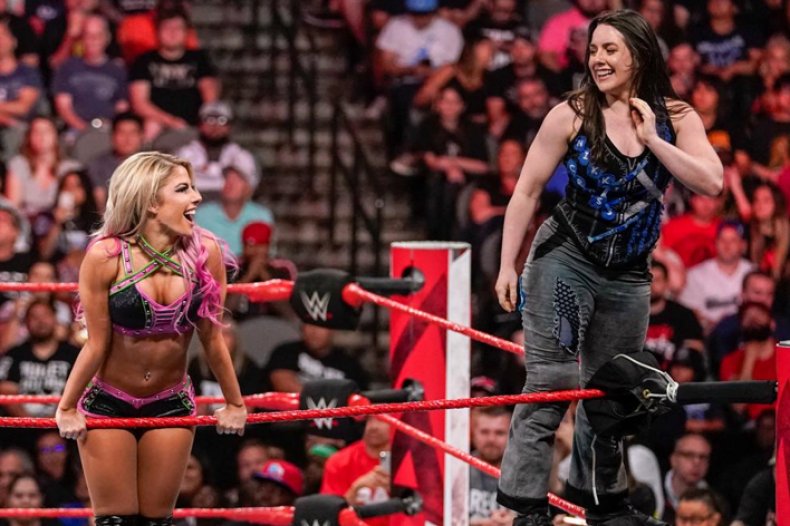 SMACKDOWN LIVE RESULTS
After a recap package of what happened to Braun Strowman and Bobby Lashley on Monday Night RAW, the show begins.
Kevin Owens Show
KO's guests are Shane McMahon and Drew McIntyre.
After a recap package of Undertaker's appearance last night, Shane says that he's not worried about Roman Reigns or Undertaker. Shane reveals that the tag match at Extreme Rules is now a No Holds Barred match.
Drew says that everyone knows what he and Shane are willing to do to win a match and now that the stipulation has been added, the fight will be unlike anything anyone has seen before.
KO asks for a specific part of the recap package to be shown again. They show Drew and Shane getting out of the ring when Undertaker came in. Owens says the look Shane had showed fear. KO is being sarcastic about Shane leaving the room. Shane tells KO to follow the cards like they agreed upon. Kevin Owens reads off the cards, saying that Shane beat Roman without any help. KO goes off script and asks how did Shane feel to lose to the Undertaker in his first match back.
Drew gets in KO's face and says the interview is over. Dolph Ziggler comes out and KO interrupts Ziggler asking him not to say he deserves a title shot again. Both men ask Shane to get a title opportunity against Kofi. Shane says neither man deserves one but he'll put them in a tag team match against Heavy Machinery. The winner will go to Extreme Rules and take on Daniel Bryan and Rowan, and New Day for the titles.
Backstage
Bryan and Rowan are asked about Shane's proclamation. D. Bry doesn't sound happy about Shane's decisions lately and making it harder to retain their titles. But they will retain.
Xavier Woods and Big E are asked the same thing after the commercial and they say that while they are not happy about their match becoming a triple threat, they are confident they will become tag team champions again.
Big E (with Xavier Woods) vs Daniel Bryan (with Rowan)
Bryan pins Big E after a Knee.
The finish was set up when Rowan hit Big E when the referee wasn't looking. He then took out Xavier Woods who tried to defend Big E.
R-Truth Interview
After showing how Truth lost the 24/7 title. Truth says that he remembers his honeymoon, sort of, but he knows that three is better than two and that he heard Drake Maverick and his wife are in San Antonio. He's going to get his baby back.
Backstage
Alexa Bliss tells Nikki Cross that she's going to host Moment of Bliss tonight. Nikki says she's not ready, but Bliss tells her that it's time for her to leave the nest.
Moment of Bliss
Before she starts, Nikki thanks Alexa Bliss.
Bayley is the guest. She says that she's impressed that Alexa is giving Nikki the spotlight.
Nikki says that Alexa is more generous than she thinks. Bayley says that Nikki doesn't have to do her bidding. Nikki says she's not and asks Bayley why she calls Alexa a liar?
Bayley says Alexa is a liar. Nikki defends Alexa and says that with everything Bliss has done for the women's division, it's unfair that Bayley drags her name in the dirt.
Bayley says what's unfair is that Nikki defeated her and Carmella, which Alexa couldn't do. So why isn't she facing her instead of Alexa?
Nikki Cross says she doesn't know but she does know that she wants to fight Bayley right now. Bayley accepts the challenge.
Bayley vs Nikki Cross
Bayley pins Nikki Cross after a Belly to Bayley
Ali Vignette
Ali says that when he becomes WWE Champion and he has the same name as you it'll change your mind. When the champion has the same background and life, it'll change your mind.
Kofi Kingston and Samoa Joe Interview
Joe suggest Kayla Braxton gets out of the ring so she doesn't get caught in what's about to happen. Joe says that Kofi has gotten where he is with The New Day's help and that in time, Woods and Big E will just be his hype men.
Kofi says that he became and retained the WWE Champion by himself. He says he'll beat Joe all by himself. Kofi asks what has Joe done by himself since he got here. He lost to the US Championship to Ricochet.
Joe gives Kofi an offer. Shake his hand and give up the WWE Championship and he'll promise not to hurt him and or his friends. Kofi flips off Joe and hits him with a Trouble in Paradise.
Heavy Machinery Interview
Otis and Tucker are asked about their match for later in the night. They say that just because KO and Dolph has a lot of WWE Championships between them, they have never faced them.
Apollo Crews vs Andrade
While Apollo Crews walks to gorilla for his match with Andrade, Abby the Witch is seen in the background.
Andrade pins Apollo after a Hammerlock DDT
Finish was set up when Zelina Vega hit Apollo with a Hurricarana on the outside when the referee's back was turned.
Backstage
Kevin Owens approaches Dolph Ziggler and tells him to just sit on the side and look pretty. Ziggler tells KO to stay on the sidelines to eat some hot dogs.
They both finally decide to be professionals and try to win.
Aleister Black Video
Aleister says that when he went to answer the door from last week, there was no one there. He does congratulate the one who knocked on his door and says he doesn't care for the reveal, but he does care if he shows up. And he wants him to show up at Extreme Rules.
Ember Moon vs Mandy Rose (with Sonya Deville)
Ember Moon wins via pinfall after an Eclipse
Shelton Benjamin Interview
Benjamin is asked who will win the WWE Championship at Extreme Rules. Shelton doesn't answer, he simply looks around and smiles.
Dolph Ziggler and Kevin Owens vs Heavy Machinery
New Day and D. Bry/Rowan are on commentary
During the match, New Day and D. Bry/Rowan start fighting on the outside. Rowan puts Xavier Woods through the announce table with the Claw Chokeslam. Both teams are sent to the back.
Otis pins KO after a Compactor
Finish was set up when Dolph Ziggler hit KO with a Superkick inadvertently.
After the match, KO hits Ziggler with a Stunner. Kevin Owens screams to the crowd that this is his show.
About the writer
Phillip Martinez is a game and culture reporter for Newsweek. Prior to joining Newsweek in 2018, he was a reporter and editor for iDigitalTimes and Player.One. A Bronx native, he graduated with his Bachelor's degree in Journalism from St. John's University in 2010. An avid Nintendo fan and wrestling mark, he's always looking to become a Pokémon Master while fantasy booking this year's WrestleMania. You can contact him at p.martinez@newsweek.com