WWE SmackDown Live Results: How Will Kofi Kingston Respond to Samoa Joe's Attack?
The WWE is moving fast towards its next pay-per-view, Extreme Rules, in July. Two matches were confirmed on Monday Night RAW last night and SmackDown Live fans can expect more matches to be confirmed, or at least teased, tonight. Especially after Samoa Joe attacked Kofi Kingston on RAW last night.
To prove he can win without Big E and Xavier Woods in his corner, Kingston defeated Sami Zayn and Kevin Owens back-to-back last night.. After Kingston celebrated his victory the former U.S. Champion attacked him from behind and choked Kingston out with the Coquina Clutch.
Joe's motives clear on Monday, but fans can expect Kofi Kingston to call out Joe for the assault on SmackDown Live. Perhaps we'll learn what Samoa Joe is thinking and this will set up the feud for the WWE Champion heading into Extreme Rules.
Shane McMahon thought he got the best of Roman Reigns on Monday night but The Undertaker made a surprise return to save "The Big Dog" from the two-on-one assault. Now that a tag team match between The Phenom and Roman Reigns versus Shane McMahon and Drew McIntyre is set for Extreme Rules, how will the boss's son react to his old foe returning? Shane has been on both RAW and SmackDown Live for weeks so we can't expect him to miss Tuesday this week.
SmackDown Women's Champion, Bayley, fended off Alexa Bliss and Nikki Cross at Stomping Grounds. But who will step up to face the champ next? Bliss teased that she will try and get a rematch but with a roster full of talented women, will someone else from SmackDown Live take on Bayley?
A lot is expected to go down heading into Extreme Rules. Here's everything that happened on the June 25 episode of SmackDown Live.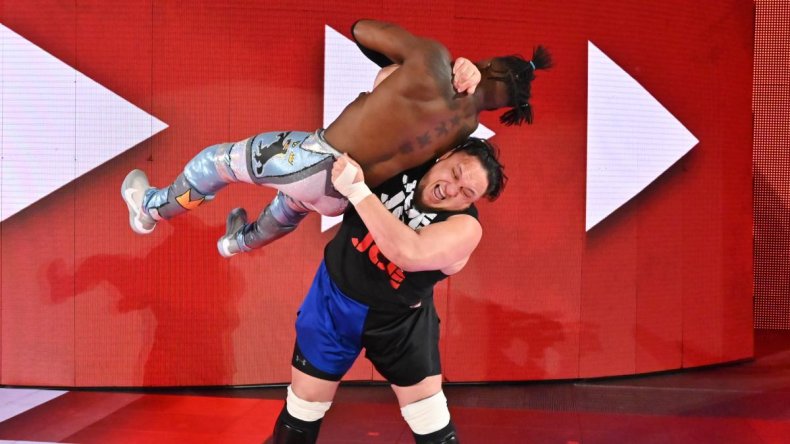 SMACKDOWN LIVE RESULTS
After a recap package showing the Undertaker's return at RAW, Shane says that he doesn't fear no man and that he and Drew McIntyre are going to show Taker and Roman Reigns at Extreme Rules
He also says that no SmackDown roster member should get on his bad side tonight.
Opening Segment
The New Day comes out and Kofi says that he's experienced some of the greatest moments of his entire life while being the WWE Champion. He's also experienced some of the most painful and grueling moments. He shows a recap of what Samoa Joe did to him on Monday and puts over the former US Champion. Kofi says he'll be damned to be eaten alive by the "shark" Samoa Joe at Extreme Rules.
Dolph Ziggler comes out and says that another superstar is not going to take his spot. He brings up how Xavier Woods helped him defeat Dolph at Super Showdown and that he got lucky by leaping over him at Stomping Grounds. Ziggler says that he got a match tonight with Kofi tonight. If Dolph wins, he'll be inserted into the match at Extreme Rules for the WWE Championship. He also says that the match will be 2 out of 3 falls.
Backstage
Elias is strumming outside of Shane's office. Miz comes up and asks if Shane is in there. Elias suggests Miz don't go in there because Shane is upset. Shane tells Elias that he wants a piece of him before the Undertaker does.
Shane comes out and Elias tells him that Miz wants a match. Shane makes a 2 out 3 falls match between Miz and Elias. And if Miz wins, he'll take on Shane.
Xavier Woods and Big E vs Daniel Bryan and Rowan
Woods pins Daniel Bryan after the Midnight Hour
After the match, Kevin Owens and Sami Zayn attack the New Day. Rowan joins in on the beatdown. Heavy Machinery comes out for the save.
Heavy Machinery and New Day vs Bryan and Rowan vs KO and Sami Zayn
Tucker pins Sami Zayn after a Compactor
The Miz vs Elias (with Shane McMahon) - 2 out of 3 Falls Match
Elias pins Miz after a Drift Away (with an assist from Shane)
Miz wins the second fall after he breaks the pinfall and attacks him. Before the third fall begins, Shane and Elias attack Miz. The beatdown ends with Shane hitting the spear.
Elias pins Miz after a top rope elbow.
After the match, Shane hits Miz with a Coast to Coast.
Finn Balor Interview
He says he respects Andrade for pushing him to the limit. When he's asked who is next for Finn Balor, Shinsuke Nakamura appears.
Bayley vs Nikki Cross
If Nikki Cross wins, Bliss gets a title opportunity at Extreme Rules. Alexa Bliss is not at SmackDown because she is traveling to Japan.
Nikki Cross pins Bayley
24/7 Segment
Carmella is looking for Truth when she runs into Mandy and Sonya Deville. They throw verbal jabs when Truth comes out of his hiding spot. They are approached by Drake Maverick. Drake tells them that he doesn't have a referee but says that he ruined his life.
Truth apologizes and says that he thought it was Carmella's wedding. He tells Drake to pin him. Maverick gets a ref but Truth tells him "sike" and says that he loves the championship more than Drake loves his wife. He runs away with Carmella with the locker room running after him.
Ember Moon vs Sonya Deville (with Mandy Rose)
Sonya pins Ember after pushing her into the ring post after Mandy distracted her.
Aleister Black Promo
He says he's been sitting here for weeks and is still waiting for someone to fight him. And that someone in the WWE will want to fight him despite what they may have heard about him. He's all but given up when someone knocks on the door. Aleister is shocked at first but then smirks.
Kofi Kingston vs Dolph Ziggler - 2 out of 3 Falls Match
Kofi pins Ziggler after a reverse roll up. After the fall, Dolph beats down Kofi.
Ziggler pins Kofi after a Super Kick
Kofi pins Ziggler after a Trouble in Paradise
WWE SmackDown Live Results: How Will Kofi Kingston Respond to Samoa Joe's Attack? | Sports