SmackDown Live Results: Everything That Happened on the Money in the Bank Go-Home Show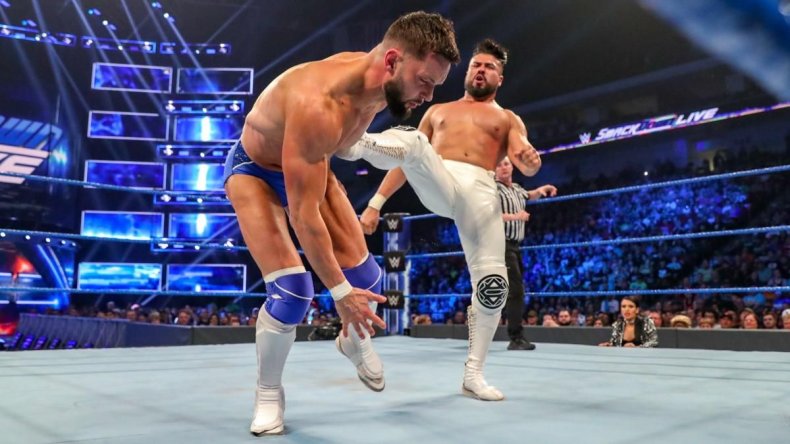 The final SmackDown Live before the Money in the Bank pay-per-view is here and there may be some last-minute changes and developments to the show's card before the night is up.
According to WWE.com, the four SmackDown Live participants in this Sunday's MITB Ladder match will be in fatal four-way action for crucial "momentum" heading into the weekend. All four men have crossed paths in tag matches and singles matches, but this will be the first time they'll all be involved in the match at the same time. It'll be a good test - especially for Ali and Andrade - to see how they fare in the chaotic nature of the eight-man MITB ladder match.
Kevin Owens is inviting WWE Champion Kofi Kingston to appear on the Kevin Owens Show tonight. After taking it to Xavier Woods the last two weeks, Kofi Kingston may not be able to wait until their championship match this Sunday. Is this a trap set for Kofi or will the WWE Champion be able to get the upper hand before their match?
Paige came out last week with her new team, Asuka and Kairi Sane, to challenge her old stablemates Mandy Rose and Sonya Deville to a tag match. With their sights set on The IIconics' Women's Tag Team Champions, either team could position themselves to be Peyton Royce and Billie Kaye's next opponents.
Here's everything that happened on the May 14 episode of SmackDown Live.
Note: With SmackDown being taped in London, the show has already ended and the following is based on first-hand accounts. This section will be updated when the episode premieres at 8 p.m. EDT.
SMACKDOWN LIVE RESULTS
Opening Segment
Roman comes out and says that he has unfinished business from last night and he doesn't want to wait until Sunday. He says that Elias is a problem and introduces The Miz as the solution.
Miz says that it's five days until Shane can't hide. He reiterates how Shane putting his hands on his dad is unforgiveable and while he may have dodged him on Monday, he will be locked in a cage with him on Sunday.
Shane and Elias interrupt Miz and Roman. Shane says that just because Roman brought Miz out, that doesn't make him one of the wild cards and as the general manager he bans Miz from the arena. Elias tells Roman to stay in the ring and that underestimating him will be the biggest mistake of his career. He says that he will show Roman why Mr. McMahon chose him as the biggest acquisition. Shane says that he and his people will get Roman and Miz out of the ring. Shane brings out Daniel Bryan and Rowan. The four men start to beat down Roman and Miz when The Usos come out for the save.
Backstage Segment
Elias and Daniel Bryan complain about what happened in the opening segment. Shane makes a four-on-three handicap match for later tonight between Elias, Shane, Daniel Bryan and Rowan against Roman Reigns and The Usos.
If Miz interferes, the cage match this Sunday will be cancelled.
Randy Orton vs Finn Balor vs Andrade vs Ali - Fatal Four-Way Match
Before the match, Randy Orton says that this Sunday he will become a two-time MITB winner.
Zelina Vega comes out and says that she and Andrade don't care about spoilers and that he wants the WWE Universe to know his endgame and they'll ruin the MITB match tonight. Andrade says that he will be Mr. Money in the Bank.
Andrade pins Balor after a Hammerlock DDT
After the match, Andrade tries to pull down the Money in the Bank briefcase but is stopped by Ricochet. Ricochet is the one who grabs the briefcase.
Backstage Segment
Kofi Kingston wants to accept Kevin Owens' invitation to be on the KO Show but tells Xavier Woods he wants to go alone.
Charlotte Flair Promo
Charlotte Flair says that she will defeat Becky Lynch on Sunday and put an end to their rivalry
Roman Reigns and The Usos vs Daniel Bryan, Rowan and Shane McMahon
Shane McMahon wins for his team
After the match, Miz makes the save for Roman and the Usos
Aleister Black Vignette
Asuka and Kairi Sane vs Mandy Rose and Sonya Deville
Before the match, Paige announces that Asuka and Kairi's team name is The Kabuki Warriors.
IIconics watch the match from ringside
Asuka pins Mandy Rose with a roll up after confusion between Mandy and Sonya.
Lars Sullivan Interview
Lars is asked about the destruction he's been causing. Sullivan just looks at Kayla Braxton menacingly. Braxton leaves with Lars not saying a word.
Kevin Owens Show
KO cuts a promo in the back to start out while Kofi Kingston comes out. The two trade verbal jabs when KO comes out from the back and the two start brawling.
Sami Zayn comes out to help Kevin Owens, which causes Xavier Woods to come out and help Kofi
The show ends with Kofi and Xavier sending KO and Sami retreating