WWE SmackDown Live Results: Will Roman Reigns and Daniel Bryan Make Up?
It's the final SmackDown Live on the USA Network before its move to Fox so how will the blue brand treat the last episode of this current era? With more build towards Hell in a Cell and the Fox premiere on October 4.
The big story point on this week's SmackDown Live is the continued saga of Roman Reigns and Daniel Bryan. While Bryan was the suspected culprit to the attacks that could have ended "The Big Dog's" career it turned out to be Daniel's tag team partner Erick Rowan.
But Rowan isn't alone, as a returning Luke Harper has made the former Bludgeon Brothers a duo to be reckoned with on SmackDown Live. Harper and Rowan took out both Reigns and Daniel Bryan at the end of last week's episode so the two may have to join forces to take out this new threat.
Carmella surprisingly inserted herself into the Four Horsewomen feud as she came to Charlotte's aid last week. Now, Flair and Carmella will team up against Sasha Banks and Bayley as the "Princess of Staten Island" tries to knock some sense into her friend Bayley.
Kofi Kingston got a rude awakening last week when Brock Lesnar showed up to challenge for the WWE Championship. Not only did Kingston accept, but he got hit with an F-5 for his troubles. How will Kingston react as he has an interview tonight to go through his thought process heading into his championship defense.
Shane McMahon is reeling after Kevin Owens filed a wrongful termination lawsuit against the SmackDown commissioner. Tonight, Shane is inviting KO back to the blue brand to try and resolve their issues.
Here's everything that happened on the September 24 episode of SmackDown Live.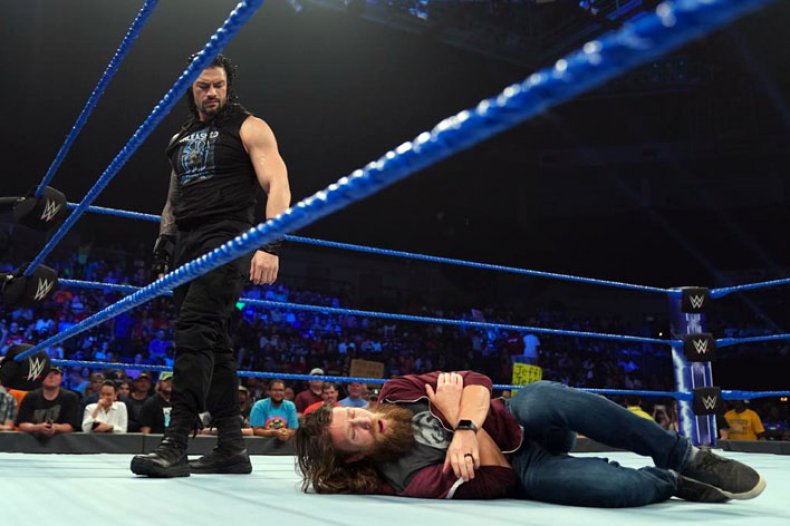 SMACKDOWN LIVE RESULTS
Opening Segment
After a recap of Rowan and Harper's beatdown of Daniel Bryan and Roman Reigns, Erick Rowan comes to the ring. He says that he hopes the fans liked the recap package because what he does is annihilate.
He says he's a creator and what he does is command respect. He says the fans see him as less than human but that has changed because "might makes right." He says that those who destroy and dominate are the ones who are right, and Roman Reigns and Daniel Bryan knows he's right.
Daniel Bryan interrupts and says that if Rowan wants respect, fight him right now.
Daniel Bryan vs Erick Rowan
Rowan wins via pinfall after two Claws
Luke Harper came out to help Rowan, but Bryan fends him off but the distraction causes Rowan to hit the finish.
After the bell, Rowan gets the commentary table ready to put Bryan through but Roman Reigns comes out for the save. Harper and Rowan get the best of Roman, which causes Daniel Bryan to save him and knock Harper out with a Knee. Rowan is about to hit Bryan with another Claw when Roman hits him with the Spear. Roman tries to help Bryan up, but Daniel slaps his hand away.
Daniel Bryan gets on the mic and asks the fans if they want to see Roman and Bryan fight Rowan and Harper? The crowd does the "yes" chant and while Bryan doesn't do it with them he does get them excited.
Kofi Kingston Interview
Kofi says that there's no way to prepare for a beast like Brock Lesnar, but he's at the top of his game. He lists off the names he has defeated recently.
He's asked if he feels pressure, and he responds that there's always pressure being the WWE Champion. He says that people feel that Lesnar will have his way with Kofi, but it's not going to happen that way. He's feeling confident and he'll walk out still the champion.
Chad Gable vs Mike Kanellis
Before the match, Gable reiterates what Corbin said last week about how Chad will always come up short. He says his run in King of the Ring and his match last night he didn't and Corbin got himself disqualified on purpose.
Mike Kannelis interrupts and says that he came out to prove to Maria that "size does matter."
Gable wins via submission after an Ankle Lock in a short match.
After the match, Elias appears on the titantron. He says that Gable's story has inspired him to write a song. Elias sings it and it's all about making fun of Gable's height.
Backstage
Charlotte Flair walks up to R-Truth. She asks if he's seen Carmella. She congratulates Carmella on her 24/7 championship victory but she wants to know if she's not distracted.
Carmella says she's ready for tonight's match and she can't believe Bayley's actions. Charlotte says she can.
Charlotte and Carmella (with R-Truth) vs Bayley and Sasha Banks
24/7 Championship rules are suspended during the match
During the match, Bayley tells Carmella she's changed while she attacks her.
Banks taps Carmella with a Bank Statement
Truth grabs Carmella and takes her out of there as the women's locker room runs after them. This leaves Charlotte alone to be double teamed by Bayley and Banks.
Becky Lynch comes out for the save. She clears house and puts Banks in the Dis-Arm-Her, but Bayley pulls Sasha out of the ring.
Ali vs Shinsuke Nakamura (with Sami Zayn)
Nakamura wins via pinfall after a Kinchasa
The New Day vs B-Team
New Day wins via pinfall after a Midnight Hour
Backstage
Mandy Rose is handing out Maxim Australia with her on the cover. Sonya Deville tells Mandy they have to get ready for their match.
Otis from Heavy Machinery gets a selfie with Mandy and grabs a magazine before Fire and Desire leave.
Kabuki Warriors vs Fire and Desire
Sane pins Mandy Rose after an Insane Elbow
Shane McMahon and Kevin Owens Segment
Shane comes to the ring with three lawyers. He asks Kevin Owens to come out, which he does from the crowd. Shane says that he can tie up the suit with appeals in court.
The second option is for KO to drop the suit and Owens will get his job back. Shane will also drop the $100,000 fine. Shane puts out his hand. Owens calls Shane an idiot and it makes him sick that McMahon is in the locker room with the other superstars.
Owens says that it's not about the money, but to get Shane fired. KO offers to have one final match with Shane. If Owens loses, KO will stay fired and the suit will be dropped but if he wins Shane will be gone from WWE. Owens suggests they have a ladder match.
Becky Lynch Interview
Lynch is interviewed backstage about Sasha, when Banks shows up from behind and clocks the champion. The two brawl backstage. Sasha says that this is her division and she's the star. She calls herself the standard for the division before the two are pulled apart with Lynch writhing in pain on the ground.