WWE SmackDown Live Results: Undertaker Returns and King of the Ring Continues
WWE returns to Madison Square Garden for SmackDown Live and it's the final show before Clash of Champions this Sunday.
After an action-packed episode of Monday Night RAW, the blue brand looks to continue the pace with the return of a Legend and the continuation of the King of the Ring tournament.
The Undertaker is scheduled to appear at MSG tonight, but what he's doing on SmackDown Live is anyone's guess. However, WWE fans are speculating that Bray Wyatt may make an appearance to confront "The Deadman."
The SmackDown Live side of the King of the Ring tournament will pit Elias against Chad Gable. The winner will take on Baron Corbin for the title of King. Elias took out Ali to advance, while Gable defeated Andrade in a huge upset. Can Gable continue his underdog rise to the King of the Ring finals? Or will Elias reassert his dominance in the tournament?
Elsewhere, WWE Champion Kofi Kingston will return to the arena that made him a star. Back in 2009, Kingston defeated Randy Orton in a classic bout. A decade later and Kingston is now the top of the blue brand and will have a few choice words for his Clash of Champions opponent.
And finally, Roman Reigns will confront Erick Rowan after Daniel Bryan's former partner went rogue and took out both former champions to close out last week's episode. How will Roman react and what will Rowan do leading up to their showdown this Sunday.
Here's everything that happened on the September 10 episode of SmackDown Live.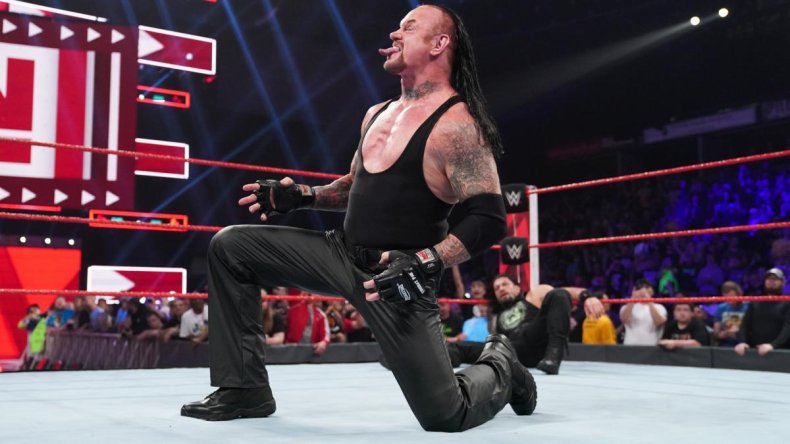 SMACKDOWN LIVE RESULTS
Opening Segment
The undertaker comes out to talk about the memories he had at MSG. He is interrupted by Sami Zayn. Zayn says thst he should have opened SmackDown in MSG and that it's about the future and the future is Sami Zayn.
He tells Undertaker to leave and pass the torch to him.
Undertaker gives Sami his mic and starts to leave the ring. But when Samis back is turned, he comes back in and hits Zayn with a chokeslam
Backstage
Shane tells Chad Gable that Elias broke his ankle but that he will face someone else. They can be someone on either brand or someone who has already been eliminated.
The Miz VS Andrade (with Zelina Vega)
Shinsuke Nakamura is ringside
Miz wins via pin fall after a Skull-Crushing Finale
After the bell, Shinsuke comes out and hits Miz with a Kinshasa
Backstage
Shane finds Gable and informs him that he will be facing Gable tonight.
Fire and Desire Promo
Mandy comes out and says that Nikki Cross wishes she was like her but she will only ever be ugly. Bliss comes out and Cross runs out behind her and attacks Mandy in the ring.
Mandy Rose VS Nikki Cross
Cross wins via pin fall after a Roll up
Backstage
Ember Moon approaches Bayley about her recent attitude. Bayley says she's elevating the division.
Ember says that it's not befitting of a champion. Bayley tells Ember she wouldn't know what a champion should do because she's never been one. Ember challenges Bayley to a match tonight.
Heavy Machinery vs Local Enhancement Talent
Heavy Machinery wins after a Compactor
Backstage
Shane calls Kevin Owens into his office and says that he will take away the $100k fine if he becomes the referee for his match tonight and implies to do his job correctly.
Erick Rowan Promo
Rowan tells the crowd that he's always been a mastermind but all everyone saw was a brute and that what he did to Roman last week he will do again.
Roman comes out and the two have a brawl with Rowan eventually standing tall.
Bayley vs Ember Moon
Charlotte is on commentary
Bayley wins with a Bayley to Belly.
After the match, Charlotte gets in the ring and points to the title
Kofi Kingston Promo
Kofi shows the footage from MSG 10 years ago when Randy Orton interrupts. He says the only thing Kofi has done in 10 years is that MSG spot and win the WWE championship but none of that will matter on Sunday. Kofi and Randy fight in the crowd and Kofi recreates the table spot.
Chad Gable vs Shane McMahon - King of the Ring Match
Kevin Owens is the special guest referee
Gable gets the pin after a fast count from Owens. But Shane makes it a 2 out of 3 falls match.
Owens does slow counts for the boss but Gable eventually makes Shane tap with the Ankle Lock. Gable wins and moves on to the Finals.
After the bell, Shane attacks Owens and fires him.