WWE 'SmackDown' Results: Roman Reigns to be Crowned Tribal Chief Tonight
Following last week's Clash of Champions pay-per-view, SmackDown is set to build towards the Hell in a Cell show and beyond starting tonight with the coronation of Roman Reigns as tribal chief.
Sunday, Reigns took it to his cousin Jey Uso to retain his Universal Championship. During the match, Reigns didn't pin Uso until he acknowledged him as the tribal chief. Jey refused to do so, but it wasn't until his twin brother Jimmy came out to throw in the towel and acknowledge Reigns as the chief.
Paul Heyman will preside over a special ceremony tonight to crown Roman Reigns the official tribal chief of SmackDown. What will Reigns have to say and will anyone step up to him?
This past Sunday, Sami Zayn defeated Jeff Hardy and AJ Styles to become the official new Intercontinental Champion. Hardy will challenge Zayn tonight for the title, but can Sami outlast Jeff or will he have to resort to underhanded tactics?
Monday Night RAW's Kevin Owens will show up to SmackDown tonight for a special KO Show. His guest will be Alexa Bliss who has been acting strange lately ever since her interaction with "The Fiend" weeks ago. Can Owens get to the bottom of Bliss' behavior or will we be left in the dark?
Here's everything that happened on the October 2 episode of Friday Night SmackDown.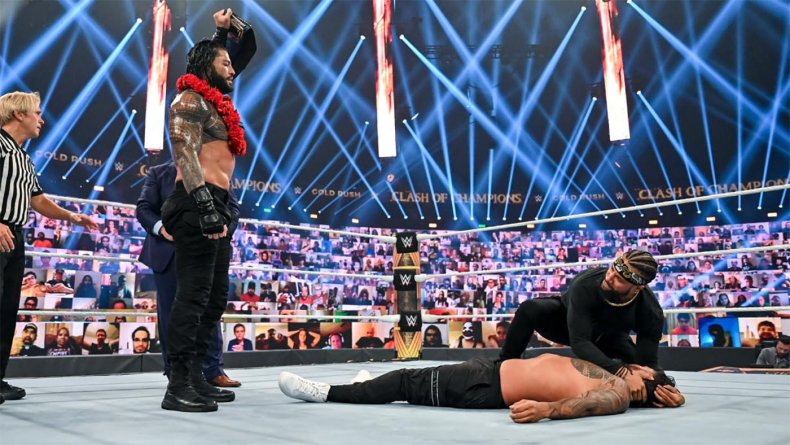 WWE FRIDAY NIGHT SMACKDOWN RESULTS
Roman Reign Coronation
Roman Reigns comes out to the ring with Paul Heyman to start the night.
Heyman says that he's known Roman since he was born and he's been waiting for this moment. He proclaims Roman as the tribal chief of not just SmackDown but the entire WWE Universe.
As Heyman starts to talk about Roman's legacy, Reigns holds out his hand for the mic. Heyman hands him the mic and Roman says that he doesn't want Paul to acknowledge him because Jey didn't and he wants him to now. He calls Jey Uso out.
Jey Uso comes out and tells Roman he doesn't know him. He says at Clash of Champions, Roman showed him who he was. He says that he may have won, but his spirit wasn't broken, and if Jimmy didn't throw in the towel he would be Universal Champion.
Roman says that Clash of Champions was the worst night of his career and life. He says what happened wasn't his intention and was just trying to help Jey. He wanted to put his name in the main event and give him a good pay day. He says he loves him more than Jimmy does. He tells Jey that if he wants another shot he can have it at Hell in a Cell.
Jey doesn't answer, but Roman hugs him and tells him he loves Jey and walks up the ramp. Before he goes to the back, Jey accepts the challenge.
After Roman leaves, AJ Styles comes out and says that he doesn't want Jey to get a beating like he did on Sunday and maybe someone else should face Roman. He throws a racist remark about goats when Jey hits him and the two brawl on the outside as SmackDown goes to commercial.
Jey Uso vs AJ Styles
Jey wins via pinfall after a Frog Splash
Sami Zayn Promo
Backstage, Sami says that he was first upset with WWE management but then he realized it's the WWE Universe's fault because they just accepted the tournament and Jeff Hardy as the Intercontinental Champion.
He says that he's going to do what the other two champions (Hardy/Styles) should have done. He pulls out a garbage and throws Hardy's old title in it and says it belongs in the trash of history.
John Morrison vs Otis
Otis wins after a Caterpillar and a Vader Bomb.
Sheamus vs Shorty G
Before the match, Big E challenges Sheamus to a Falls Count Anywhere match for next week in a pre-taped promo.
Sheamus wins via pinfall after a Brogue Kick.
The Kevin Owens Show
He says he came to SmackDown when the powers that be asked because he had a lot of questions for his guest tonight because although he's on RAW he watches SmackDown.
Owens says that he's seen this side of Bliss. Bliss says she doesn't know what he's talking about and people change. She asks if KO wants to change. Owens says he does, but he wants to understand this "darkness" that's taken over her. He thinks that if he can understand what's happened to her, he can understand what's going on with Aleister Black.
Bliss asks if KO has been in "his" presence. She describes how she feels around "The Fiend" and says that Owens has no idea what that feels like.
Owens says that Bliss has been brain-washed. She accepts that and that she has been "cleansed" by him. Owens asks if he's here now and she says that he's everywhere. She utters, "let him in" and the lights go down and when they come back up, The Fiend has Owens in the Mandible Claw. He gets up and looks at Bliss who is still sitting down. He holds his hand out to her and she takes it with a smile.
King Corbin, Cesaro and Shinsuke Nakamura vs Lince Dorado, Gran Metalik and Matt Riddle
Before the match, Riddle is asked backstage why he's teaming with the Lucha House Party. He says that with the Draft coming up, this could be the last time to team with them. They're asked where Kalisto is, and Lince says they don't need him and leave.
During the early parts of the match, Kalisto eventually comes out and says that he was in the back.
Riddle pins Cesaro after a Bro Derek.
The finish was set up when Kalisto accidentally kicks Lince during the match by accident causing a distraction on Cesaro.
After the match, Kalisto celebrates with Riddle but Lince pushes him and they start arguing.
Carmella Reveal
The mystery woman from the last few weeks is revealed to be Carmella. She says that all the dancing and pleasing the fans got her nowhere and she is untouchable.
Sasha Banks Promo
Banks cuts a promo in the ring still wearing her neck brace. She says that Bayley was using her because she's the only reason she has held the title for so long.
Banks challenges Bayley for her title and says that everyone knows that when they go one-on-one she has her number.
Sami Zayn (c) vs Jeff Hardy - Intercontinental Championship Match
Zayn wins pinfall after tripping Hardy who was on the top rope and he hit his face on the exposed turnbuckle that he did during the match.