WWE 'SmackDown' Results: What is Next for Roman Reigns and Jey Uso?
It's the SmackDown after the Hell in a Cell pay-per-view and the blue brand has seen some changes coming out of the big show.
While Universal Champion Roman Reigns retained his title, Sasha Banks defeated Bayley for the SmackDown Women's Championship. This is the first time "The Boss" has captured this title, but what will it mean for the rest of the SmackDown women's locker room?
Will Bayley look for a rematch, or will a new player step up to Banks?
Reigns' defense against his cousin Jey Uso has led to Roman being recognized as the tribal chief. Reigns gave Jey an ultimatum before the match; if he lost he would either become an "indentured servant" under him or he and his family will be out of the family forever. How will Jey react and what is next for Roman?
Otis lost his Money in the Bank contract to The Miz at Hell in a Cell. How will the SmackDown superstar react to the loss of his golden ticket and will we see the continuation of the battle between him and former best friend Tucker?
The WWE is building up towards Survivor Series and the brand vs. brand warfare that will take place there. All of the blue brand's champions will compete against Monday Night RAW's but will Sasha Banks, Roman Reigns, Sami Zayn and The Street Profits still be champions when the November pay-per-view comes around?
Big E is going solo as Kofi Kingston and Xavier Woods have been moved to Monday Night RAW. Big E has vanquished Sheamus and is now on to the next opponent, but who will that be? What will the next chapter for Big E be?
Here's everything that happened on the October 30 episode of Friday Night SmackDown.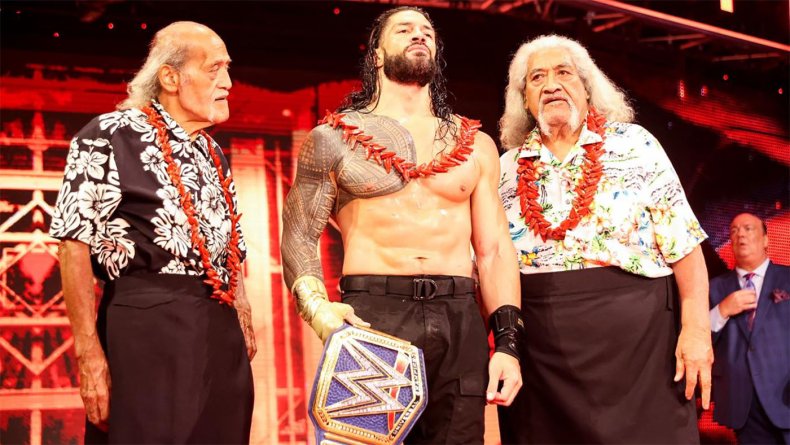 WWE FRIDAY NIGHT SMACKDOWN RESULTS
Roman Reigns Segment
Roman Reigns comes out with Paul Heyman to start the night. Jey Uso is already in the center of the ring.
WWE plays a recap of Jey and Roman's match at Sunday's Hell in a Cell.
Jey Uso grabs the mic from Heyman's hands and says that he didn't beat him. Jey says that Roman knows that he would never have said "I quit" no matter how bad he beat him. He says that this isn't him.
Roman says that Jey can feel any way he wants. He said that he would make Jey say, "I quit" and he did. He tells Jey to say the oath and accept the membership to fall in line.
Jey says he doesn't respect Roman and he can't "get down with him." He tells Roman that the championship has him tripping. He says that Roman used the only person he would say "I quit" for and his cousin knew what he was doing.
Roman says that the oldest and youngest of their family acknowledge and back him. He says that if he can't, he can't be in the family. He tells Jey that he knows that he hates him, but Roman loves his cousin.
He tells Jey that by the end of the night he will fall in line.
Kevin Owens vs Dolph Ziggler (with Robert Roode) - Survivor Series Qualifying Match
Robert Roode is ejected from ringside because of his constant involvement in the match.
Kevin Owens wins via pinfall after a Stunner in a hard fought match.
Backstage
Natalya is talking to Adam Pearce to get on the women's Survivor Series team. Billie Kay and Bianca Belair appear and try to get in on the team. Bianca and Natalya get in some verbal barbs against each other when Pearce tells the ladies they will have a triple threat with the winner earning a spot on the Survivor Series team.
Lars Sullivan Interview
Lars has a sitdown interview with Corey Graves earlier in the day. He is asked if likes being called "The Freak." Lars says he doesn't and tells a story of when he was a kid and how the other kids called him a freak. He talks about how they laughed at him and he cried.
He then laughs when he explains how the laughter stopped, but the screaming lasted for hours and he wasn't allowed back in school.
Lars says that he wants to unleash a lifetime of pain and humiliation to anyone who gets in his way. He wants to make this world his own "personal playground."
Backstage
Aalyah Mysterio is backstage with Murphy and says that her mother accepts him, but Rey and Dominik haven't spoken to her since last week.
Murphy explains that he's not the same person he was and he has to make this right.
Bianca Belair vs Billie Kay vs Natalya - Survivor Series Qualifying Match
Belair pins Billie Kay after the KOD.
Carmella Vignette
Carmella is sitting in a dimly-lit room drinking champagne. Carmella says she's the woman that will do whatever it takes to get ahead. She will always win, so next week on SmackDown the entire world will know why she's "untouchable."
Murphy and Aalyah Promo
Murphy says he's not the same person he was, but he gets why Rey and Dominik Mysterio don't want anything to do with him. As a man, he needs to apologize to them face-to-face.
Dominik and Rey don't come out, but Seth Rollins does. Seth says that Rey and Dominik won't accept him, but he will. He says he will forgive Murphy for what he did, and he embraces this relationship with Aalyah.
As Seth makes a plea for Murphy and Aalyah to join him, Dominik jumps Seth. Murphy tries to break them up, which causes Dominik to punch him. Upset, Murphy starts attacking Dominik causing Rey to come out and the two double team him. Just when Rey was going to hit the 619 on Murphy, Aalyah gets in the middle and tells Rey that he loves him. The two then kiss as Rey and Dominik leave.
Backstage
Daniel Bryan is asked about Jey Uso. Bryan says that Jey has a lot on his mind, but he knows he'll be ready for their match tonight.
The Street Profits vs Cesaro and Shinsuke Nakamura
Before the match, Montez says that they appreciate The New Day's impression from Monday, and they talk up how historic The New Day are, but they are going to be serious for their match at Survivor Series because they are ready to take the torch.
Ford pins Nakamura after a Frog Splash.
Ford looks to have hurt himself when landing the move.
Sami Zayn Promo
Backstage Sami says that he's the champion of the people and he's adored by people in every country because they know Zayn tells the truth. He's ready to show the world that he's a better champion than Bobby Lashley.
Sasha Banks Promo
Sasha starts to talk about how she took what Bayley loved the most because she betrayed their dream of taking over the whole company together. And when Bayley tried to end her career, she stopped her. She then calls out Asuka and says that she'll prove she's the best of the best.
Bayley comes out and says that everyone knows that Sasha can win a title, but can't hold onto one. She says she's not a loser and wants to prove that Sasha can't beat Asuka without her in her corner. She challenges Sasha to a rematch next week.
Sasha tells Bayley that "backstabbing b***** never win."
Daniel Bryan vs Jey Uso - Survivor Series Qualifying Match
Roman Reigns and Paul Heyman comes to ringside during the match.
Jey pins Bryan after an Uso Splash.
After the match, Roman joins Jey in the ring. Jey says he's with Roman and acknowledges him as the head of the table. Roman doesn't say anything, but looks down at Daniel Bryan.
Jey Uso hits Bryan with a Superkick and another Uso Splash.
Jey says he understands now and he loves Roman too. Roman tells Jey to make Daniel Bryan understand. Jey brings Bryan to the outside and throws him into the steel steps. Jey then hits Bryan with an Uso Splash on the commentary table.