WWE 'SmackDown' Results: 'Survivor Series' Go-Home Show Happens Tonight
It's the final WWE show before this year's Survivor Series and Friday Night SmackDown will see a massive contract signing, and the final participants in Sunday's show will be determined.
WWE is promoting the contract signing between WWE Champion Drew McIntyre and Universal Champion Roman Reigns. McIntyre showed up on SmackDown last week, before winning the title back, to let Reigns know who the best champion is.
Now that Drew has the WWE Championship back, he and Roman will be in the same ring again to sign their contracts to make the champion vs champion match official. Will we see fireworks before their match on Sunday or will Jey Uso insert himself in his cousin's business again?
Speaking of Jey, Daniel Bryan is set to return to tonight and take on one half of the Usos tonight. Jey defeated Bryan in a Survivor Series qualifying match a few weeks ago using shady tactics, and Daniel is looking to get some retribution.
Seth Rollins lost his final match with Rey Mysterio last week thanks to Murphy's interference. Now, the "Friday Night Messiah" will go one-on-one with his former disciple tonight.
This Sunday, SmackDown Women's Champion Sasha Banks will take on RAW Women's Champion Asuka, but the returning Carmella has given "The Boss" fits in recent weeks. How will Banks respond to Carmella's attacks and will it distract her from this Sunday's big match?
Montez Ford and Angelo Dawkins finally know their opponents for Survivor Series. The New Day retained their RAW Tag Team Championships against The Hurt Business on Monday, which will lead to a massive match between the two teams on Sunday.
How will The Street Profits react and will Big E be involved in the shenanigans?
Here's everything that happened on the November 20 episode of Friday Night SmackDown.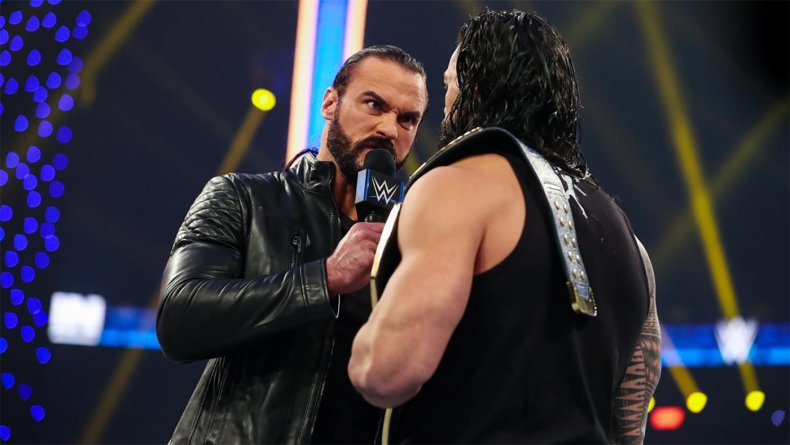 WWE FRIDAY NIGHT SMACKDOWN RESULTS
Opening Segment
The Street Profits are in the "champion's lounge" hyping up Survivor Series on Sunday including the "farewell" of The Undertaker.
Big E shows up to remind Montez Ford and Angelo Dawkins that The Street Profits are getting in the ring with The New Day.
Street Profits say they aren't afraid and hype themselves, but Big E says that Kofi Kingston and Xavier Woods are on SmackDown tonight before he does his introduction.
The New Day get in the ring and say that The Street Profits don't want "their smoke" and give their own tribute to The Undertaker by doing "The Deadman's" sit up.
Sami Zayn interrupts and says that he has beef with The Undertaker after he choke slammed him at Madison Square Garden, but the WWE is protecting him.
Sami says that he's ready for Bobby Lashley on Sunday and is ready to prove the Intercontinental Championship is better than the US Championship. He tells The New Day he's not here to hurt them. The New Day start making fun of Sami Zayn when King Corbin interrupts.
King Corbin says that The New Day had their final match on SmackDown weeks ago and that they don't belong on his show. Dolph Ziggler and Robert Roode come out next and say that The New Day stole their Tag Team Championship opportunity.
The New Day ask if Ziggler and Roode, and Corbin and Zayn want a title shot. The heels start arguing when Kofi and Xavier tell them to have a match for the shot. The heels start to square up, but Ziggler and Roode start attacking The New Day.
The Street Profits come out and attack the tag team and clear the ring of the heels.
The New Day and The Street Profits vs King Corbin, Sami Zayn, Dolph Ziggler & Robert Roode
Montez Ford pins Sami Zayn after the Cash Out
During the match, The New Day and Street Profits couldn't get on the same page. The finish was set up when Zayn was tagged in involuntarily and wasn't ready leading to The Street Profits taking advantage.
Backstage
Daniel Bryan is talking with Kayla when Sami Zayn comes to the back. He berates Bryan for laughing at him and gets in his face. Bryan puts on his face mask and pushes Sami to the floor.
Sami says if he didn't have a match on Sunday he would make Daniel sorry.
Daniel Bryan Interview
Bryan is shown a clip of his last match with Jey Uso. Daniel Bryan says he believes Jey when he says that it wasn't personal. He says he understands because Jey has the devil on his shoulder telling him what to do.
He says that he knows what happened because
Backstage
Adam Pearce is talking to someone about being in the SmackDown Men's Survivor Series team. He says this person has overcome adversity and that's why he chooses Otis.
Otis is shown when Chad Gable tells him that it's because of their training that got him in.
Natalya shows up and says that Adam should choose her for the team. Pearce says he had to choose someone with championship pedigree and he says he chooses Bayley.
Seth Rollins Promo
Backstage, Seth talks about everything he's given Murphy including his girlfriend Aalyah. He says Murphy will be the one to get what's coming to him and when he's done, Murphy will go back to being nothing.
Natalya vs Tamina - Survivor Series Qualifying Match
Bianca Belair is on commentary. Bayley comes out to join commentary
Natalya wins via submission after the Sharpshooter.
After the match, the rest of the SmackDown women's team come out although Bianca Belair is hesitant.
Drew McIntyre and Roman Reigns Contract Signing
Drew comes out first with Roman coming into the ring and motioning Adam Pearce to move out of the seat that's at the head of the table.
Drew tells Roman that he told him he'd meet him at Survivor Series and now he's going to prove that he's the best.
Roman starts to talk down to Drew. Calling him the "secondary champion" and his "favorite #2." Roman also says that Drew is just the guy the WWE puts in when he can't or doesn't want to be on the show. Both men sign the contract and Roman leaves Drew behind.
Seth Rollins vs Murphy (with the Mysterio Family)
During the match, Rollins ties up Murphy on the ropes and goes to get a kendo stick. He says he doesn't care if he gets disqualified, but Rey Mysterio stops him. Seth takes out Rey and Dominick, but Murphy gets out and attacks. However, Seth throws Murphy off the top rope onto the outside.
Murphy wins via pinfall after a Murphy's Law.
Murphy during the match got his foot on the rope when he took a Stomp.
Sasha Banks and Asuka Segment
Sasha and Asuka are in the ring together. Michael Cole brings up how Sasha beat her for the RAW title, which leads to the two women going back and forth.
Sasha eventually takes off her shoes and tells her that they don't have to wait for Sunday. Carmella comes from behind and hits Sasha from behind and beats her down while Asuka just looks on. Carmella leaves Sasha in a heap.
Backstage
Jey Uso is asked about Daniel Bryan. Jey says he put Daniel Bryan through that table because he wanted to and the only devil is in his head, and that devil is only telling him to go "get him."
Daniel Bryan vs Jey Uso
Bryan wins via pinfall after a roll up.
The finish was set up when Jey went for the Frog Splash, but Bryan got his knees up.