WWE 'SmackDown' Results: New Day Bids Farewell and Goldberg Returns?
It's the season premiere of Friday Night SmackDown and it's shaping up to be a doozy with less than two weeks from the Hell in a Cell pay-per-view.
Roman Reigns will defend the Universal Championship against Braun Strowman tonight. Strowman held the title since defeating Goldberg at WrestleMania, but with Reigns' return and dominance can the "Monster Among Men" overcome the "Tribal Chief"?
Speaking of Goldberg, the WWE Hall of Famer has taken to social media to announce that he will be at the Thunderdome tonight to watch what happens with Roman Reigns and Braun Strowman. Will he be the next to challenge for the Universal Championship? Reigns was originally going to take on Goldberg before Roman left out of precaution during the pandemic.
Jey Uso, Roman's cousin, has a rematch for the Universal Championship at Hell in a Cell, but are plans changing?
Jeff Hardy has been drafted to Monday Night RAW, but he'll have one last match on SmackDown when he goes one-on-one with the returning Lars Sullivan. Lars took out Hardy last week and Jeff looks for revenge before he returns to Monday nights.
Kofi Kingston and Xavier Woods returned from injury to win the SmackDown Tag Team championships from Cesaro and Shinsuke Nakamura last week before being drafted to Monday Night RAW. However, Big E—the third man of the New Day—was drafted to SmackDown, putting an end to the trio.
New Day will have one farewell match tonight when they team up against Sheamus, Cesaro and Shinsuke tonight.
The Street Profits, the new SmackDown Tag Team Champions—after swapping their RAW titles with New Day on Monday—will defend them against Dolph Ziggler and Robert Roode.
Daniel Bryan will make his return to SmackDown tonight. What will Bryan have to say and will he go after Sami Zayn's Intercontinental Championship?
Here's everything that happened on the October 16 episode of Friday Night SmackDown.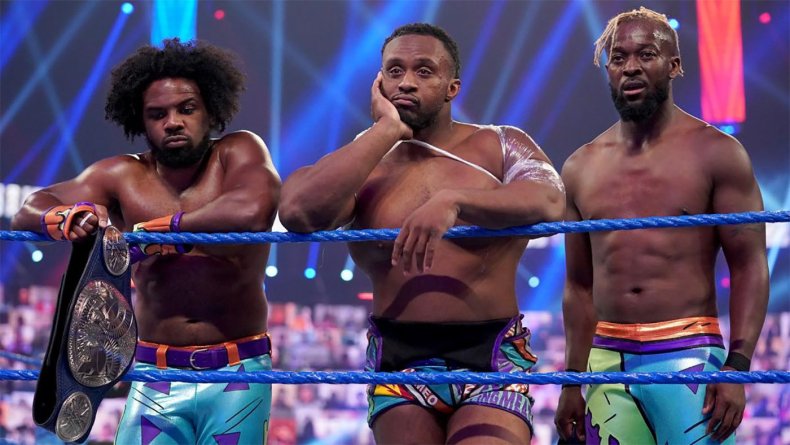 WWE FRIDAY NIGHT SMACKDOWN RESULTS
Opening Segment
Triple H and Stephanie McMahon are in the ring to celebrate the season premiere of Friday Night SmackDown with the roster at the top of the ramp.
The duo are hyping up some of the matches for tonight including Roman Reigns vs. Braun Strowman, New Day vs. Shinsuke Nakamura and Cesaro, and the return of Daniel Bryant.
They hype up the next additions from the draft when the Street Profits walk up to the front of the group when they are called on. Robert Roode and Dolph Ziggler attack them and they fight to the ring. The other roster members start brawling when Lars Sullivan comes out from the back and bulldozes everyone.
Jeff Hardy shows up and knocks Sullivan out of the ring.
Lars Sullivan vs Jeff Hardy
Sullivan pins Hardy after a Freak Accident.
Bianca Belair Video
New Day Promo
Big E starts by saying the only thing stronger than the power of positivity is the WWE Draft.
Kofi says that they've thought about this for a week and when he went on social media the outpouring of support really helped him.
Xavier Woods says that Kofi and Big E didn't have to give a wrestler who wasn't doing anything and made this the best six years of his life. Big E brings up the small towns they've traveled to talking about life.
Kofi says that before they got together, he didn't know if he wanted to be a wrestler any more and that when he joined Big E and Xavier Woods, he gained brothers.
Backstage, Shinsuke, Cesaro and Sheamus are asked about the match tonight. Cesaro says they want revenge after losing their titles last week. Shinsuke says that this is goodbye forever to the New Day.
The New Day vs Shinsuke Nakamura, Sheamus and Cesaro
Big E pins Sheamus after a Midnight Hour.
Otis Interview
Backstage, Otis is asked about what he's going to do about The Miz.
Before he can answer, Sami Zayn interrupts and says that he'll talk because Tucker, the one who talked for Otis, is now on RAW. He brings up how Mandy Rose was brought over to RAW so it makes sense for Otis to lose to Miz in this lawsuit.
Upset, Otis pushes Sami Zayn to the floor.
Daniel Bryan Promo
Bryan says that he's glad to be back and starts talking up the new additions to SmackDown that he can't wait to get in the ring with. He talks up Bianca Belair, The Riott Squad, Kevin Owens, Aleister Black and Apollo Crews.
Seth Rollins comes out and interrupts Bryan. He says the only one to bring SmackDown to the future is himself. He asks Daniel Bryan which side of history he wants to be on. He's either with Seth or against him.
Bryan says that Seth's vision is sort-sighted and dumb. Rollins hits Daniel Bryan and calls him dumb, but Bryan fights back causing Seth to retreat.
Rey and Dominik Mysterio show up on the ramp and Rollins runs back to the ring and asks Daniel Bryan to help him. Bryan rolls out of the ring, leaving Seth alone. Murphy Runs in and gets in between Rollins and the Mysterios. He makes Rollins thinks he's on his side, when Murphy tackles Seth and throws him out of the ring.
Murphy extends his hand to Rey Mysterio and Dominik, but they don't take it and leave Murphy in the ring alone.
Street Profits (c) vs Robert Roode and Dolph Ziggler - SmackDown Tag Team Championship Match
Match is thrown out after about 2 minutes when Montez and Dolph, the illegal men were brawling in the ring and didn't adhere to the referee's order.
Roode and Ziggler hit their tag team move, but Ford hits his Frog Splash on the heels so the champs stood tall.
Bayley and Sasha Banks Contract Signing
Adam Pearce is officiating the contract signing.
Sasha Banks says that she's been looking forward to this moment for a long time. Bayley agrees and can't wait to defeat Sasha and move on with her record-breaking reign. And she did it all by herself.
Bayley says that Sasha was waiting to turn on her for so long and she's just upset that she did it first.
Sasha says that if she wanted to turn on her she would have done it years ago. Sasha brings up when Bayley was left behind on NXT, brought her in and she was there when Bayley won her first title. Not to mention the women's tag team titles.
Bayley and Sasha stare down at each other, but doesn't sign the contract. Bayley says she doesn't have to sign anything.
Sasha says that Bayley will sign this contract whether she likes it or not.
Roman Reigns (c) vs Braun Strowman - Universal Championship Match
Reigns wins via submission after a Guillotine
During the match, Reigns low blows Braun after kicking out like he did with Jey Uso.
After the match, Jey Uso comes out at the top of the ramp. Jey doesn't say anything, but Roman tells him to look at him. Roman hits a spear to Braun Strowman. Jey starts to walk to the ring and Roman is handed a chair from Paul Heyman. He tells Jey this is what's going to happen if he doesn't acknowledge him. Roman then hits Braun with a chair to the back a few times before officials come out to try and stop him. Roman forces to them leave as he continues to beat down Braun with the chair. Jey gets in the ring so Roman can drop the chair. Roman tells Jey that he loves him, but he's embarrassing the family.
Roman kicks the chair to Jey. Jey picks up the chair as Roman turns his back to him. Jey throws the chair down as Roman smiles to try and hug him, but Jey punches him and superkicks the champion before hitting him with the chair to the back a few times. Officials jump in to stop Jey, which gives Roman the opportunity to hit him with the Superman Punch.
Roman walks out with an upset look on his face.