WWE 'SmackDown' Results: What Happened on the 'Clash of Champions' Go-Home Show
It's the final Friday Night SmackDown before Sunday's Clash of Champions pay-per-view and the superstars of the blue brand hope to build momentum before the weekend's show.
Universal Champion Roman Reigns will defend his title against his cousin Jey Uso, but while it was originally intended to be a match between loving family members, Roman has increasingly become annoyed with Jey. Roman is set to have an interview tonight before Sunday's bout, but what will he have to say and will it affect his relationship with Jey?
Alexa Bliss is set to take on Lacey Evans tonight. Last week, Evans lost to Nikki Cross but it was what happened post-match that has the WWE Universe talking. Evans uttered "The Fiend's" name when talking to Bliss, who was on commentary, which triggered the former Women's Champion. Bliss would hit Evans with the Sister Abigail before walking off in a trance.
Will Evans get her revenge tonight, or will Bliss' descent into... whatever hold "The Fiend" has on her continue?
Speaking of Nikki Cross, she's facing SmackDown Women's Champion Bayley for the title this Sunday. Cross has lost to Bayley a few times over the summer, but will this time be different? Bayley betraying Sasha Banks does add a wrinkle to the feud, but how will both sides react tonight?
Intercontinental Champion Jeff Hardy will defend his title against both AJ Styles and Sami Zayn in a ladder match this Sunday, but he and Zayn will have a tune up match tonight. Zayn claims Hardy is the fraudulent champion as he was never pinned to lose the IC Title, so Jeff wants to build some momentum before their soon-to-be epic clash this weekend.
Otis, Mr. Money in the Bank, has been served by The Miz for unsafe work conditions. Miz is suing Otis to relinquish the MITB contract to him or go to court. What will Otis decide to do and how will it change the MITB picture?
Here's everything that happened on the September 25 episode of Friday Night SmackDown.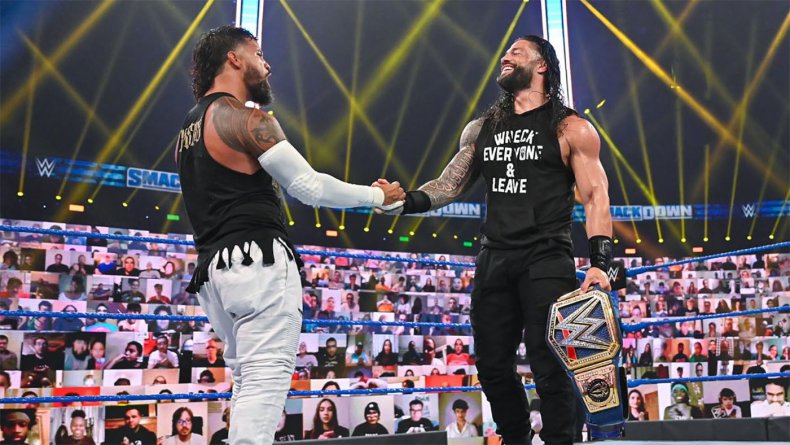 WWE FRIDAY NIGHT SMACKDOWN RESULTS
Intercontinental Championship Segment
This is called the Intercontinental Championship Ascension Ceremony. Corey Graves explains to Sami Zayn, Jeff Hardy and AJ Styles that there will be no champions advantage.
AJ Styles runs down Jeff Hardy for beating a cheater and Zayn for taking the summer off.
Zayn says this match on Sunday shouldn't be happening because AJ and Jeff didn't.
Jeff says he agrees with AJ Styles and that both of them defended the title week after week. He says this Sunday will crown the legitimate champion. Hardy and Zayn give up their titles. Jeff and AJ start to talk trash when Sami pushes one of the ladders on them and walks up the ramp.
Adam Pearce stops Sami and adds Styles to his and Jeff Hardy's match.
Jeff Hardy vs AJ Styles vs Sami Zayn
Sami Zayn pins Hardy.
The finish was set up when Styles hits Hardy with the Phenomenal Forearm and Sami tosses AJ out of the ring to steal the pin. After the bell, Styles hits Sami and Jeff with one of the ladders. Styles grabs a ladder from the outside and sets it up to grab the titles suspended above the ring.
Backstage
Otis is asked if he's made a decision. Before he says anything, Miz and Morrison interrupt him. Miz says that his lawyers are trying to give the WWE Universe a MITB winner they can be proud of.
Miz says that he'll give Otis a mountain of bills and if Otis doubts he can get anything done, he should ask Mandy Rose.
Otis says that they should settle it in the ring. Tucker points out that Miz's lawyers only put his name on the lawsuit and not Morrison. Morrison turns to Miz and asks what that's about, when Otis hits them and officials split the two teams up.
Bayley Promo
Bayley sits on a chair at the top of the ramp and calls out Nikki Cross. She says if she saw what she did to her best friend, she should be worried as to what she's going to do to her.
Bayley then says that everyone should be worried as to what comes after Clash of Champions.
Shinsuke Nakamura (with Cesaro) vs Gran Metalik (with Lucha House Party)
Nakamura wins via pinfall after a Kinchasa.
After the bell, Lince Dorado comes in to talk to Gran Metalik when Cesaro slams him while Kalisto just stands on the outside and doesn't help.
Kalisto helps Lince up after the champs leave, but Dorado pushes him. Lince and Gran Metalik leave Kalisto alone in the ring.
Jey Uso Promo
After a hype package for Jey and Roman Reigns' match on Sunday, Uso comes to the ring and tells Corey Graves to take the night off because he's going to interview Roman tonight.
Jey shows a recap of the finish of the Samoan Street Fight from last week. He says everyone has been asking him about Roman's look, so he asks Reigns to come out and answer.
Roman is sitting in his locker room in the back watching with Paul Heyman.
Jey asks what's going on because Roman wants to smile to his face but do something else behind it.
Heyman comes out of his locker room and says that Roman isn't coming out when Jey says so, he'll come out when it's scheduled. He guarantees that a discussion between Roman and Jey, in the ring, will happen tonight.
Jey Uso says he knew things changed because Roman changed his number and Heyman has been checking his voicemails, but he still has love for him and just like on Sunday he's going to show Roman that it's the Uso Penitentiary tonight.
Matt Riddle vs King Corbin
Corbin pins Riddle after an End of Days.
The match went long with plenty of near falls.
After the match, Riddle is interviewed in the ring. He says that losing sucks, but he's not going to let this setback stop him from making SmackDown the "bro show."
Lacey Evans vs Alexa Bliss
Bliss has control for the first half of this match, but the laugh of "The Fiend" is heard in the arena and she starts to look around as SmackDown goes to commercial. When we return, Evans has control.
Evans wins via disqualification.
The finish was set up when Bliss had control and the red lights of "The Fiend" come over the arena. Bliss' demeanor changes to one of violence and she continues to beat down Evans to the point that the referee had to stop the match.
Bliss then hits the Sister Abigail on Evans on the outside.
She walks up the ramp when Roman Reigns and Paul Heyman come out. Bliss stops behind Roman and just looks at him and the Universal Championship.
Roman Reigns and Jey Uso Segment
Paul Heyman is about to talk when Jey Uso comes out to interrupt.
Roman tells Jey that he's not ready to hold the title and lead the family. He walks out of the ring, but Jey stops him by saying that what if Roman is wrong. He believes he can hold the title and provide for the family.
Roman just walks off and Jey starts getting hyped on the ramp when Roman hits him with the Superman Punch. Roman then tells an unconscious Jey that he won't take the title from him and won't take his place at the head of the table.