WWE Star Seth Rollins Attacked After Match, Suspect in Custody
World Wrestling Entertainment (WWE) superstar Seth Rollins was ambushed by a fan Monday evening following a match with Finn Balor on Monday Night RAW.
The incident occurred in Brooklyn, New York at the Barclays Center, where Rollins, 35, and Balor had just finished their match.
In multiple videos that circulated on social media, Rollins is seen walking up the entrance ramp towards the backstage area after leaving the ring. Suddenly, a fan appears to jump over a side barricade and attack Rollins, forcing him to the ground.
The pair can be seen struggling for a few moments before WWE referees and Barclays Center security attempt to intervene. Eventually, the scuffle was broken up, and security scurried off with the fan while Rollins continued backstage.
Rollins did appear to be bleeding, but officials stated that he was not injured as a result of the attack.
Twitter user @kash_vL was standing along the side of the entrance ramp, and appears to have captured the incident as it occurred in its entirety.
Another video, this time posted from an angle higher up in the stands, shows the massive security response after the fan attacked Rollins.
The New York Police Department (NYPD) told ESPN that the fan was an unnamed 24-year-old male who was quickly removed from the arena. Further video circulating on social media shows the fan being ushered up a flight of stairs by security as fans boo and chant obscenities at him.
Police officials stated that charges against the fan are pending, though nothing concrete has been announced yet.
The WWE said in a statement that it "takes the safety of its performers very seriously."
"The individual who attacked Seth Rollins has been turned over to the NYPD and will be prosecuted to the fullest extent of the law," the wrestling company said.
Many people came to Rollins' defense on social media. TV Insider contributor Scott Fishman tweeted that "performers like Rollins already put their body on the line wrestling and entertaining us regularly. They shouldn't have to look over their shoulder and worry about idiots going after them."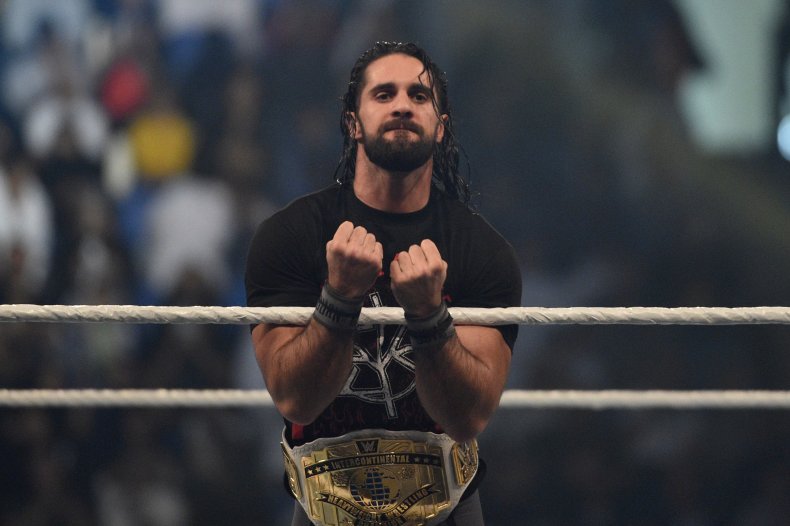 Incredibly, this is not the first time that Rollins has been involved in a bizarre fan-related incident.
In 2015, a fan similarly jumped over the barricade—again during a Monday Night RAW show—and walked next to Rollins. Though the fan did not make contact with the wrestler, he was quickly intercepted by security and removed.
Fan intrusions at WWE events are rare, but not unheard of. One of these high-profile incidents occurred in 2013 in South Africa, when a fan entered the ring with Randy Orton and attacked him during a victory celebration.
Newsweek has reached out to WWE for comment.