Stephanie McMahon Talks 'History-Making' Women's Match at Crown Jewel and Creating a 'Ripple Effect'
The WWE made a history-making announcement that revealed that Natalya and Lacey Evans will wrestle in the first women's match in Saudi Arabia at the Crown Jewel pay-per-view Thursday.
After three shows of no women representation in the ring, this year's Crown Jewel will have its first something that the WWE hopes will be the catalyst for change.
"Hopefully, this event this match this opportunity will have a ripple effect all around the world to show everyone that women belong in the same place that men do," WWE Chief Brand Officer Stephanie McMahon told Newsweek after Wednesday's announcement. "They deserve to have the same opportunities as men. They deserve to be in this place. It's an earned opportunity. It's not something that's being given. Equality should exist for everyone."
Newsweek caught up with Stephanie McMahon to talk about the match, Crown Jewel and what it means to the women's evolution.
Note: This interview has been lightly edited for clarity and length.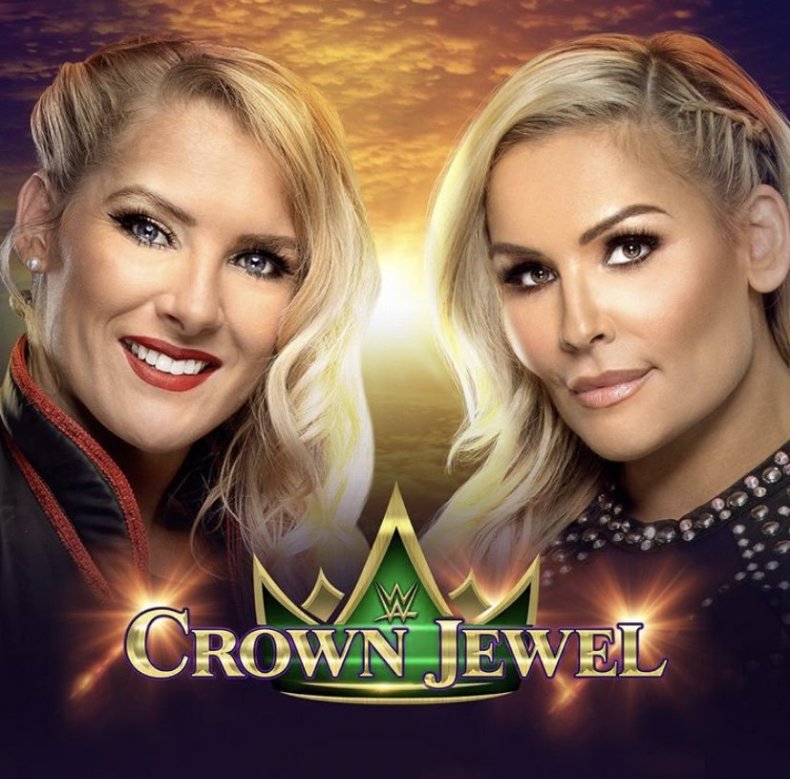 Was this announcement something that WWE knew about for a while or was this a last-minute addition?
It's been our goal since day one with our partnership with Saudi to have a women's match. This has been a year and a half in the making. Again, we're incredibly proud that this is happening and it's been a goal of ours since day one.
Talk about Lacey Evans and Natalya. Why them for this match?
When you think about Natalya, she's a true veteran of the women's division and has been a part of our business her entire life through her family's legacy. And she's been a part of the change that we've seen for women in particularly in our business. And then you take Lacey Evans, who has a young daughter and just today tweeted, "I never thought I'd have the opportunity to do the things I've done with WWE. Tomorrow I get to show my little girl that hard work can bring you to history-making heights. I'm ready for this." Lacey is newer to our roster, but she has not been shy about what it means to believe in yourself. What it means to ultimately overcome and I think from a storyline perspective that's the ultimate driver for any of our matches. But I can't think of two better representatives. I can't wait to see what they do tomorrow.
Natalya was in Saudi Arabia for Super ShowDown earlier this year and it was reported she and Alexa Bliss were supposed to have a match that was nixed. Was it a relief for the WWE to make this match happen now?
Again, it's always been our goal. So we are proud—that's the word we would use. You know, this is history. These women will make history tomorrow. When you talk about Abu Dhabi, it took us six years to have a women's match and when we did both men and women were chanting "this is hope"— which is not a typical chant in WWE—and there were tears in little girls' eyes in the front row because maybe for the first time they thought this was possible for them. And the opportunity to see women positioned alongside the men is a huge message not only in the region, but also around the world.
The women's division has become so important to WWE. Can you talk more about the importance of this match to the division?
Oh my goodness, it's critical. The Women's Evolution started with the hashtag #GiveDivasaChance that trended for three days. And the fans were very vocal about what they wanted. They wanted better storylines, more athleticism, better character development. They demanded it of us. That's why at WrestleMania at AT&T Stadium we announced that we were rebranding the Divas Division into the women's division, unveiled the new championship belt, and that our women would be called superstars the same as the men. At the same time they've been more regularly headlining and main-eventing pay-per-view events, we signed Ronda Rousey and this past Wrestlemania for the first time in 35 years, our women were the main event. That took place in front of over 80,000 people in MetLife Stadium and broke the entertainment revenue record. You can never underestimate the women's division. It's absolutely critical. And again these women were not given this opportunity because it's the right thing to do or because fans want to see women, it's because these women are incredible. It's because they are demanding that spotlight. They have earned this opportunity and everytime they go out there they over-deliver. I can't wait to see what Natalya and Lacey are going to do at Crown Jewel.
Now that we're having the first women's match in Saudi Arabia is that something we should expect for these shows or is it a case-by-case basis?
It's absolutely our goal to have this continue. We don't want to lose any of the momentum we are establishing tomorrow.
The perception of these Saudi Arabia shows is well known, but is this announcement a "victory" for WWE? What's the feeling backstage?
The feeling is a victory for all of us. Again, it's been a part of our goal since the beginning of our partnership. In order to truly affect change, you have to be part of the process and that's not always either. Sure, some people understand some don't understand, but this has always been our goal. And now here we are. It's a history-making match, the first women's match in Saudi Arabia and we could not be more proud.
Expectations from the crowd at Crown Jewel?
I'm expecting the audience to be the same way others have been for our matches all over the world for our women's matches. I think Natalya and Lacey Evans are going to tear it up and the audience is going to react because it'll be an incredible match. Not just because they are women. It's family that are coming to these shows. It's families who are coming to these shows, its boys and girls, moms and dads. The WWE Universe is no different no matter where you are in the world. And we hope to over-deliver on their expectations on the whole show.
Last year's Evolution sprung from Crown Jewel in 2018. Do we have an update on another all-women's show?
There's no update on it right now. A lot of the focus has gone into this woman's match in Saudi as a part of Crown Jewel. More to come, not likely in 2019 but more to come on Evolution.
WWE Crown Jewel will stream live Thursday, October 31 at 1 p.m. EDT on WWE Network.