A couple revealed the gender of their expected baby to their family and friends with a WWE-style wrestling match, with the competitors dressed in pink and blue tutus representing "Team Girl" and "Team Boy," respectively.
The gender reveal-wrestling match begins with the competitors standing at opposite corners of the pink and blue ring, before the referee—American television personality and former Survivor contestant Gervase Peterson—gives them the go-ahead.
Blue takes an early lead, backing Pink into a corner before punching him in the stomach.
While Blue absorbs the cheers from the crowd, Pink approaches him and kicks him in the stomach before placing him in a headlock and taking him to the ground.
It appears as though Pink is getting ready to win the match as he holds Blue to the ground for two counts—but Blue manages to get up just in time.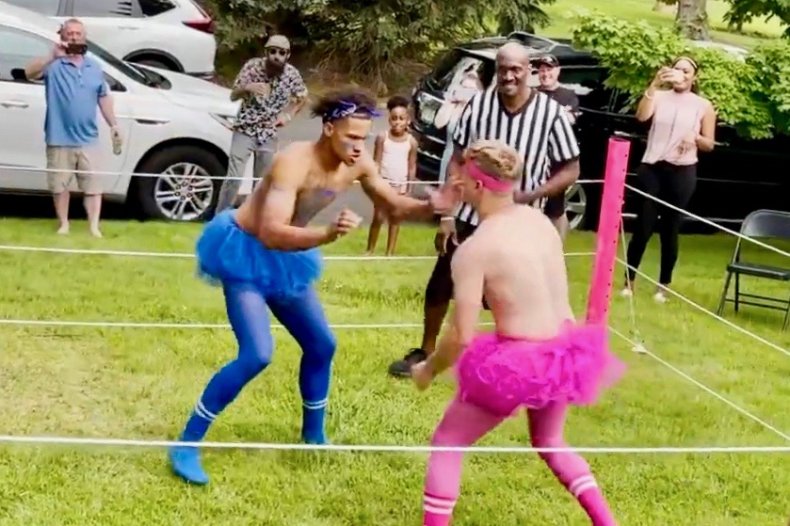 Blue throws Pink into the ropes and then pulls him down by his neck as he bounces off. He quickly celebrates before trying to hold Pink down, but with no success. Pink bounces back up and kicks Blue to the ground and holds him there.
Although Blue manages to get up before the referee counts to three, Pink quickly grabs him and lifts him above his shoulders—before tumbling to the ground.
The next bit of the match is controversial—Blue holds Pink down, but the referee is distracted by something outside of the ring. An audience member takes matters into his own hands and enters the ring with a folder chair, which he uses to knock Blue down.
Both competitors seem to be down, but the intervening audience member hops back into the ring to throw Pink's arm over Blue. The referee finally notices and counts to three, declaring Pink the winner, and consequently, reveals the baby to be a girl.
The video was shared on Facebook by Ronnie Carlson, where it has been viewed 1.6 million times, and on Twitter, where it has been viewed 1.5 million times.
Even those who are not fans of the concept of gender reveal parties enjoyed the video, as Twitter user Jordan Roca said: "Not a big fan of that whole trend BUT this was fantastic. Good clean wrestling drama AND no one died from an explosion, or whatever happens at gender reveal parties."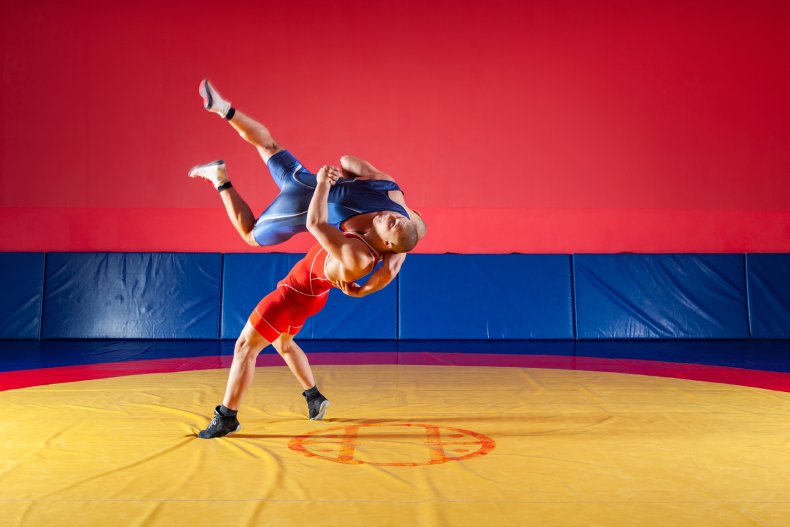 Jimmy Wilkins said: "People can say this is stupid and gender reveals are stupid. They would be right.
"But also think about how amazing your friends are to be this hype and ready to participate? Hate all you want but these people's friends are so dope."
Others were just glad the reveal didn't spark a wildfire, as gender reveal parties have been known to, like Thom Bird who said: "At least they didn't blow up the neighborhood or set it ablaze," and Rex Chapman, who said: "Way better this than lighting something on fire!"