WWE Super Showdown 2020: Undertaker Returns to Pin AJ Styles
The Undertaker made his in-ring return at WWE's Super Showdown event on Thursday to confront AJ Styles.
Styles was a participant in the Tuwaiq Gauntlet match with five other competitors, (R-Truth, Erick Rowan, Andrade, Bobby Lashley and Rey Mysterio) but, after eliminating Truth, the "Phenomenal One" had just Mysterio to defeat to win the trophy.
However, when Mysterio's music began to play the legendary wrestler didn't appear. It was revealed that Luke Gallows and Karl Anderson, members of The OC and friends of Styles, had taken out Rey backstage.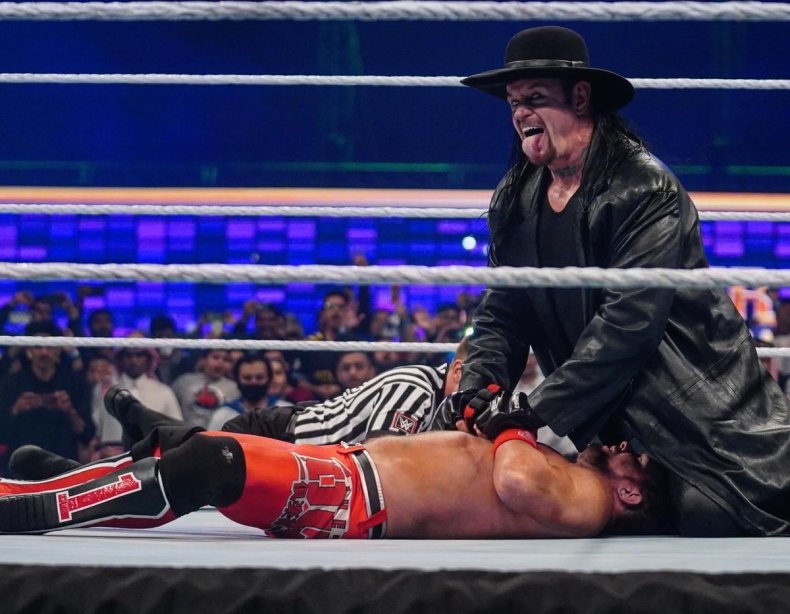 This was Styles' plan to win the trophy without having to earn it, and he demanded to be declared the winner. It was announced that if an opponent didn't appear by the count of 10, Styles would win by forfeit.
WWE cameras then captured Gallows and Anderson being taken out by a mysterious figure who turned out to be The Undertaker.
Undertaker took Mysterio's place in the match and after one Chokeslam - not even bothering to take off his coat and hat - "The Dead Man" secured the match and the trophy.
Super Showdown 2020 is not the Undertaker's first match in Saudi Arabia. Last year's Super Showdown in June saw Taker battle Goldberg. Undertaker would win, but the talk from that match was the unfortunate circumstances that led to both men being concussed and injured during the match.
Undertaker's last match was in a tag team fight with Roman Reigns at the Extreme Rules pay-per-view. The duo would defeat Shane McMahon and Drew McIntyre.
Reports of Undertaker being in Saudi Arabia surfaced earlier this week, and the WWE itself reported "The Phenom" was in the country for an unspecified reason.
Rumors of an AJ Styles and Undertaker WrestleMania match began to make the rounds a few weeks ago, and the seeds were planted on last week's Monday Night RAW when Styles cut a promo stating he was the best wrestler of any generation. He name dropped the Undertaker among other notable WWE legends.
The last match Undertaker had at WrestlerMania was an impromptu bout against John Cena in 2017. Taker would squash Cena in less than two minutes.
Styles wrestled at last year's WrestleMania against Randy Orton, a match he would win. AJ Styles is scheduled for a match against Aleister Black on the March 2 episode of Monday Night RAW.
WrestleMania 36 is scheduled for Sunday, April 5 in Tampa, Florida.
What do you think of The Undertaker's return? Do you want to see Undertaker and AJ Styles at WrestleMania? Let us know in the comments section.