WWE Super Show-Down: Start Time and How to Watch Online
The WWE Universe is ready for the Super Show-Down in Australia this weekend, as superstars from both Monday Night RAW and SmackDown Live look to win or retain titles and gain momentum for the final months of 2018.
Being in Australia, WWE fans in the states will need to start their day early if they want to catch the livestream of the show, but it could be worth it just to see Undertaker and Triple H go at it for the "last time ever."
Here's everything you need to know about WWE Super Show-Down including its start time and how to watch it online.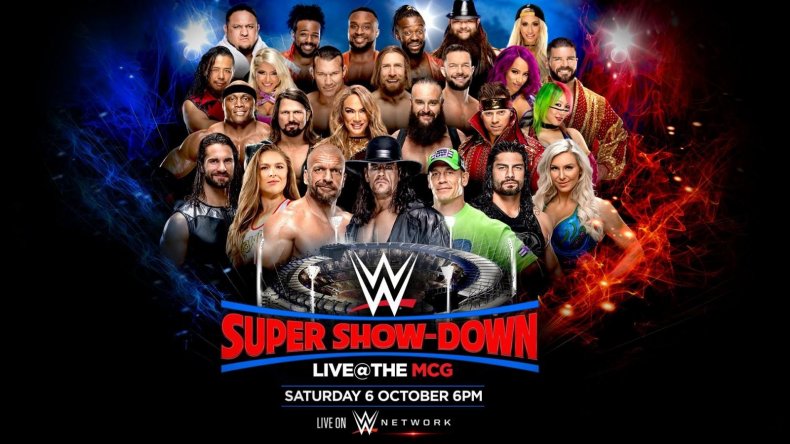 WHAT TIME DOES SUPER SHOW-DOWN START?
Super Show-Down begins at 5 a.m. EDT.
HOW TO WATCH SUPER SHOW-DOWN KICKOFF
At the time of writing, WWE has yet to confirm that Super Show-Down will have a Kickoff show. With 10 matches on the card, it wouldn't surprise us if two of them were put on the pre-show but we'll update this section as soon as we learn more.
If there is a Kickoff show, WWE usually streams it love on the official YouTube channel.
HOW TO WATCH SUPER SHOW-DOWN
To watch the entire Super Show-Down pay-per-view, you can subscribe to the WWE Network for a monthly fee. If you've never subscribed to the Network before, WWE is offering a free trial for one month by signing up with a credit card. There is no commitment and fans can cancel their subscription at any time.
Download the WWE Network on iOS and Android devices to watch it online and on-the-go. The WWE Network is also available on PS4 and Xbox One, simply by searching "WWE Network" on the PlayStation and Microsoft stores, as well as on streaming devices like Roku and the Amazon Fire Stick.
WWE Super Show-Down: Start Time and How to Watch Online | Culture