WWE Superstar Lana Talks Rusev Day, Total Divas and Her Dream Opponent For Evolution
WWE Superstar Lana has had a pretty amazing year. She successfully transitioned from a traditional manager's role to become an in-ring competitor, teamed up with her husband to get her first win in a wrestling ring and competed in the first-ever all-women's Royal Rumble match in January. The year isn't over yet, and there's still room for more additions to Lana's list of accomplishments. The big goal for the rest of the year: make it onto the show for Evolution, the first all-women's WWE pay-per-view event.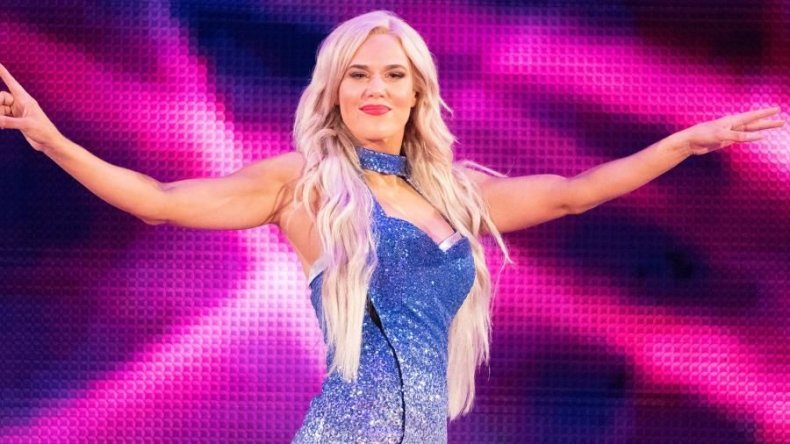 Newsweek spoke with Lana (real name CJ Perry) about Evolution, the upcoming season of Total Divas and everything else she has going on in the WWE.
Editor's note: the following interview has been lightly edited for clarity.
How was it kicking off Summerslam this year?
It was so incredible, and I'm so grateful to be able to be in a match with my husband, Rusev. I'm not just managing him, I actually get to wrestle. I remember a few years ago at Summerslam, we were fighting. To come full circle and be together on the same side, tagging, is such an awesome experience. I don't appreciate that Zelina [Vega] cheated. That was very cowardly, and I'm not happy about that. But I'll get my revenge at some point to crush their tranquilo.
You've had success with your husband Rusev in addition to being a solo competitor. What are you most proud of so far?
There are so many things I'm so proud of. If we're talking just in-ring stuff, participating in the first-ever women's royal rumble. I was so grateful to be a part of history. I never thought there would be an all-women's royal rumble. I'm also glad I got to participate in this year's Money in the Bank ladder match. The stakes are high in all matches in the WWE, but there is nothing as high as a ladder match. You have to lift these heavy, heavy ladders. Anything can happen, and it's really dangerous. To be in a high-stakes match like that, I was really excited to participate in it.
How do you feel about the success of the Rusev Day team and your contributions to it?
I've been a Rusev Day fan since before there was a Rusev Day. I feel like I was the forerunner of it all. I saw something in him before the WWE universe saw it in him, back when they were booing us for being patriotic to our countries. He really is the superathlete. I think he's one of our most athletic superstars. Now that everyone is supporting Rusev and Rusev Day, you see that he's funny and charming and great, and I'm glad you're finally seeing what I've always seen. I knew people would come along, sometimes it just takes time. It's Lana's day, but it's Rusev's year.
How was it competing in the Facebook exclusive show Mixed Match Challenge in a team with your husband?
I loved the Mixed Match Challenge. Rusev and I had so much fun with it. We were really able to use social media to use our voice. There was a lot more freedom to be creative, and it was great to dress up as Bayley or Charlotte or Naomi and imitate them. We really had a lot of fun with that in our living room. And I learned so much from Rusev. He trains me in the ring, he trains me in the gym. Anything from athleticism to psychology and how to win. My first win came with him in the Mixed Match Challenge because he was really showing me the ropes. He literally had me matchka boards and crush. He trained in Thailand in muay thai and he wanted to teach me his ways, which was basically breaking boards and matchka kicking boards down.
What was the lead up like heading into your first match?
Oh my gosh, I was so nervous at Wrestlemania when I debuted. I never had a live match ever. I'd had practice matches, but a practice match in front of no one is very different from a real match. Nattie gave me this pep talk, saying 'you can't not be inspired. This is the highest stake thing you're ever going to have, and you're going to sink or swim. So you better go out there and prove everyone who doubted you wrong.' All of a sudden, you're like 'I'm motivated!' And once you walk out there you realize, 'I'm born for this, there is nothing in the world like this.'
What is the biggest difference between working on a reality show like Total Divas and a wrestling show?
It's going to be a crazy, crazy season. You're going to see Paige come back, her retirement and how she's dealing with that. I would say the biggest difference is on a reality show, people judge you for you as a human being, versus you as a character. When I walk out of that curtain on Smackdown, I'm the Ravishing Russian Lana. I commit to my character. On a reality show, that is you. I'm not perfect, I make mistakes all the time. All I can do is to try my best to learn from my mistakes, take responsibility for them and do a better job tomorrow. As human beings we all want to be liked and we all want to be accepted. When people judge you for your mistakes or your shortcomings, it hurts a little bit more than 'oh, that's just my character.'
Any crazy moments for you on this season of Total Divas?
You'll have to tune in. There's always wacky moments. You're going to see Rusev, of course. He always brings his wonderful humor. You'll see me deal with a time I wasn't on TV in a while. It's disappointing when you aren't in a compelling story and aren't going out every week and entertaining people. How do you deal with setbacks? How we deal with setbacks is the most important thing in life. Yes, what we do with success and breakthroughs in life is important, but what we do when we fall flat on our face in disappointment, that is going to define our future and that is going to define our success. I'm excited to share to the world how I overcome and deal with my setbacks. It's vital to be resilient, because this is not a sprint, it's a marathon.
How do you want to be involved at Evolution?
I'll take any opportunity! I'm so excited. I'm very, very grateful we have this opportunity of an all-women's pay-per-view. It's incredible to have this opportunity. I will get myself on that show if I have to knock doors down. I want to make history with all the other women and be on the first-ever women's pay-per-view. It's just incredible. Who's to say what's going to happen? We still have a couple months to it. I know 50 women are going to participate. I'm sure there will be women from NXT coming, we'll have returning women. It's very exciting. Whatever I do, I plan on winning. I plan on crushing, because Lana is the best, Lana number one.
If you had a dream match for Evolution, who would you like to go against?
There are so many women on the current roster who are just incredible competitors, and I'd love to fight them. But then there are so many women from the past I would love to fight. I mean, who doesn't want to get in the ring with Trish or Lita or Molly Holly? Trish was my inspiration for so long. But I've always been a huge fan of Stephanie McMahon. Growing up, I wanted to be in WWE because of watching characters like Stephanie McMahon and Paul Heyman. They just are such incredible storytellers, such incredible, compelling characters. When I look at Stephanie McMahon's entire career, I'm always blown away at how she just moves your soul. Literally, my heart is moved by her. Either I hate her, or love her, or love to hate her. I probably won't face off with her at Evolution, but just in general she is one of my dream opponents.
What doors do you think are opened now thanks to Evolution?
Literally, the sky is the limit. We are constantly continuing to shatter glass ceilings and breaking down doors that at one point we were told would never be broken down. It's really exciting. We have less and less firsts now, but I would love to see the women main event Wrestlemania. I've heard that will never happen, but we will do it. I'd love to see a women's tag team division, and I'd love to be tag champions some day. I think my teammate as of now would be Naomi. We would be Ravishing Glow, we already named ourselves that. We would do a little dancing. She's the best dancer in the world, but don't tell her that. I tell her I'm better, but that's our friendship.
How does it feel to be a playable character for the first time in WWE 2K19?
I've been a manager character since I debuted with Rusev, and the first year I was only available to be a manager for Rusev. The next year, I was available to be a manager for anyone. Last year, I remember seeing a lot of the WWE universe upset that you couldn't play as me, because I had debuted on Smackdown Live by then, but had just missed the cut-off. I'm really excited to play video games now. Maybe I'll become a big gamer.
What's the worst bump you've had to take so far?
When you're out there doing things, your adrenaline is rushing so much. But getting kicked in the face is never fun. There have been a lot of different painful things, but when you're kicked in the face or kneed in the face, it's not the most pleasant thing. Zelina used the codebreaker knee on me and I started bleeding. I thought I broke my nose or busted my teeth. Then she kneed me to the face again. It was definitely not by any means pleasant, and I'm really glad when I came backstage that I was alive still. It's a contact sport, it's very physical and intense. When you walk out there, you have to know anything can happen and to keep your hands up.
What would your character be like if you were on the GLOW Netflix show?
I love Zoya the Destroyer so much. I'd love to be a tag team with her. That's what I love about wrestling is you can create any character. The sky is the limit. Maybe I'd be a sorority girl? I could start my own faction of mean girls. We could be called the Mean Queens and I would be the leader. It would be very Valley Girl.
Lana can be seen weekly on SmackDown Live, Tuesdays at 8 p.m. EDT on USA Network. Total Divas returns to E! On Sept. 19 at 9 p.m. EDT.