Grading Each Superstar Shake-Up Roster Move
This year's Superstar Shake-Up has come and gone, and the rosters of both Monday Night RAW and SmackDown Live have changed drastically.
While both shows addressed the lack of depth and talent in a few areas, not all moves were slam dunks. We look at all of the roster moves made on Monday and Tuesday and grade them based on how well they fit their new brand and what it could possibly mean for their future storylines and feuds.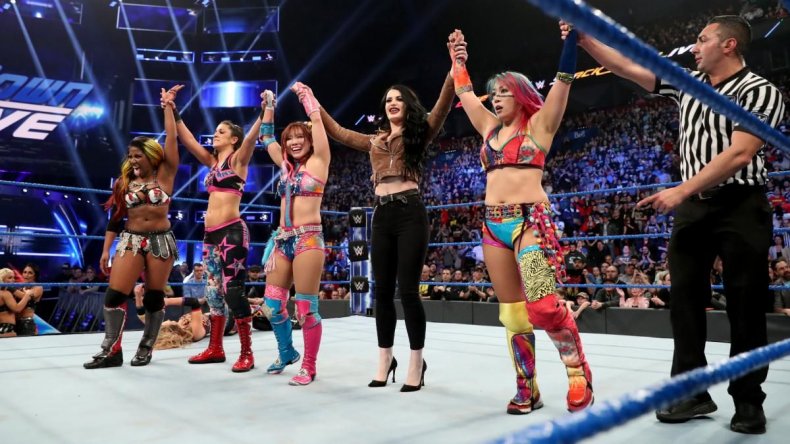 MONDAY NIGHT RAW
The Miz - B+
The Miz switches brands every year for the Shake-Up, but this time it felt surprising. Miz has been a staple of SmackDown Live as both a heel and face and his feud with Shane McMahon - the commissioner of the blue brand - doesn't seem like it's over so moving him to RAW was unexpected but in a good way.
Miz attacking Shane on Monday could mean the A-Lister will cross brands more often than not until he vanquishes his rival but his current run as super babyface is over with the crowd and he can elevate the midcard for RAW without the need of a title feud. Put him in interesting feuds with notable heels like Baron Corbin, Bobby Lashley or Andrade and watch the magic happen.
Andrade and Zelina Vega - B
Speaking of Andrade and Zelina, RAW got a great pair. Andrade has put on amazing matches on SmackDown and he's the heel the midcard on Monday Nights needs. And with Seth Rollins as Universal Champion, it's easy to see him getting into a feud with Andrade for the top title.
Andrade's feud with Rey Mysterio has been magic on SmackDown and with both men on RAW they can finally get the blow off we wanted.
Zelina adds another great character not just in her manager role, but as a sneaky heel wrestler for a RAW women's division that lost big names like Ember Moon and Bayley.
Eric Young - D
Sanity was a tremendous stable in NXT but the transition to the main roster has been less than kind to them. The group was finally split up after less than a year on SmackDown Live with Eric Young being shipped to Monday Night RAW via promo image shown during this week's episode.
Young has had a long career in wrestling and is one of the surest hands on the roster. It'll be interesting to see how they handle the split of Sanity, a change of scenery can do Young good but even the way they announced his move doesn't raise my hopes they know what they want to do with him.
Cedric Alexander - C+
Cedric Alexander probably stayed on 205 Live longer than he should have after dropping the Cruiserweight Championship but his presence on Monday Night RAW will really give the midcard a dose of energy.
While his in-ring work is amazing, the character stuff is rough and hopefully he'll have a chance to show off his chops against some tough heels like Andrade and Bobby Lashley. Here's hoping he captures fire like Ali has on SmackDown.
The Usos - A
Although it was the most obvious, bringing The Usos over to Monday Night RAW alleviated a lot of problems with the show's tag team division. Arguably the best team on SmackDown can now have amazing matches against The Revival, Aleister Black and Ricochet (if they stay a team) and The Viking Experience.
Naomi - B
The RAW Women's Division was gutted on Tuesday, but Naomi makes her way to Monday nights as one of the only faces on the brand. Always an underrated in-ring performer, Naomi brings athleticism and swagger to the Women's Division. Before Naomi's inclusion, the women faces on RAW include Becky Lynch (who is on both brands), Natalya and Sasha Banks if she comes back so Naomi was a much-needed addition.
Rey Mysterio - B -
Mysterio's return to the WWE has had its ups and downs. He continues to defy father time and put on great matches on SmackDown Live. However, he's had some underwhelming feuds like the one with Samoa Joe that culminated in a one-minute squashmatch during WrestleMania.
Yes, Mysterio was injured, but being taken out by Lars Sullivan hasn't helped his cause. I have faith that he'll be fine on RAW, it's just up to creative to give him some interesting stories. And, again, he can feud with Andrade again.
Ricochet and Aleister Black (A as singles stars/B as a tag team)
I predicted Aleister Black and Ricochet would be split up during the Shake-Up but it seems both NXT call ups are staying on RAW. It's a bit early to tell whether RAW will utilize both men as singles competitors or as a team.
I'd like to see both men compete in singles matches for the U.S. Title (assuming Samoa Joe is moved next week) and Universal Championship as they can put on wonderful on-on-one matches and have enough character to create compelling stories. Ricochet and Black as a team is great, but there's no story behind their reason for teaming.
Even if they stay as a tag for the short term, they make the RAW Tag Team division impeccable and the potential for awesome matches is there.
The Viking Experience - C+
Ok, let's deal with the elephant in the room. The name change is terrible and starts the team formerly known as War Raiders on the wrong foot. It'll be hard for wrestling fans to take them seriously with that name. With that said, Ivar (Hanson) and Erik (Rowe)'s in-ring ability is impeccable.
I sound like a broken record but the RAW tag team division is looking legit and if they bring in Sarah Logan to form a cohesive stable a lot of fun can be had.
Lacey Evans - C
Lacey Evans was on the main roster for a while, but now that she's finally getting to do something and has a home on RAW we can finally assess what it could mean for the brand.
While not the most proficient in the ring, Evans brings a power wrestler - with deceiving athleticism - to the RAW division. Her character is very strong and ready for Monday Night RAW that it's a shame WWE didn't push her sooner to build to her match with Becky Lynch. It's obvious the company (Mr. McMahon) is high on her and she'll likely be a champion sooner rather than later, just don't let it happen in her first title match.
EC3 - D
Poor Ethan Carter III. After making his presence known by defeating Dean Ambrose, he's been a glorified jobber on both Monday Night RAW and SmackDown Live. However, now that he has a brand to call his own maybe we'll get to see more of his character on television on a regular basis? Or maybe he'll continue to get destroyed by Braun Strowman, your guess is as good as mine.
AJ Styles - A
A big get for Monday Night RAW, AJ Styles can really flourish on the brand. Styles did everything he could on SmackDown Live and putting him on the same show as Seth Rollins and Drew McIntyre is fresh and exciting. They can even turn AJ heel if they want to freshen him up some more, and we all know how fun that run in Styles' WWE career was.
SMACKDOWN LIVE
Finn Balor - A
It's a shame that Balor didn't get a proper feud to get the Universal Championship back, but there's no denying that Finn on SmackDown with the talent they have on the blue brand should get fans excited.
He's the Intercontinental Champion and as we saw on his first night against Ali, there's plenty of opponents to have amazing matches with. We can see Finn take on Shinsuke, Randy Orton, Daniel Bryan, Buddy Murphy and so much more.
Ember Moon - B+
Ember Moon deserved better on RAW. Unfortunately, her injury was ill-timed and derailed any momentum she gained at the Royal Rumble. Now that she's on SmackDown where the women's division is stacked, expect amazing matches. Also, whenever you can have Asuka and Ember on the same show magic is bound to happen.
Bayley - B
Bayley needed a fresh start and putting her in the same division as Ember, Asuka, Charlotte, and Carmella can do her some good. And it's sad to say, but separating her from Sasha Banks while Banks deals with her personal issues is best.
Chad Gable - C+
Chad Gable is an amazing wrestler and is deserving of a singles push. On SmackDown, he can be a great workhorse in the midcard. The only downside is we didn't get to see the official breakup with Bobby Roode. It'll be interesting to see if they have Gable remain a heel or turn him back into a face.
Apollo Crews - C
SmackDown is known for its wrestling, and Apollo Crews can do great things in the ring. While his character needs some work, the creative on Tuesday nights have built up some good will and I'm optimistic that they can do Crews justice.
Liv Morgan - C
Liv Morgan, while not the strongest member of the Riott Squad, was improving week-to-week. I'm curious to see the direction they'll go with her, but I'm afraid she'll get lost in the shuffle being in a division with such heavy hitters.
Mickie James - C-
It's always good to get a veteran presence on a show and Mickie James is just that. Her character work is still smooth and she can deliver good matches. But after being off television for so long, I wonder what impact she will have in this division.
Heavy Machinery - C-
Tucker and Otis were over in NXT and have been relegated to a comedy act since being called up. However, now that they have a permanent brand they can - hopefully - flourish in a tag division that lost its biggest talents in the Usos.
Lars Sullivan - C-
With Braun Strowman on RAW, Monday Night didn't need another monster. So making Lars the dominant force on Tuesday makes sense. Now that the Superstar Shake-Up is behind us, creative will give Lars a purpose aside from just coming out to destroy guys.
Kairi Sane - B-
While many fans predicted Kairi Sane would be called up, they didn't see her teaming with Asuka. While The Empress of Tomorrow should get a singles run, teaming these two up can lead to some amazing tag team matches.
Buddy Murphy - B
One of the breakout stars of 2018, former Cruiserweight Champion Buddy Murphy dominated 205 Live for six months. He's done everything he could on that show, and now it's time to be one of the top heels in the midcard of SmackDown Live. Just want a program with Finn and Buddy for the IC Title.
Elias - B-
A common theme of this year's Superstar Shake-Up is "fresh starts" and Elias needed one. He was getting repetitive on Monday Night RAW, simply putting getting a talking segment before being interrupted. Now on SmackDown, he can have some meaningful feuds as in the midcard.
Roman Reigns - A
With Seth Rollin as Universal Champion, it was time for Roman to move on. The fans would always wonder when WWE would push Roman to the top title, but now that he's on SmackDown he can mix it up with some new faces. While Kofi Kingston is the top champion on Tuesday nights, they may have to cross paths. But there's plenty for The Big Dog to do that leaves Kofi to have proper feuds with the heels on the show.