WWE Superstar Shakeup: What RAW and SmackDown Live Need
For the first time in a year, WWE will have a Superstar Shakeup to change the rosters of Monday Night RAW and SmackDown Live.
On the April 16 and 17 editions of RAW and SmackDown, certain WWE Superstars will move from one ship to the other bringing in new and fresh matchups for the coming year. The rosters of both shows will likely look drastically different after the Shakeup, and fans can expect a return or NXT call up (or two). Each show has a few holes in their rosters and room for improvement. Here is our take on how both can make their rosters more complete after Monday and Tuesday night.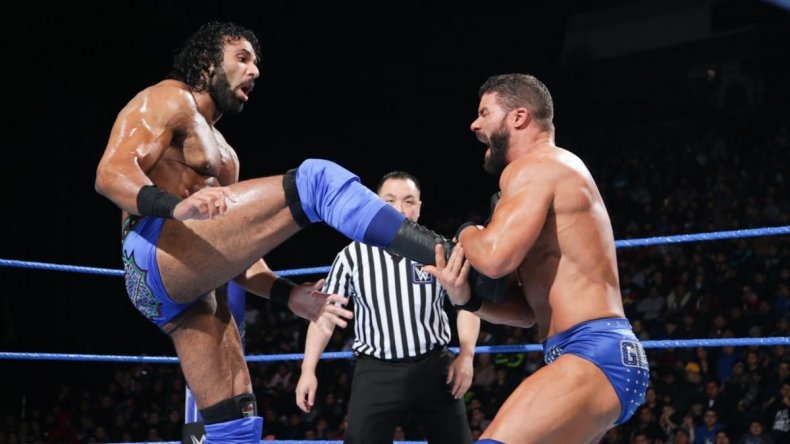 MONDAY NIGHT RAW
Monday Night RAW has a larger roster and to fill three hours each week. But RAW's roster is clearly missing a few key elements, especially with Brock Lesnar likely giving up the top belt very soon.
Top Heels (Men's Division)
RAW needs more heels, it's as simple as that. Currently, not counting Lesnar, the biggest heels on the roster are Samoa Joe, Miz and Elias, with the latter two taking up the midcard. If Roman Reigns is going to win the Universal Championship at Greatest Royal Rumble , he'll need more than just Samoa Joe to feud with.
Hopefully, Sami Zayn and Kevin Owens go back to RAW after being fired from SmackDown. If RAW can get a heel or two from the blue brand, like a Jinder Mahal, Baron Corbin or a freshly turned Bobby Roode (please) during the Shakeup, the roster will be more balanced.
Face Tag Teams
The team of Sheamus and Cesaro have done a great job holding down the RAW Tag Team division, but the rest of the tag teams leave a lot to be desired. There's a reason why the biggest challengers to The Bar were all singles wrestlers.
With both The Bar and The Revival being heel tag teams and occupying the same space on the roster, it's very likely one of them will be moving to SmackDown (more on that later). A face tag team will do the division some good. The addition of Authors of Pain will bring a monster heel tag team to RAW, so why not send the New Day to start some new feuds with AoP, The Bar and The Revival/The Club?
Heel Women
Nia Jax won the RAW Women's Championship at WrestleMania, completing her turn to being one of the top faces of the show. However, now there aren't many heel women on the main show.
Currently, Alexa Bliss, Mickie James, Mandy Rose and Sonya Deville occupy those roles but with Paige moving to SmackDown, Absolution's future is in jeopardy. Unless Sasha or Bayley turn, the RAW Women's division can use some heels and SmackDown has plenty. Natalya seems like the most logical choice to move over to RAW as her veteran presence will do wonders for some of the newer faces like Ember Moon and the aforementioned Rose and Deville.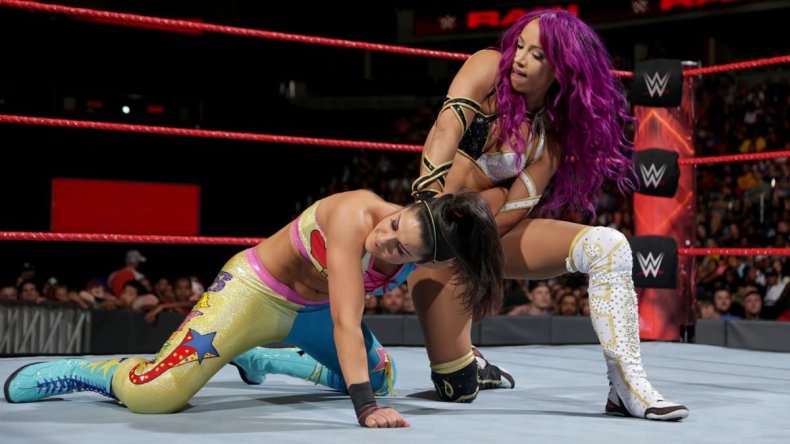 SMACKDOWN LIVE
SmackDown Live has a lot of holes in its roster going into the Shakeup. Not only did they lose Kevin Owens and Sami Zayn, alignment changes have also caused the roster to be unbalanced.
Babyface Women
SmackDown Live's Women's Division is crowded with heels like Carmella, The Riott Squad, Natalya and the IIconics. With Charlotte, Becky and Naomi filling up the face slots on the blue brand, there needs to be an influx of women coming from NXT or RAW. Send Natalya to RAW and bring over Sasha, Bayley or both.
Tag Teams
SmackDown features just three tag teams at the moment, The Bludgeon Brothers, The Usos and The New Day. These three have tangoed for a few months now, without other teams really sniffing the titles (outside of Benjamin/Gable for like a week).
It was interesting that the blue brand didn't get an NXT call up outside of the IIconics, but perhaps WWE is waiting for the Shakeup to bring in more talent. Sanity seems like a perfect fit for SmackDown and a feud with the Bludgeon Brothers and Usos would be a lot of fun. Nikki Cross coming over with Sanity would also give the Women's division more depth.
The Revival or The Club could also use a change of scenery, but Gallows and Anderson need it more. Send The Club to SmackDown and have them rehabilitated by putting on some great matches, hopefully with their other good brother in tow.
Stars who can occupy the main and midcard
SmackDown's midcard scene is very thin. Right now it's Jinder Mahal, Bobby Roode, Rusev and Randy Orton fighting for the US Championship, but it seems it beneath most of them at the moment. It's not for lack of trying on the part of WWE, as Baron Corbin and Mojo Rawley seemed to have floundered.
The top guys on the show—AJ Styles, Shinsuke Nakamura and Daniel Bryan—are great, but inserting some high profile wrestlers to transition between the midcard and main title scene would do SmackDown wonders. It would be great to see SmackDown ship Jinder and the US title to RAW, bring in the Intercontinental title with either Seth Rollins, Finn Balor, or both. The Club needs Balor and who wouldn't want to see Seth and Finn go up against Bryan, Shinsuke or AJ? Since Roman will be taking up the main title scene for a long time, Seth and Finn could go on to bigger and better things on Smackdown.
What do you think of our predictions and wish list? Who do you hope moves and stays during the Superstar Shakeup? Let us know in the comments section below