Becky Lynch and 6 Other WWE Superstars Who Are Moms
Monday night's instalment of Raw left WWE fans in shock, as The Man Becky Lynch announced her pregnancy to the world.
The Irish wrestling star revealed she is expecting her first child with fellow WWE champ, Seth Rollins.
The emotional announcement saw Lynch hand the Raw women's championship to rival Asuka in touching scenes.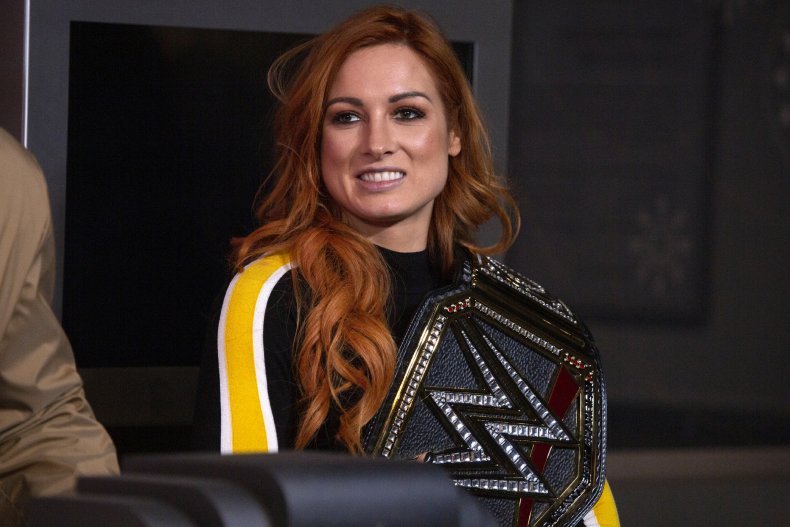 Lynch is now stepping out of the ring to start her family, having been congratulated by her fellow WWE superstars, but will hopefully be back in action in the future.
The new mom-to-be isn't the only WWE star to juggle motherhood with bodyslams. Here are some other superstars who you may or may not know are mothers.
Tamina Snuka
SmackDown star Tamina, 42, is mom to two daughters Maleata and Milaneta.
The veteran wrestler had her first daughter 19 years ago before she went pro and her girls are ages 19 and 17 respectively.
Speaking about her daughters, Tamina previously wrote in a heartfelt Instagram post to Maleata: "Thank you for choosing me as your mom and I'm blessed to have a daughter."
She added: "She still falls asleep in my arms and lm So grateful for the time and moments we get to share."
Celebrating Milaneta's birthday, Tamina said she couldn't believe "how much she has grown into such a young woman."
She added: "She's is so thoughtful and cares so much for her loved ones. I am so blessed to have her!"
Mickie James
Professional wrestler and country singer Mickie James is another WWE mom.
The 40-year-old superstar shares a son with her husband and fellow wrestler Nick Aldis.
Donovan Patrick Aldis was born in September 2014 and is now aged six.
In a backstage interview in 2017, James opened up about balancing motherhood with her hectic work schedule, saying: "I think I'm very fortunate because I was able to make my own schedule and take my own time off during the first two years."
She added: "We seem to handle it and juggle it pretty well. Then when I get home it's pretty much full-time, hands-on. That's all I do, just hang out with my baby."
Lacey Evans
Lacey Evans, real name Macey Estrella-Kadlec, is mom to Summer Estrella with her husband Alfonso.
The self-proclaimed Lady of WWE has brought her daughter to work before, and she regularly posts sweet photos of their matching outfits on Instagram.
They've also appeared in a Foster Farms commercial together.
Speaking about her relationship with her daughter to TV Insider, Evans said: "No matter how rough things get or how stressed I am, all I have to do is look at her. She is my little getaway. Everything else doesn't matter in my life because there is my baby, and in her eyes, I can do no wrong."
The Bella Twins
The Bella Twins, Brie and Nikki Bella, both have a big year coming up as they are both pregnant at the same time.
The former Divas Champions announced in January that they are both expecting, with just two weeks between their respective due dates.
Brie became a mom in 2017 when she gave birth to her daughter, Birdie, with husband and WWE wrestler Daniel Bryan.
The twins, who are both 36, spoke about their pregnancies with People, revealing they were "shocked" to find out they were pregnant at the same time.
"Wait, twins being pregnant at the same time?" Brie said. "People are going to think that's a joke. We both are shocked. People are going to think we planned it, but you can't really plan pregnancy!"
"[It was] a total surprise," Nikki, who is expecting with professional dancer Artem Chigvintsev, then explained. "It took even me a good week to come to terms with like, 'Oh my gosh, I'm pregnant.' I'm not ready for it."
Stephanie McMahon
Chief brand officer of WWE and occasional wrestler Stephanie McMahon is mom to three daughters with her husband Paul Levesque, better known as wrestler Triple H.
The couple are parents to Aurora Rose Levesque who was born in 2006, Murphy Claire Levesque, born in 2008, and 10-year-old Vaughn Evelyn Levesque.
McMahon shared a sweet photo of her girls to Instagram last month, explaining how she is grateful for extra time spent with them while social distancing due to the coronavirus pandemic.
"One thing that helps me is focusing on what I'm grateful for. And I'm so incredibly grateful for all this time with my family," she wrote.
"My youngest rode her bike without training wheels this week, I've had dinner with my kids every night, and I'm becoming somewhat of an IT specialist."