WWE ThunderDome Sees Trolls Broadcast KKK, Beheading Images On Live TV
The first WWE ThunderDome took place Monday night without a live audience due to COVID-19 restrictions—but the virtual screens saw some fans troll the show by broadcasting numerous controversial images including Chris Benoit the KKK, and what appears to be a terrorist beheading.
Becoming a virtual fan is a new way for supporters to digitally attend sports events to support their favorite team or athletes and as a way for sporting bodies to build atmosphere in empty arenas.
Fans view the games from home and are live-streamed onto video boards that extend along the seating rows in stadiums and arenas.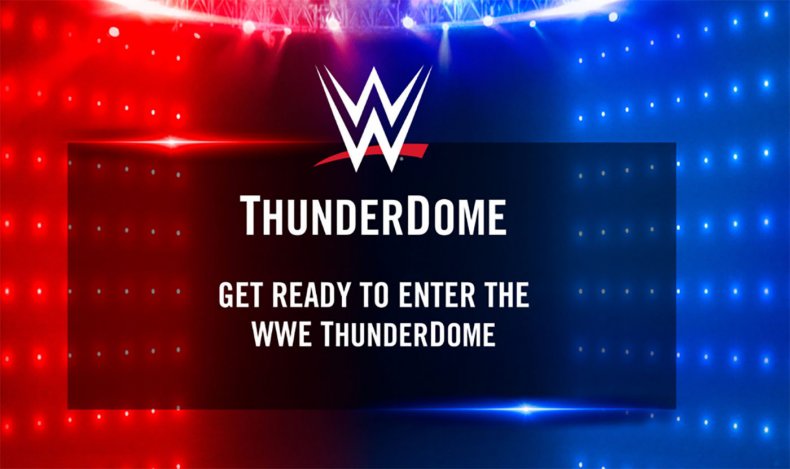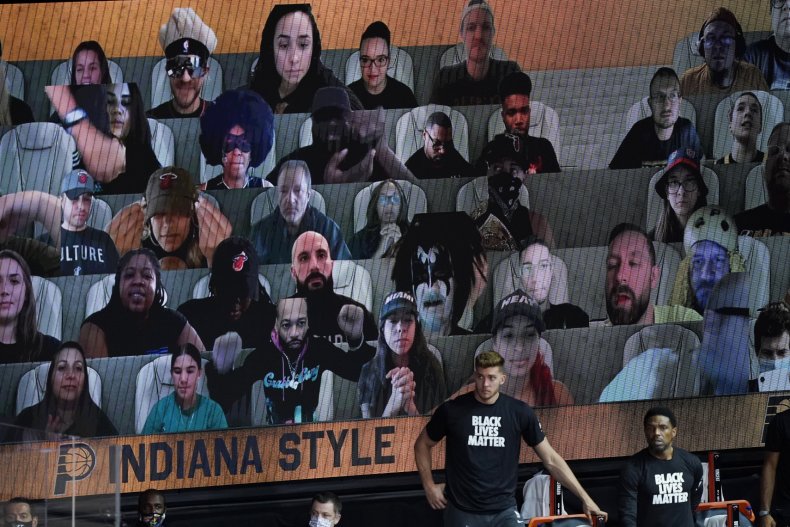 However, if a person can be live-streamed sitting at their computer then they could potentially put anything in front of the camera for it to be displayed—and that's exactly what happened at last night's WWE ThunderDome.
One of RAW's digital fans managed to project a photograph of Chris Benoit, the former pro-wrestler who murdered his wife and son before killing himself in 2007, into the Amway Center for a brief period of time.
Fans also spotted an image of someone in a KKK robe and another unsettling image that appeared to depict a beheading.
One fan tweeted: "WHY DOESN'T WWE LISTEN TO THEIR FANS MORE!?!? WWE tries to create a fan experience, during a flu pandemic that has the world locked down. Morons put up screens of the KKK and an ISIS Execution."
Previously, the day before at SummerSlam 2020 a fan had snuck a 'Fire Velveteen Dream' poster into the background of the event.
Wrestler Velveteen Dream, whose real name is Patrick Clark, has been accused of soliciting an inappropriate interaction with an underage fan, claims which he denies. The person who broadcast the image of the sign calling for his sacking has been banned.
On Twitter, a number of WWE fans have been decrying the acts of these trolls, complaining that it may see the virtual fan system removed, thus ruining the experience for people who genuinely want to watch the event, be involved and show their support.
One person tweeted: "Well... Some stupid fan had a video of a KKK member on there screen during The Main Event. Stuff like this is gonna make WWE remove the virtual fans and ruin the fun for people who just want to be on the show."
There are a number of stringent rules to abide by to apply to be a virtual fan at RAW, with the guidelines stating that participants "must be, and must appear to be, appropriate and respectful at all times."
Participants are also warned against smoking or even pretending to smoke or display anything that could be considered "offensive, obscene, discriminatory or distasteful" and are banned from displaying any "immoral graphics, images or texts, or any political statements, slogans, logos, images, texts."
WWE released a statement to Newsweek confirming their "zero tolerance" policy on improper use of the virtual fan system.
"This abhorrent behavior does not reflect WWE's values and we have zero tolerance for these unacceptable acts," a spokesperson said. "We are working to ban those involved from future events and per our policies, any inappropriate actions result in the removal from the live stream."
Event organizers removed the culprits swiftly and have emphasized that thousands of fans are using the system at the time.
This article was updated to include a response from WWE.