'Undertaker: The Last Ride' Chapter 3 Review: Mark Calaway Looks to Break the Cycle
After the first two episodes of WWE's docu-series Undertaker: The Last Ride, fans are starting to learn who Mark Calaway is. This week's chapter continues to show the connections that the Undertaker has made over the years, but it also shows a real-human dilemma that the "Dead Man" is struggling with.
Chapter 3 is titled "End of an Era," which is not just a nod to Undertaker's WrestleMania 28 match with Triple H, but also his connections with the men in the ring that night. It's these connections that make this latest episode another great watch for wrestling fans. Calaway's feelings toward Triple H and Shawn Michaels is on full display, as well as how those men think of Calaway and what he's meant to them.
These three men were the pillars of the WWE for many years, so there's quite a bit revealed in this episode—especially Calaway's mindset as he continues his search for that one "last" great match, that final match that he feels comfortable retiring on.
But as we get through the episode—and, really, as we get through every chapter of the series—it's becoming clearer that that match may not exist and it's a sad reality.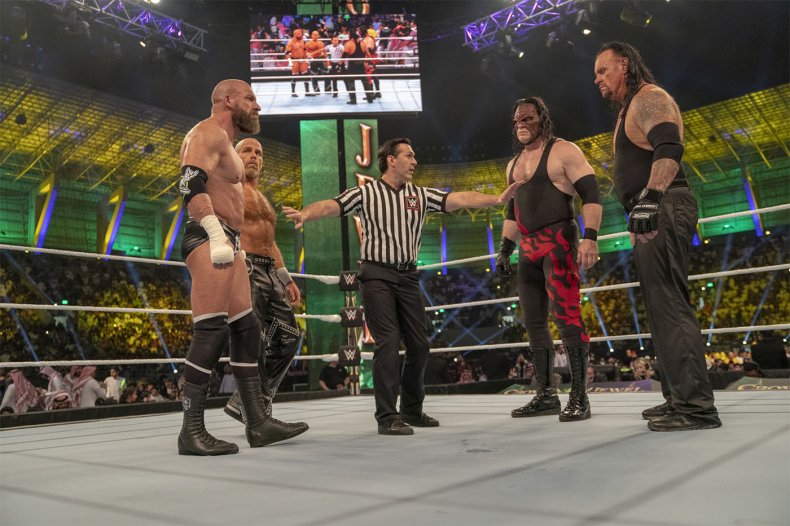 Right off the bat, the episode begins with Calaway being critical of his WrestleMania 34 match with John Cena. While he felt and looked great, it was booked for just a few minutes when he felt that with all of his training he could have gone 20-30 minutes.
So obviously, this wasn't the match that Taker felt was fitting for him to walk away—it also won't be the last time we hear Calaway say that—but it gave the wrestler the confidence to know that he can still do it.
With this newfound confidence, Calaway is now wrestling a little more. We see him face Rusev at the first WWE Saudi Arabia show, The Greatest Royal Rumble and the lead up to Super Show-Down against Triple H.
On the subject of Saudi Arabia, the documentary doesn't go into the behind-the-scenes dealings between WWE and the country. (This is an in-house production, after all.) Calaway himself talks about how the WWE is trying to enact change in the country and is surprised by how they take to his character. It's quick and those looking for more here shouldn't expect it.
After the Undertaker's match with Rusev, Vince McMahon proposes a match between him and Triple H, which is when we get into some of this episode's most interesting bits.
Fans know the relationship between Triple H and Shawn Michaels, but it's Calaway's relationship with them that's very intriguing. Like his relationship with Vince in Chapter 2, we get to see a new side of Calaway as we hear Triple H talk about meeting him for the first time and how the Undertaker accepted him. The two are closer than many fans realize, and that love and respect is present in Triple H's bits.
Calaway and Michaels, on the other hand, were in the business together around the same time and their respect is so easy to see. It also doesn't hurt that they had back-to-back great WrestleMania matches that many fans say are the best in the company's history.
Hearing Calaway talk about Michaels and the way he was able to go out on his own and retire gave me a heavy heart. Calaway admits that he's jealous of Michaels, and we get the Undertaker at his most vulnerable as he gets emotional talking about it. We're learning what is fueling Calaway's quest for this last match, and it makes you root for him to find it.
There are other interesting moments, in the episode like Undertaker's last appearance at Madison Square Garden, but it's really the retrospective of those three that really elevates this installment.
Kane gets some love, too, but not as much as Shawn or Triple H. Whether it was cut for time, or the WWE is saving it for another time, who's to say, but I've always felt the story between Kane and Undertaker would be a fascinating watch. Still, the portion on Kane gives a new side of Calaway, the man who would help the new wrestlers and was, for all accounts, selfless in the locker room.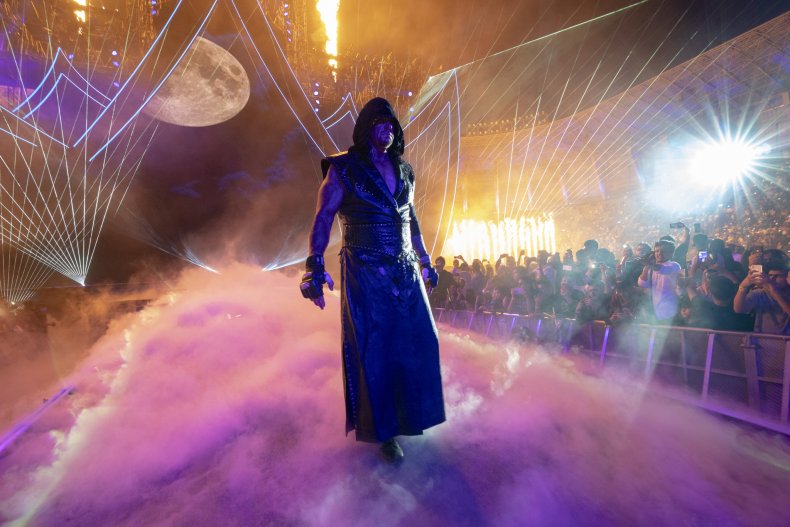 When we finally get to that tag-team match between Triple H, Shawn Michaels and the Undertaker and Kane at Crown Jewel, it's as bad as you remember. Just about anything that could go wrong does, and to hear the competitors talk about it is pretty funny. The Undertaker even gives some insight into his psyche that day, which isn't explored as deeply as one may like, but hey, since it seems pretty personal, what do you expect?
When the match ends, Calaway isn't satisfied and his wife, Michelle McCool (who's my vote for MVP of this series), comes out with the line of the episode: "Oh boy, here we go. I know it's a vicious cycle. He's not going to be happy with his performance, which means he's going to have to redeem himself."
The Undertaker needs to redeem himself again, which will result in a decent match that he'll be proud of and leave him hungry for that last "great" match. And if he has a dud, he needs to return to redeem it. It's a vicious cycle with no end in sight.
Calaway isn't in an enviable position. When will he feel he can close the door on his career? Maybe that day never comes. It'll be interesting to see what he's thinking in the next episode when we finally get to that infamous match against Goldberg.
Bottom line, the third chapter of Undertaker: The Last Ride is required viewing for wrestling fans. It spotlights those years when the Undertaker was arguably at his peak with some great insight.
The backstage and interview portions—especially with Triple H, Shawn Michaels and Kane—are the best parts of this episode. But in the end it's Calaway's story and we're getting a peek at his psyche. As we see that vicious cycle at work, you just can't help but hope Mark Calaway finds the closure he's looking for.
Chapter 3 of Undertaker: The Last Ride will be available to stream on-demand beginning at 10am ET this Sunday on the WWE Network.
'Undertaker: The Last Ride' Chapter 3 Review: Mark Calaway Looks to Break the Cycle | Sports