Bruce Prichard Talks The Undertaker, 'The Last Ride,' Vince McMahon, and Which WWE Legend Should Have a Documentary Next
The Undertaker: The Last Ride documentary is currently running on the WWE Network. It gives not just never-before-seen footage of the career of 'The Dead Man,' but includes interviews with the man under the hat, Mark Calaway.
For 30 years, The Undertaker has mystified and entertained fans and Bruce Prichard was there from the start. When The Undertaker debuted at Survivor Series 1990, the man beside him was Prichard's Brother Love character. He managed Taker for his first few months while also working backstage in the promotion.
Now, Prichard is currently the executive director of Friday Night SmackDown and a part of The Last Ride documentary. Newsweek caught up with Prichard to talk about the new documentary, Calaway and more.
Note: This interview has been edited lightly for clarity and length.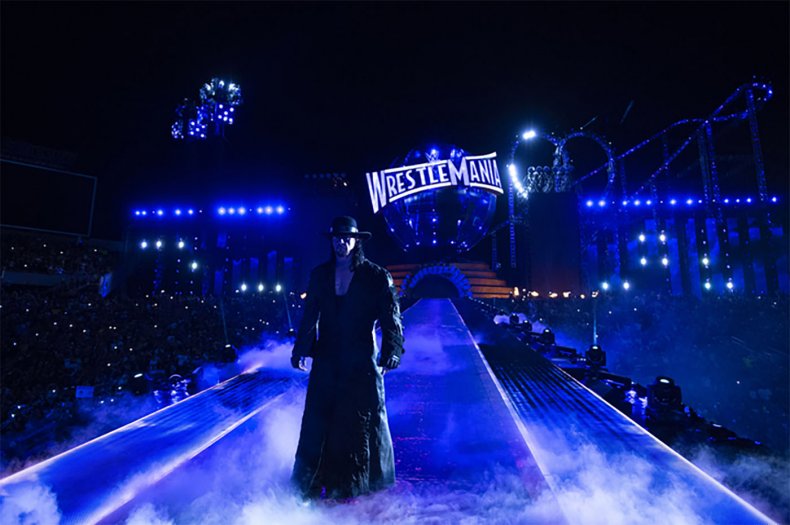 How did you get involved with the documentary?
When I first heard about it, it was during WrestleMania 34 in New Orleans and I kinda started coming back with the company and doing various projects. It was Taker who told me that they were doing a documentary and the people behind it were so excited by it because it had never been done. You've never actually seen, behind the curtain, The Undertaker.
There have been documentaries and different episodes of various shows that peeked behind the curtain of WWE. But this is unique because even when you got those peeks, you never looked into the character of The Undertaker. And that character was protected and had such a mystique about it for all of these years and never been humanized, if you will.
This documentary is the first time that The Undertaker opens up as Mark Calaway and lets you in and feel that human being behind that incredible character.
What is it about Calaway that makes The Last Ride a must-see?
It helps you--at least for me, being involved in creating that character--get a feel. And those who love the character of The Undertaker, Mark Calaway protected that character for all these years even in public. Very few people got to see the human side. They didn't get to see him laugh, see him cry. They didn't know he had feelings, and emotions like everyone else.
To be able to see Mark Calaway be human in real life situations like we all experience everyday of our lives, it brings us closer--in my opinion--to the character. And that's the coolest part about this. We've done behind the scenes before, but not with this character. It's the first time you get it, not just a peek, he's letting everyone in. That's cool because the human being is just as cool as the character.
You say that pulling back the curtain brings fans closer to the character of The Undertaker. Can you elaborate as to what that means?
It means that you get to understand the sacrifices that he made for so many years in protecting that character. He sacrificed being with his family and being in public as Mark Calaway to protect that character. And finally, now that he's been able to drop that curtain and say: "You know what, I am a father, a husband, a son and I'm also The Undertaker."
Now you get to see a little bit of Bruce Wayne behind Batman.
Were you surprised that Mark wanted to do this documentary?
I was shocked at how he provided everyone access, and how he opened up. The Undertaker was willing to be vulnerable and open up and allow cameras into his home, his life, and it's never done before. It took a while for that trust and to break down and feel comfortable with these people around you all the time. To me those moments are the best moments of the documentary. There's that honesty that comes through. He's not playing for the camera.
[The production crew] were with him for so long, there was a trust factor that was built up. [Dan] Pucherelli, who was a producer on this, and Chris Chambers and those guys--Taker liked them, he trusted them and had a great crew around him all the time. You get a lot of honesty out of this and you get the real man. There's nothing being put on there.
I've really enjoyed Michelle McCool's bits on the documentary so far in showing another side of Mark. What can you say about her?
Michelle is a rock star [laughs]. She's just a rock star. She's been able to support him, raise a family, do everything else through all of Undertaker's doubts and second guesses and "do I have one more in the tank?" She never told him no. She encouraged him and made him be real with himself and honest, and help him understand the reflection of the man looking back at him in the mirror.
My experience with them, she's the true definition of a real partner. She's been completely honest with him and helped him all the way through.
The first episode made it seem that Taker was done after WrestleMania 33. Did you believe that?
I didn't believe that was it. But any WrestleMania match where I felt watching it maybe he should have sat that one out. Maybe he didn't need to do that one. That was it.
After every WrestleMania, God, for the past 15 years Taker would question if this is the last one and we would correspond back and forth even when I wasn't with the company. I would wish him luck and see if he's okay afterwards, and every time he'd be "that's the last one." And I was like, "Yea, I'll see you next year."
But that particular match...it was not the best. And I think everybody agrees on that. But because it was not the best that drove him to come back and he didn't leave and go out like that.
In the documentary, Taker says he's looking for that one match that makes him satisfied and hang them up. I don't know if there is one. What's your opinion?
Right now I think he could walk away and be satisfied. I don't know if Mark Calaway is the type to ever be satisfied. The character of The Undertaker is one that the audience will be happy just to see walk down the aisle. And they are satisfied just to see him. He can come down on a walker [laughs].
I've joked with him for damn near 30 years. You can come down on a walker, do a choke-slam and the audience will explode, and that's all you'll need to do. That's how much the audience loves the character and the man behind the character.
I don't know if Mark Calaway would want to do that, but the audience would love it.
Undertaker's relationship with Vince is a big part of the second chapter. What's so unique about their relationship?
It's a mutual trust between two men in that The Undertaker is the guy who has always been there. He never threatened to leave, he never held it over Vince's head when everyone else was leaving in droves. Taker was the one on the front lines. He was the one guy you can count on that when everything was breaking down he was going to stand there steadfast and fight to the bitter end, no questions asked. You didn't have to ask for his loyalty. You didn't have to ask "if you're with me." That's just the relationship between him and Vince. It's a mutual trust and friendship. Sometimes it's a love/hate situation, but the basis is based on respect and love. Both of them trust the other one and will do anything they can for each other.
Do you see a point where Vince tells Undertaker he's done?
I think he'll let Taker decide on his own, but I guarantee you that it'll be a mutual decision. I think it'll be a decision that they'll discuss and mutually agree upon. If Vince thinks he can get one more out of him or Taker feels he has one more left in him, the other will respect that and make it work.
The Boneyard Match with AJ Styles. Did he enjoy doing that or is regular wrestling still something he wants to continue doing?
I think it could be either or. You're talking about the character of The Undertaker with the mystique and mystery behind it is something that could live on forever. And being able to engage in more cinematic type of matches is one way to extend the life of that character. To me that's good.
I thought the Boneyard match was one of those when you see it, BAM instant classic and hope people will compare to others in the future. To that, maybe it'll extend his career to do more things of that nature, but performers want to be performing and they want to perform in front of an audience and get that recognition and some of that juice.
Is there another WWE superstar that can get The Last Ride treatment?
There's a lot of guys. [WWE] has done one on Ric Flair. But when you look at the roster of WWE legends, you have to look at guys like Steve Austin, you have to look at guys like Shawn Michaels. I would love to have a positive one [laughs] on Bret Hart. To be able to show the highs and the successes. And look, you'll want to get behind the scenes and see the person.
Shawn Michaels is the most misunderstood guy in the business because of his early reputation that he had deserved--very much deserved--in his early years but has come full circle and is an incredible life story of success to hitting rock bottom to making a comeback. I think Shawn Michaels would be next.
What do you hope the fans get from this documentary and what do you hope they learn about Mark Calaway?
I hope that they learn about the sacrifices that he made to bring the character to life and to protect that character for as many years as he had. He has the ability to consistently deliver a character that's been loved, hated, loved again and then get the ultimate respect no matter what he does. Kudos to the man behind the hat in Mark Calaway because he's a first-class human being, and that character wouldn't be the same with anyone playing it.
I'd say Mark Calaway is Taker, Taker is Mark Calaway, and one couldn't be without the other.
Chapter 2 of 'Undertaker: The Last Ride' will be available to stream on-demand beginning at 10 a.m. ET this Sunday on WWE Network.